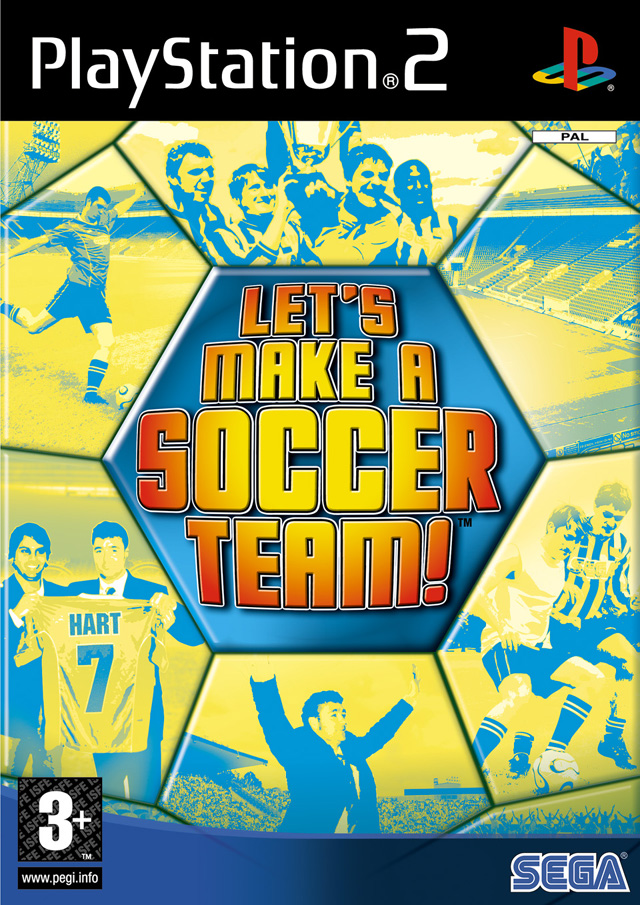 Games On The Cheap – "Let's Make A Soccer Team"
Hello everyone, now if your thinking about getting some SEGA games, whether they are old, new, used or retro games etc but you don't know where to look around, well i'm here to help you out as I will be looking around the stores and the online shopping sites to find you the SEGA game's you know and love at very good prices.
The first game I found that had gone right down in price is none other than "Let's Make A Soccer Team", a Football/Soccer game released in 2006 (only available in Europe), where you are not the player, you are the owner.
Released in August 2006, LMAST had some mixed reviews with people either loving it or hating it, I for one think that it is a very fun and relaxing game to have and play, not only you are managing your team and players by making and keeping them fit, buying or selling players and making sure that the team is in tip top shape and is ready to play for the big game but also, you own the whole club as well, which means of course you have to make sure you are looking out for the club, increasing the standards and the facilities of it over the coming seasons, plus you can even pick out which merchandise you want to sell to increase it's finances.
Here is a news story from CVG (ComputerAndVideoGames.com) about LMAST, dated back March 28th 2006:
Let's Make a Soccer Team is the catchy title of the European version of a Japanese football management game – that's apparently really successful out in the Land of the Rising Sun – which is to be released for PS2 by Sega.

No prizes for guessing that Let's Make a Soccer Team allows players to create their own football club from scratch and pit it against real-life football teams and players, managing every element of its progress in the process. A fabulous career in the managerial hotseat can begin in England, France, Holland, Italy, Germany or Spain where you've just three matches in a vital
Apparently, a sneaky rival is trying to usurp your position as manager and you SIMPLY MUST guide your team to promotion into the second division for job security's sake. Eventually, majestically flexing management muscles should win you promotion into the big boy's leagues and then it's time to set beady eyes on the Championship and European competitions.

Much of the management side of Let's Make a Soccer Team will be more than familiar to fans of this type of game, wannabe Alex Fergusons buying and selling footballers, dealing with the media and player concerns, establishing training sessions, fiddling with match tactics and ensuring the cash continues to flow in while catapulting your club to stardom.

In addition, Let's Make a Soccer Team features an "advanced" 3D match engine via which players can monitor team progress and observe tactics in action.
The place at which I found LMAST, was at Amazon, the original price was about £29.99 and now it's gone down by a massive 90%, which the price now is just £2.95, now that's what I call I bargain when I see it (other places you can get it via Amazon are: Germany for only 14.99 Euros and there are 2 left in stock, and France for only 14.01 Euros). There are only 4 more copies of the game left in stock (UK), so don't delay, if you want a Football Managing game with a bit of a twist and a bit of drama in it as well, then go and get "Let's Make A Soccer Team".