Japanese Wreck-It Ralph Video Shows NEW Sonic Footage
A few hours ago on our Facebook and Twitter we showed you the Wreck-It Ralph posters from IGN, however we've just received a tip-off that brings you new footage of Sonic from the movie. We'd already seen Sonic appear on the animated poster, but this time it's a blink and you'll miss it appearance of Sonic in the middle of what looks like a party at the building he and Fix-It Felix battle over. At 0:36 Sonic is seen in the background turning around as Ralph enters and tries to find out what is going on…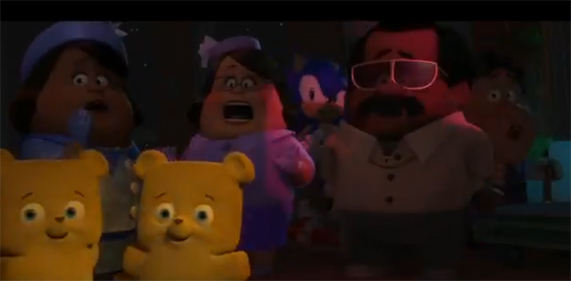 The video, which also shows clearly how character Vanellope von Schweetz from the game Sugar Rush being ostracised for being a glitch.
Earlier SEGA Bits posted a snippet from the most recent copy of TOTAL FILM where producer Clark Spencer commented on Sonic's inclusion.
"We had a scene where we wanted the rings to come out of Sonic, and SEGA said the only way that happens is if he falls over, and we didn't have him fall over in the scene, so we actually went back and re-animated it."
Could this be that scene?