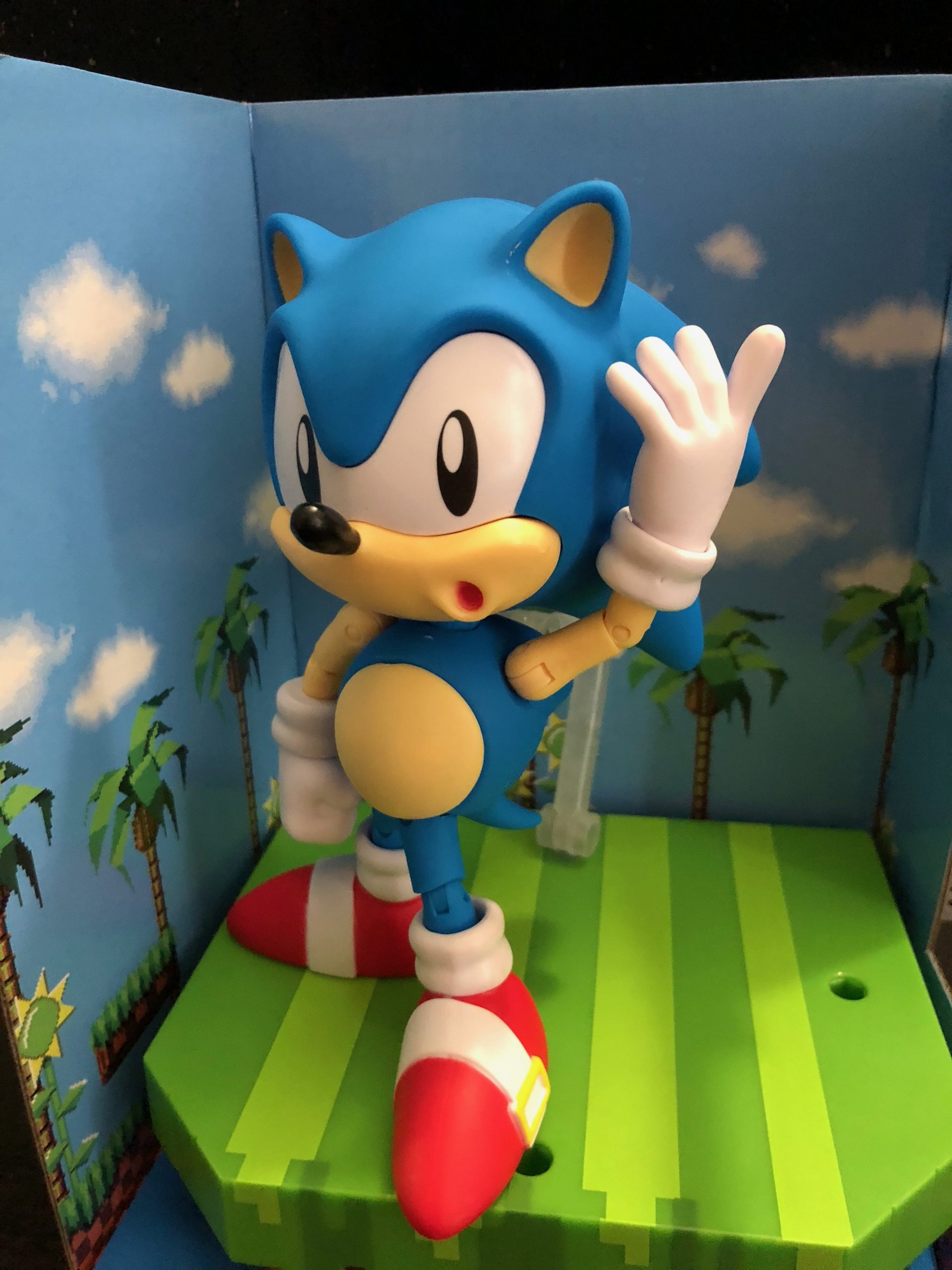 Review: Tomy's Ultimate Classic Sonic
Tomy's first attempt at a collector-oriented figure could be the best Classic Sonic toy yet – though it's definitely not without its faults.
Just as Sonic Team made many attempts at realizing Sonic's unique spiky build in three dimensions, toy manufacturers from JoyRide to Jazwares and now Tomy have found it difficult to make a Sonic figure that's fun to play with without making some serious compromises to his design. JoyRide's figures were exaggerated and barely articulated; Jazwares's attempts had great articulation at the cost of glaring visible joints on every lanky limb; and now Tomy's attempts have offered true-to-game looks at the expense of articulation and play factor.
That is, of course, until now. Collectibles fans like me have been looking forward to Ultimate Classic Sonic since its debut in the toy fair circuit earlier this year. Released this week as a GameStop exclusive, I grabbed the customizable figure in hopes of finally finding a successor to GoodSmile's brilliant Sonic the Hedgehog Nendoroid. The results are… close, but not perfect.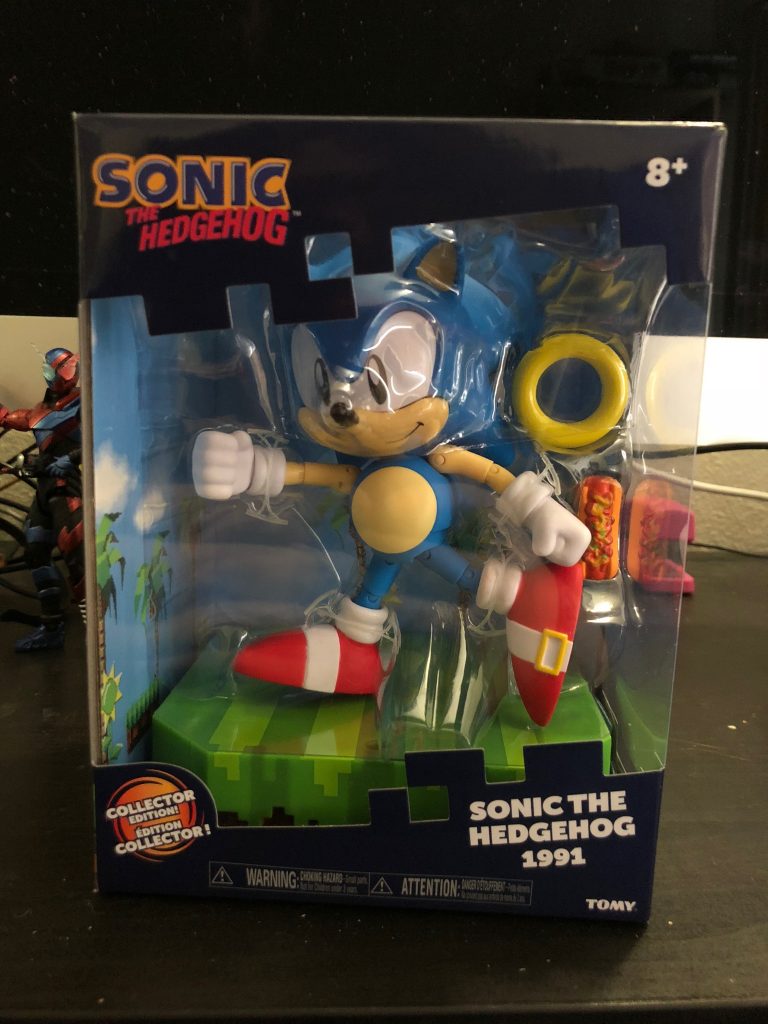 At an MSRP of $29.99, I expected something akin to the aforementioned Nendoroid, a smaller figure replete with details and accessories. Grabbing the box at my local GameStop, I was taken aback by the sheer size of the figure. At around six inches, he's much larger than GoodSmile's Nendoroid line. Taking this figure out of the well-appointed box, he's closer to something along the lines of Jazware's old 10" articulated line.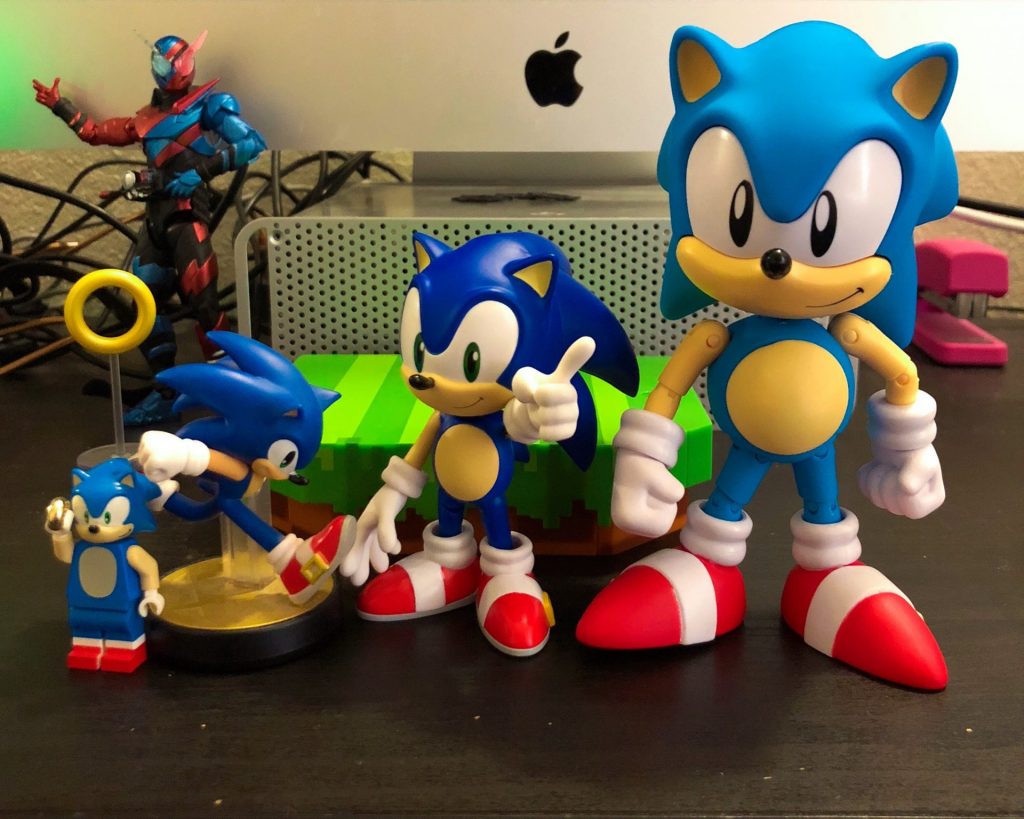 Unlike the rest of Tomy's Sonic toys, Ultimate Classic Sonic's got a ball-jointed neck and ball joints for wrists; hinge joints in his shoulders, elbows, knees, and thighs; and even an articulated waist, using an interesting little seam underneath his round belly. In addition to all those pose possibilities, Tomy's gone all-out with accessories for this little guy. Utilizing a series of optional eyes, faceplates, hands, and even an included stand, a number of iconic poses are possible. The stand offers several peg holes for posing, and the figure comes with a transparent base for both his back and either his foot or the requisite gold ring. Unfortunately, compared to GoodSmile's well-loved Nendoroid stands, Tomy's attempt feels a little stiff and requires quite a bit of forethought before use.
This slideshow requires JavaScript.
That Nendoroid release is really my primary point of comparison for this figure. At a similar price upon initial release, GoodSmile packed the figure with tons of character and a number of really fun accessories, including a customizable item box and an articulated checkpoint. Nowadays, if you're a fan trying to choose between Ultimate Classic Sonic and the budget-priced EZ Nendoroid Sonic, which includes less accessories, the edge arguably goes to the Tomy figure, which comes with a whole lot more. Further, I can't deny just how cute this design is. It almost perfectly mirrors the Generations model down to the colorway, and it even comes with a Green Hill-themed base and a chili dog! If you're a Classic Sonic fan, this is easily his best figure to date, though I can't help but wish GoodSmile had put out a new Nendoroid in time with Sonic Mania's release.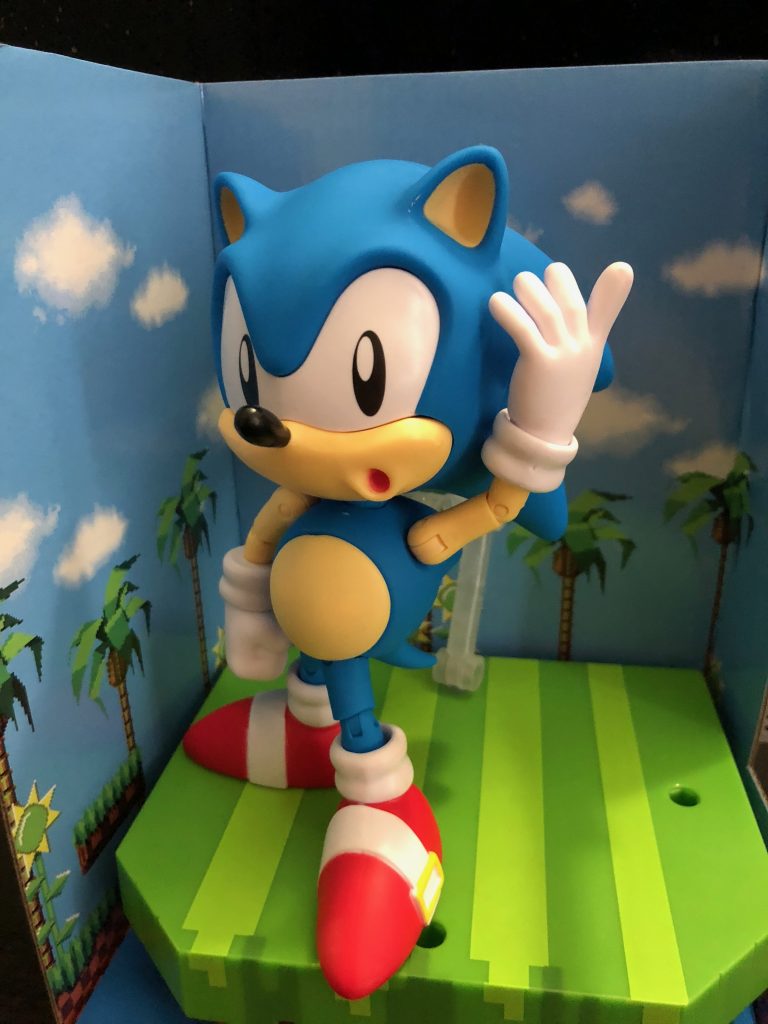 That said, this figure isn't for everyone. By employing limited motion combined with replaceable limbs. GoodSmile's Sonic offered a unique styling and articulation that doesn't compromise the design. Tomy, however, has gone for the classic hinge joint look, which might offer tons of options but can leave a bad taste in the mouths of those who want their Sonic looking sleek. The other big failing here, in my opinion, is paint. At thirty bucks, I'd have preferred to receive a figure that didn't have smeared socks and light scratches on his accessories out of the box. Quality control has been an ever-present problem in Tomy's figure line, and it hasn't gone away. I do hope that it's a bigger priority in a future release.
Ultimately, I think this figure is worth your time. There's no doubt he's going to look great on my shelf, even if he's not perfect from every angle. Here's crossing my fingers we see this line expand – if Tomy continues this effort, collectors could get a line of ultra-charismatic figures that represents Sonic and his friends like never before.
This post was originally written by the author for TSSZ News.