Review: Hypnospace Outlaw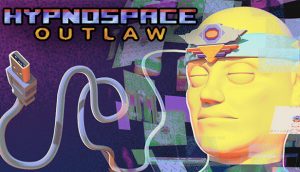 Do you remember the days of the internet where Geocities was the thing for your own personal webpage, and to meet with like-minded people*? If you do, and you want to experience those days all over again (complete with the lag that came with it), then the point and click adventure game Hypnospace Outlaw might be the thing for you. Alternatively, if you want to see just what the internet was like in those days (warts and all), this is possibly the best pastiche/homage around (delete where appropriate).
Hypnospace Outlaw takes place in an alternative reality where the latest big craze is an online community that is accessed and managed while you sleep. This is the Hypnospace, and unsurprisingly, it is a bit like the Wild West in terms of laws and such. This is where you, the player, come in. You are enlisted as a Hypnospace Enforcer; someone tasked with seeking out and removing anything that breaks their T&Cs:
Copyright Infringement – anything that is owned by someone else
Harassment – bullying or other verbal spars
Illegal Items – basically, anything that would raise this game's age rating
Malicious Software – virus, bugs, and other unlicensed and unsafe programs
Extralegal Commerce – earning real life money on the side
With your ban-hammer of justice, and a portfolio of tasks to accomplish, you are left to patrol the Hypnospace and all of its glory. One day, you might be looking for banned images of a cartoon fish, the next day you might be playing a game of cat and mouse with a malicious hacker. And in between it all are many, many pages dedicated to many things, ranging from the grand to the very trivial.
The game's biggest strength is by far the content of the Hypnospace. There are a number of zones you have access to, and the pages within each zone cover personal blogs, interactive fiction, fan pages, official celebrity pages, and more besides. Each page is unique and have their own little story behind them. And they are all very 90's. With the game covering multiple chapters, you can see the pages change and evolve (or in some cases, devolve) as time goes on. This gives it the impression that it is an actual web community, and helps define this alternative reality you're in.
The game also plays out as if you're using a desktop from the era of Windows 98, meaning you have access to all the features an OS from the era had. You can buy "licensed" music using Hypnospace's in-game currency (which you earn by reporting violations, among other tasks), download free digital pets and wallpapers, play basic games, and if you're unlucky, maybe acquire one or two low-level viruses. It certainly wants you to feel like you're in the 90's, complete with slowdown (and the ever-present tip of wiggling the mouse to make the pages load faster).
Unsurprisingly, the animations and GIFs are all as blocky and chunky as you expect from the 1990's, complete with all the eye-hurting contrast you expect. The Hypnospace pages themselves all lean into the best – and the worst – of that era. Moving text, garish colours, awful backgrounds – this is like a modern re-interpretation of those 'worst web pages in the world' you often see. This all helps keep the suspension of disbelief and makes you feel like you have just leapt back in time**.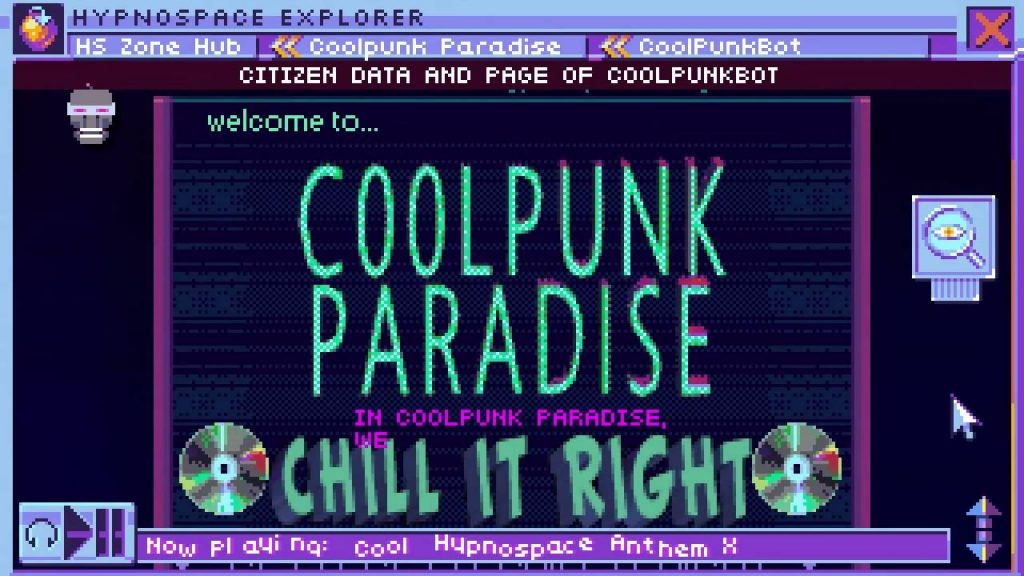 The soundtrack is also something straight out of a 90's Soundblaster card***. The music team manages to capture the essence of those sound compressed MIDI files from yesteryear, whilst adding enough twists to keep the music fresh. One such example is a riff on the love-it-or-hate-it songs that become a meme out of nowhere, with a musical style called "Coolpunk" that…
well, you have to hear it to believe it. Along with the so bad it's good music, there are also some legitimately good tracks on the soundtrack, and it all adds to the atmosphere of the game.
However, despite all of the things that draws you into the world of Hypnospace Outlaw, there is one fairly big downside. If you are savvy enough to know how to best surf the Hypnospace, you can beat the final story mission after 4-5 hours. There are only a set number of missions, and the games doesn't offer as much variety as the game initially promises. What seems like a game that has vast potential ends up being very linear, and to cap it off the latter half of the game feels lacking and the pacing all over the place (admittedly for plot reasons, but it still feels like an entire third of the game is missing). There is still stuff to do post-game, but unless you're drawn into the world of Hypnospace, there's little to keep you coming back.
And it is a shame, as the rest of the game sets everything up really well. The 90's aesthetic really appealed to me, along with all of the other touches to keep the immersion going. But unless you are captivated by the world and this style of game, then it's a hard one to strongly recommend. What I can recommend is the demo of Hypnospace Outlaw on the Switch. Try it out and see if you want to invest some time within the wonderfully weird world of Hypnospace.
| | |
| --- | --- |
| SCORE | Much as I loved the game, the shortcomings do make this very hard to recommend. It does what it does extremely well, and it is a wonderful love letter to that era of the internet. But with some bad pacing and a potentially short playtime, it can be over just as soon as you've gotten into this world. Definitely try before you buy. |
| | 3.0 |
* If not, then I suddenly feel 10 years older…
** Complete with all the pain that comes with it
*** Have I mentioned how 90's this game is?