Capsule Computers Podcast – Episode 20: "Heroes Of Ruin" (#GC023)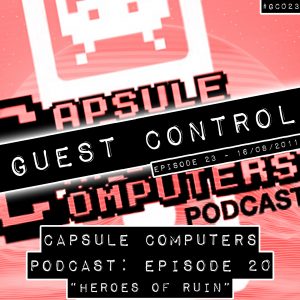 It's a late night visit to the podcast of Aussie gaming site Capsule Computers for Kevin as he does the media trail to discuss Heroes of Ruin, the RuinCast and everything Square Enix London Studios. But the Capsule team are also in the mood to talk other news, like the R18+ rating Australia seems to be on the fast track for. As well as discussing the first games everyone played, finished, and what they're playing at the minute – which gives Kevin all the excuse he needs to talk about Star Goose and Bomb Jack on the Atari ST.
With music by The Munitionettes, Christopher Voss and The J. Arthur Keens Band.
Podcast: Play in new window | Download
Subscribe to
Radio Redux - Guest Control
Or subscribe with your favorite app by using the address below