"An SS:R Musical Contingency" (FLS#06)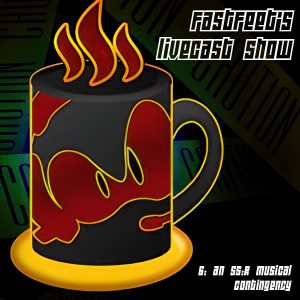 The sixth and final episode of FastFeet's LiVECAST Show was never actually put out all together, and was instead something of a thrown together collection of musical segments with occasional interruptions from FastFeet and JJ. The files were never even put together into a cohesive whole and the audio quality was less than stellar on the recorded sections, with JJ sounding like he was eating (or worse) his mic.
LMC has taken the original files for this cover show and pieced it back together, exorcising totally unlistenable segments and replacing bad audio files where possible with modern equivalents and made other enhancements where we can.
So here, for the first time to download is the 'lost' final episode of FastFeet's LiVECAST Show.
Podcast: Play in new window | Download