USAopoly Confirms Small Metallic Dog To Join Sonic Cast
As well as a Big The Top Hat, the Egg Racing car and other Monopoly pieces – Pico Pico Wheelbarrow anyone?
We have all been aware there's been a Sonic Monopoly game in the works for a while, but USAopoly – the holding company that deals with licensing the Monopoly brand has just put up a teaser for it as well as another Sonic title "Memory Challenge".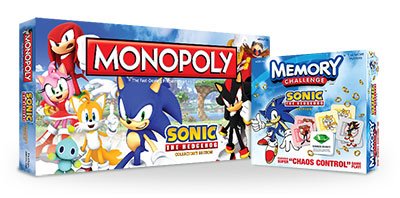 The teaser, shown by their Facebook page does not show much but a mock-up of the board game but considering we've been asking about it for YEARS, I can say a big hooray on this one!
USAopoly don't give much in the way of details initially, simply saying the items are coming soon. However in response to a question they did reveal the following:
Sorry, we are not doing preorders for the Sonic line, but I can tell you that Sonic Monopoly should be available this summer followed by Sonic Memory in the fall. We'll post when Sonic Monopoly is available to purchase online.
I guess we await further details then!