Takao Miyoshi's unannounced game page gets 16bit update!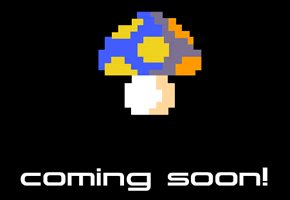 SEGA legend Miyoshi's site for an unannounced game has taken on even more of a 16bit feel in the last 24 hours.
A story that was missed here at TSSZ a few days ago was the news that SEGA and Takao Miyoshi had opened a teaser/count down site for an unannounced game (See the site in question).
Since the news broke there has been some updates made to the site in the form of interactive elements. Here are a list of things you can do on the site at the moment:
Click the 'T' on Takao and you will be taken to the Let's Tap site.
Click the 'P' on produce and you will here a 16bit like sound. Although I cannot say exactly what this is, I think it sounds like something from Donkey Kong.
Click the 'U' in produce and you get taken to a Japanese game site for a DS learning game made by SEGA.
Click the mushroom and you get a 16bit sound similar to a 1up sound from Mario.
Click the 'C' on coming and you get taken to the site for Prope's other game Let's Catch.
Finally! If you click the SEGA icon you will hear the 16bit sound for the SEGA intro screen from games such as Sonic 2.
When the site was released SEGANerd, George, had a stab in the dark saying that based on the mushroom he would guess we should expect a DS game from this. Which is a fair assumption I would say. But now, since these updates I also have a little idea of my own.
I would like to draw your attention to this article, Yuji Naka announcing that Prope are working on a Sonic-esque title. Then look at what you can do with Miyoshi's teaser site. I am talk about the linking to both of Prope's games. Add those two things together and then throw in that if you click the SEGA icon you hear a sound reminiscent of a Sonic-esque game! Huh? HUH? Is my mind running away with me, or is it actually possible that this site is directly linked to Naka's comments? Could this be when announced a Sonic-esque game produced in a style that is similar to 16bit classics? Someone please bring me down to earth if I am getting carried away with myself here! XD
Only 7 days to wait for a real answer! Any ideas people?
Edit: Something I missed here guys. Check out the CERO B (the Japanese equivalent to ESRB) rating, they rated the unannounced title for ages 12 and up. This means that the game could possibly contain sexuality and violence. I think that may have just brought me down to earth! Can still wonder though!
Source: SEGANerds