Sunsoft Sheds Some Light On PlayStation VR MOBA
'The world has been engulfed in darkness, the people called this the Dark Eclipse.' Thus begins the journey for would-be heroes and adventurers in DARK ECLIPSE, the first real-time strategy multiplayer online battle video game (RTS-MOBA) for the PlayStation VR and one that will let you get hands-on with controlling your characters.
DARK ECLIPSE pits players against others who match their skill level in a battle to see who is the best. Developer Sunsoft has included a Rank Mode specifically for this purpose with an initial 1-vs-1 mode at launch, but after that switching focus to adding 2-vs-2, and adding more of a teamwork dynamic to the title. The development team have even indicated that 3-vs-3 matches are a possibility for the future.
VRFocus sat down with two members of the production team at Sunsoft to discuss the latest as to what's going on with the title – Producer Shohei Sakakibara and Senior Programmer Bill Hung, and they revealed that initially things didn't start all that well with development.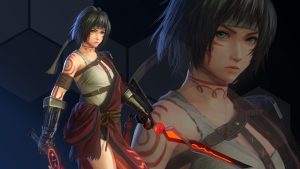 "So, at the beginning we wanted to create a very 'core' game." Explains Hung, translating for Sakakibara. "And then when we tried it out we'd come up with something that was quite boring, and we kind of changed our thinking and fixed it. Made it more fun."
"VR is almost like [swiping a phone in a game and the action being the 'fun' part] right now. There's a lot of VR games out there that [are] interesting – but it's not the VR part that is interesting. We need to make a game that the game is interesting."
The team were keen to stress how much better controls in VR are for this time of video game. "In terms of eSports, in VR – when you're using VR, the move contols in this game vs on PC using mouse and keyboard the control is much easier and more intuitive compared to the PC."
This news post was originally written by the author for VRFocus.com.