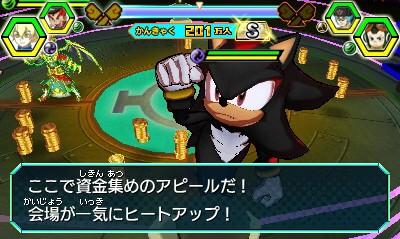 Sonic & Shadow Costumes In Hero Bank 2 Demo
The demo to the upcoming RPG game Hero Bank 2 has released in Japan and it contains a nice bonus. Kaito and Nagare, the game's playable characters, can suit up and wear Sonic and Shadow costumes to enter in the Hero Battle. While in battle players can collect the Chaos Emeralds and unleash a Super Sonic move as Sonic or perform a Chaos Control move with Shadow.
Hero Bank 2 releases in Japan on November 27th.
This post was originally written by the author for TSSZ News.