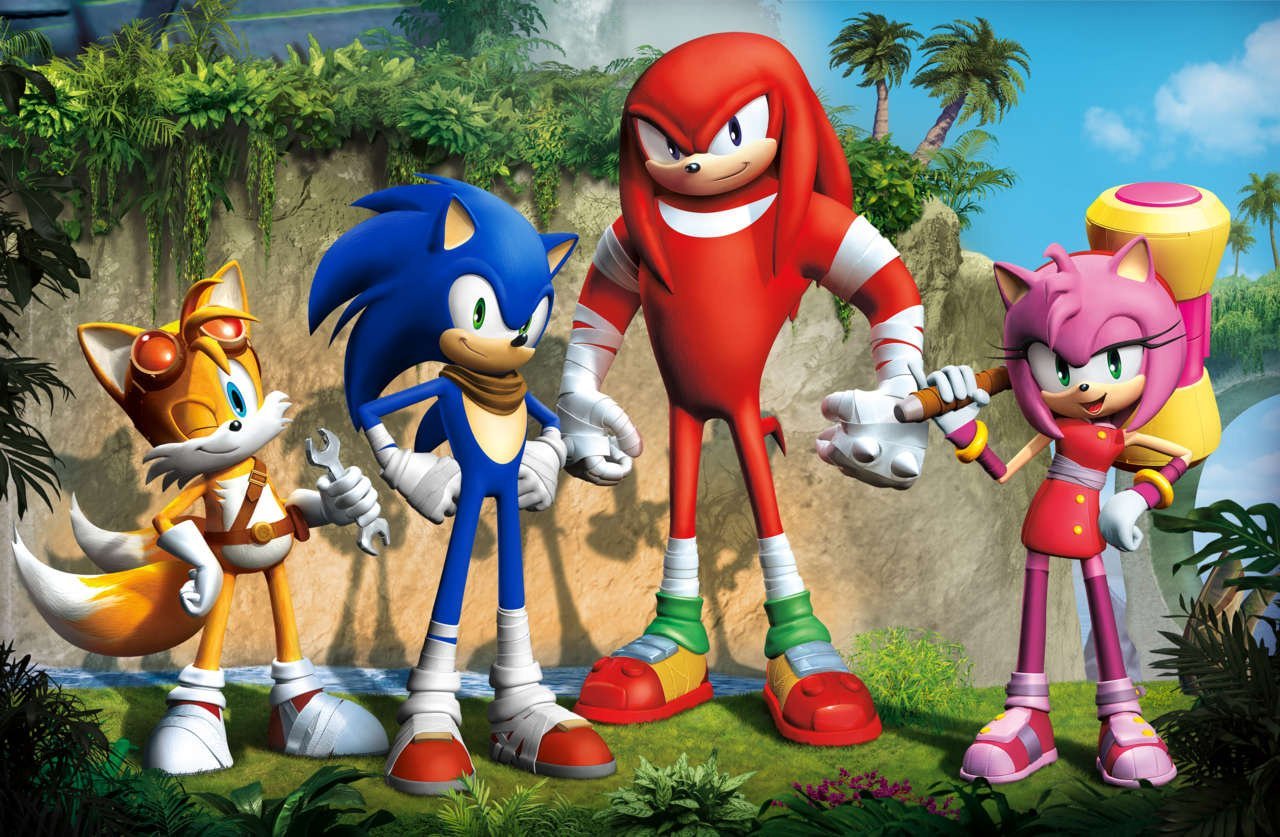 Sonic Boom TV Series & Game Info/Trailers Revealed
Well it was revealed earlier today that a super secret event was being held for press in New York and the "Year of Sonic" was to be announced.
As it turns out this is a full on new line from SEGA, a new universe/universal branch and NOT replacing the current one. It is also down to be SEGA's third Nintendo exclusive game, a tie-in appearing for Wii U and 3DS. You can check out the game trailer and the TV trailer below, which looks very good indeed. Character voices are the same as previously so breath a sigh of relief that we get to keep Mike "Dr. Eggman" Pollock. We also know that the game will act as a prequel to the TV series.
Sonic Boom: The Game
Sonic Boom: TV Show (European Australian, Latin American viewers)
Sonic Boom: TV Show (US/ASIA/RoW viewers)
Why it needed a new universe has yet beyond an opportunity for more toy revenue has still to really be answered I think. SEGA's blog introduces it all as follows:
For more than two decades, Sonic the Hedgehog has been one of the world's biggest gaming icons, with over 70 video game titles, four animated series, and an extensive global merchandising line to his name. This year, SEGA is excited to introduce a new branch of the Sonic universe, entitled Sonic Boom, that will debut a new look for Sonic and friends and launch their first-ever CG animated television series, new video games for Wii U and Nintendo 3DS, and a new toy line. The creative driving forces behind these projects are working together with SEGA to kick-start a global campaign for Sonic Boom that will excite and engage new and existing fans across a variety of platforms.

Sonic Boom's visual identity includes character designs inspired by the abilities and unique personalities of each of the characters, while still maintaining the core identity and values of the Sonic brand. The rich worlds of the TV series and videogame will share a common narrative and a number of location and stylistic similarities reflecting full collaboration between videogame, TV series partners and SEGA from the outset.

The Sonic Boom television series, co-produced by SEGA of America Inc. and OuiDO! Productions, will debut on Cartoon Network in the U.S. and on CANAL J and GULLI in France during the 2014/2015 season. The series is an ensemble comedy consisting of 52 x 11-minute standalone episodes packed full of high-adrenaline action. Every episode starts from a small character-driven story and explodes into an epic tale of saving the world, robot battles and more.

Serving as a prequel to the stories revealed in the TV series, the Sonic Boom video game will deliver a totally different experience to previous Sonic games with collaborative gameplay at its core. Developed in the U.S by California-based Big Red Button Entertainment (Wii U) and Sanzaru Games (Nintendo 3DS) in collaboration with Sonic Team, this is the third title to be released as part of an exclusive deal with Nintendo. Sonic Boom will take advantage of the innovative hardware of both the Wii U and Nintendo 3DS, with traditional elements of Sonic games, such as speed, also featured. The videogame will also introduce exploration, combat and a new Enerbeam tether mechanic that will allow the Sonic Boom world to be discovered in totally unique ways.

Sonic Boom will be supported by a robust global licensing and merchandising program, anchored by new master toy partner TOMY. TOMY's line will showcase the new character looks, stressing interaction between core characters, and will feature new play patterns based on both the new game and TV series. TOMY will develop a comprehensive toy range across a broad number of categories including plush, action figures, RC, role play, vehicles and novelty. Sonic fans can expect a high-quality, collectible toy line fueled by TOMY innovation and energized with speed, lights, sounds, motion-activation and action-performance. SEGA will launch a broad licensing program across multiple categories including toys, apparel, publishing, accessories, food and beverage, health and more – making this one of the biggest license initiatives SEGA has undertaken in recent years. The company will enlist many of its current partners who have had tremendous success with Sonic over the past years while seeking new licensees to join this exciting new Sonic licensing program.

"We want to ensure that the Sonic brand continues to evolve and appeal to new generations of Sonic fans and this different look introduces a fresh approach that will be at once both familiar and new to consumers," said John Cheng, President & COO, SEGA of America. "We are committed to supporting this initiative to provide great entertainment to fans for all aspects of their lives."