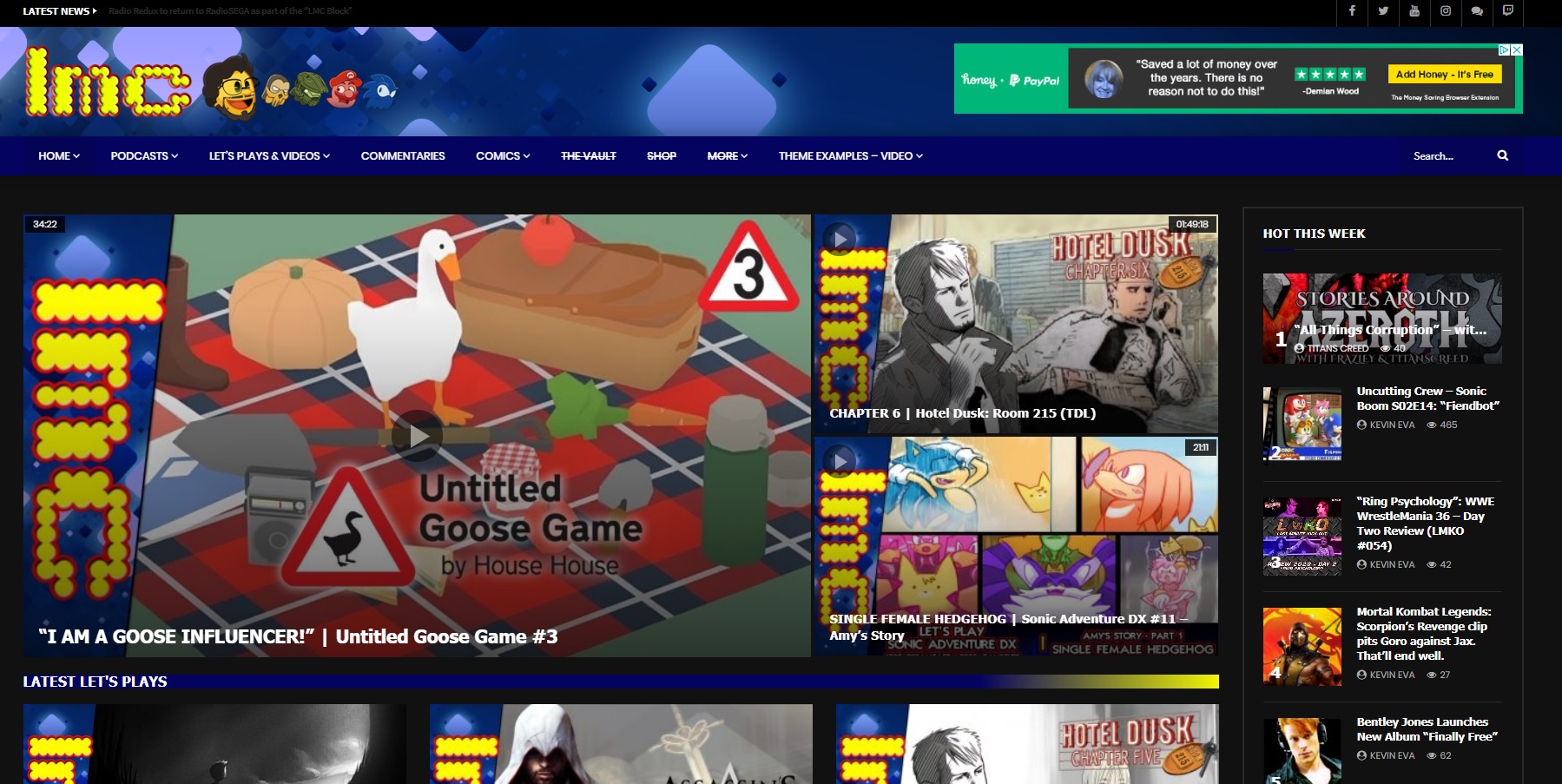 Welcome to Last Minute Continue in 2021
Well folks, we're back. Last Minute Continue's website is online once again.
It's been a very long time, but the again it was a very long year and although it isn't 100% ready thanks to all the barriers 2020 threw our (and my) way you can consider this a 'soft launch' where we'll fill in the gaps along the way. The new LMC is lightyears ahead of the previous website in terms of functionality. For those that don't know we had to move away from after support for it's base theme and the mechanics behind it stopped. After fifteen plus years of content moving from Sonic Wrecks to LMC there was so much content that needed, effectively, to be reworked in some way it made sense to shutter the whole site to do that.
This is of course all contrary to the original plan, that LMC was going to fade into more of a YouTube only kind of deal. But the world, the web and the platforms in-between move on, and while LMC has always to a degree reflected how I feel about the games industry and companies therein 2020 has rekindled some old interests that mean a website is once again a more viable platform. We move forward in 2021 with a slightly new direction for the LMC, ludicrous new goals that were, frankly, ludicrous to consider back in the day and so much content it's… actually going to cause a hosting problem down the road. But we can think about that a bit later.
For now it's a case of somethings old, somethings new, somethings borrowed and somethings definitely blue.
NEWS AND ARTICLES
The news section is back. We kinda shuttered it for a while, as whilst many people are in the LMC crew site content has always really boiled down to yours truly. I wanted to get something put in place so we can have news on a more regular basis. Donnie has been a part of the LMC family since prior to 2012, he's been a part of Uncutting Crew of course and of our livestreams on Twitch here and there down the years. Now with the landscape of the SEGASonic community dramatically changing this year, an opportunity arose to make Donnie more a part of things in terms of regular content.
As such Donnie is now our chief reporter, he'll be bringing you all manner of news updates and to make things a little different and set us apart we'll be focusing on everything related to video game merchandise. Comics, clothing, soundtracks, figures and collectables – you name it. In fact, whilst the site has been offline, I've been working with Donnie to keep the site up to date with stories so even though we're live from today you'll find there's actually a whole bunch of stories from over the past few months that you may want to check out, from Super Mario streetwear and replica poké balls to Sonic figures, gaming hotels straight out of TRON and the latest Funko offerings.
If you want to get in contact with us with a news tip, are a company that would like to discuss a possible partnership or have some general feedback on things you can get in contact with myself or Donnie (for news) here.
Speaking of Donnie's old home, you may also be aware of my growing concern on Twitter over the year as to the loss of content from the 'old days'. We've been around a long ass time, and we've seen plenty come and plenty go to the point some of those that went have even come back again. Even things like Summer of Sonic, there's videos that were there that are not, the records of what were done and what happened are lost. Either casually tossed away through choice, lost through accident, or gone due to the closing of the channels and platforms they are a part of. This history is important because it's not just the history of the brands we follow it's OUR history, so over the last year I've become not so much 'ArchangelUK' but 'ArchivistUK', trying to hunt down content on places that to preserve it. This was already in place when TSSZ's closure was announced and my first concern was the thousands and thousands of stories and articles produced in the 20 years the site was active.
If you follow us on Twitter you'll know I reached out to Tristan Bresnen and we worked out an agreement for LMC to host the TSSZ archive with our friends at Tails Channel securing all the videos. To get this to be a part of LMC will take time and lots of it, as I've said before you can't just slap 20 years of content onto 15 years of content. We're setup totally differently to TSSZ so I'm working through and restoring articles one author at a time, you'll know they are TSSZ articles because they are labelled up as such as the bottom. We are, as I have joked, currently 'Donnie Compliant'. Which is to say all of Donnie's archive is up and part of the site. When things have calmed down a bit I'll be recommencing going through on an author by author basis working up to the preposterous amount of writing done by Tristan himself.
You can find out progress on all the things being done as part of the channel #kevinsworkshop on our Discord.
Not only is the content being saved (or 98% of it is) but we're honouring some of the TSSZ series and traditions by adopting them here at LMC. Our comic preview stories are now Inside The Pages, you'll also see more articles added to the In-Depth series and Donnie has continued his yearly tradition with a 2020 edition of A Year In Supersonic Review. I've also taken the liberty of adding all the articles from my time at VRFocus in case those go walkabout, so both Make It A (Virtual) Reality and VR vs. now also have a home here. Expect more reviews and things too.
PODCASTS
Ah podcasts. Where would we be without them? Over the years LMC has produced, or been involved with, literally hundreds of episodes and has several active shows that you can find on both iTunes and Spotify as well as that beyond.
2020 saw the full-time (ish) return of Radio Redux to the airwaves, broadcasting as part of the LMC Block on RadioSEGA which continues to be an incredibly supportive partner to LMC. The LMC Block broadcasts at 7PM each and every Sunday and contains a show with LMC crew involvement.
The rework also affected our podcasts, Radio Redux was still using an only manually coded RSS system so all 200 plus shows were retagged and reposted complete with episode specific album art for every… single… show. This was also rolled out to Guest Control which was also renumbered and reordered. Not only do we have more of both Radio Redux and Guest Control – oh boy have I found some stuff for that in the last year or so – we've also developed new content in the form of LMC Cast. Yes the show has been around for a couple of years now but I tweaked the formula and now it's a monthly discussion show with the rest of the Crew on all the games, movies and tv shows they've been enjoying but all to the background of a board game. So you get information and a play-by-play of gaming shenanigans that has proven surprisingly popular.
Our wrestling podcast Last Minute Kick Out (LMKO) continues as the beardy boys look at both WWE and AEW content with a critical eye and I very much invite you to check it out if you are a fan of what goes on within the squared circle.
In terms of archive shows, Titanscreed and Frazley's Warcraft-focused show Stories Around Azeroth sadly came to an end before we could launch with the support we were preparing but you can still get the full archive of shows and videos here. Dragon's Den also got the retag and album art treatment, as does Mock The Geek.
One of those archive projects that has been going on has been with old Sonic Wrecks affiliate Sonic Style. I contacted Demx and am pleased to sat that every episode of The Sonic Billboard Top 10 is now a part of our archive. Not only has every episode been retagged complete with new album art but good news 'Sonic Nation' – we also have a previously unreleased 'Episode 0' demo show!
The archive additions don't end there, as classic episodes of the Turbo Drive Live radio show are coming to the site, again properly tagged with show specific album art. Eventually these will be put up as an a proper archive podcast. Turbo has been an invaluable member of the LMC crew for years and it only makes sense his creation gets a new lease of life for those who want to indulge. Five episodes are up at present and we'll be adding to the archive as we go including episodes with guests Doug Walker and James Rolfe.
You will likely notice that the branding of the page changes between the series.
LET'S PLAYS AND GENERAL VIDEOS
Lots of reorganising regarding the Let's Plays side of things.
There are now playlists for both specific video games and channels for specific video platforms – so if you want to see all the content on. So let's say you want to see all the videos of Gamecube games you can do so and also see the games featured to date. There are also video series, which are collections of videos by the entire series. Things such as Uncutting Crew (more on this shortly), Race For Good, the all seasons of XCOM: LMC Unknown, DoubleXXCross's ongoing Ace Attorney playthroughs in case order, LMC's horsing around with Race Nights, etc.
All videos can now be played directly from the new story or search listing and it will pop up a player for you along with the playlist/series depending upon how you see things.
You can expect video updates to head on to the site with regularity, not only LMC videos and Turbo Drive Live videos but the Project Phoenix Productions archive has also been added.
You can even search based on the people IN the videos, which is kind of bonkers. For instance, want to see a video that has Vger in it? Here's his filmography. This extends to non and former members of the LMC crew too.
COMMENTARIES
Of course when I say this I mean of course Uncutting Crew. Of all the things of LMC to suffer with the pandemic, Uncutting Crew has probably suffered the most. Donnie has only just moved house having been due to some time back and not been in a position to record. DoubleXXCross can only record at my house and hasn't been able to come over much and our moving in together was also delayed. Whilst I have been working constantly throughout the last year as I nowadays am a part of the health service in our country. Which with a pandemic going on has meant I have been BUSY. There are still plans to continue the rest of the Boom series but to also look into other series too – believe me there's a lot we need to get in to when we finally get back in to the series including a continuation of the story going on outside of the review.
If you're a regular viewer of the shows you know what I mean by that.
COMICS
Sonic Wrecks is BACK.
Yes, we do indeed have a brand new Sonic Wrecks comic in the form of #115's "You're In The Army Now" (a title that had been sitting on the 'coming soon' list for most of a decade) that takes us smack bang back into the story but is also *GASP* drawn. Yes, from here on in all the comics are going to be drawn by DoubleXXCross starting with #115 and will indeed continue the story. A number of scripts are already fleshed out but what is currently being worked on isn't #116, but rather #100. Yes, after many years the comic thought lost is indeed being created after which we'll be straight back to the continuation of the story. Frankly, I've been having a lot of fun getting back into Sonic Wrecks and I'm looking forward to continuing this with DoubleXXCross's amazing assistance.
However, that isn't the only thing we have to talk about when it comes to comics on LMC.
Remember Sonic Style from earlier? Well guess who has their entire archive of comics. Those will begin going up very soon as part of the new section and whilst we're talking about old comics the Emerald Coast archive is coming over here as well, several of which are up already having been given a spruce up by Vger himself – and there may be a few more blasts from the past joining the line-up although this is still TBC. In unrelated news, does anyone have the contact details for the creators of Insonicnia? I'm having no luck whatsoever.
OH and one more thing. There's also a NEW comic from us also coming soon, it has the highly original name of 'Last Minute Continue' and is again going to be a creation of myself and DoubleXXCross. Imagine Sonic Wrecks, but without any restrictions in terms of content.
Oh boy.
THE VAULT
When people talk to me about the site in the past they often mention the Depository. Whilst that is long gone, there is a sense of regret that it is no longer part of the website and certain pieces of LMC content I perhaps would keep no longer have a home. This is where The Vault comes in, as certain bits of the Depository and other items from the past of the site will go in there as well as things I never got to how off.
This section is in no way ready yet, so please be patient.
SHOP
We do have, at last, a proper shop. Only about half the things we've got ready are currently in there but there's shirts relating to our streaming as well as Last Minute Kick Out and after 15 years Radio Redux has a freaking shirt. A range of Turbo Drive Live stuff will be added in time.
This is just the beginning folks, lots of work still to go but we're at least here.