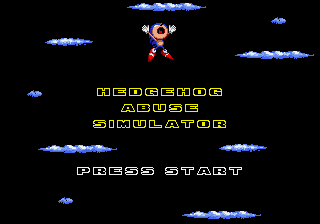 SHC 2015: Hedgehog Abuse Simulator
TSSZ's coverage of Sonic Hacking Contest 2015 continues with the entry spotlight shining on Hedgehog Abuse Simulator by Selbi!
"Tails has had enough! He was always the unimportant one, nothing but the annoying doormat standing in Sonic's shadow. Time for revenge!"

(If there was an award for the worst description, I would win it without competition.)

—————————

About:

The idea of this hack is to use the Debug Mode as an actual part of the game play. However, the ability to teleport has been removed. Also, all items have been deleted from the debug list… except for one.

Spikes.

And not just one type of spikes. The diversity of these three-set needles adds anything from regular speed boosting and bouncy to fragile and exploding. The SpikeDebug™ Mode's great variety of pain bringers leaves no hedgehog's desires in the dirt! Only their blood. (That wasn't a joke. This hack contains blood.)

—————————

Background:

A small hack that was originally intended to become a full-fledged puzzle platformer by the time the contest hit, but due to technical issues and many time constraints never made it past the first few test milestones. For the contest, those few assets have been taken and reordered in a short, albeit (hopefully) polished way.

There is no real game here, just a couple of demonstrating concept levels as well as an intro cutscene. The only reason why I decided to submit it anyway was because a lot of people told me to, saying that there's nothing to lose, really. But I hope you'll enjoy this short experience nonetheless!

(Partially inspired by whoisthisgit's "Tails Abuse Debug" series, see video below.)

—————————

Controls:

With Sonic:
● B, while on the ground: Enter SpikeDebug™ Mode (and leave Sonic waiting where he was)
● C + A: Jump. Duh. Should I also explain what the D-Pad does? Yes. Yes I should.

In SpikeDebug™ Mode:
● D-Pad: Move around (in an 8-pixel grid)
● C: Place a spike / remove spike(s) when hovering over them
● B: Leave SpikeDebug™ Mode (and return back to Sonic)
● Hold A + Press Left/Right: Cycle through spikes

Misc:
● A, while game is paused: Return to stage select (you will need this!)
● A, on stage select: Toggle DevMode (disabled by default; only kept in because otherwise some things are unable to be done and you can get stuck sometimes)

When DevMode is enabled:
● B, anywhere and not just ground: Enter SpikeDebug™ Mode
● Hold A + Press B, when in SpikeDebug™ Mode: Leave SpikeDebug™ Mode (and teleport Sonic to that location)
This post was originally written by the author for TSSZ News.