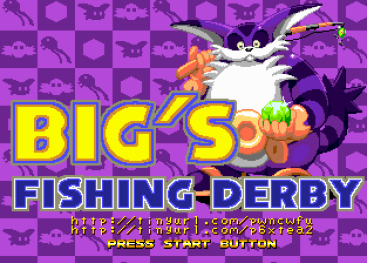 SHC 2015: Big's Fishing Derby
Our Sonic Hacking Contest 2015 coverage continues with the spotlight shining on another contest entry. This time it's a hack that may be familiar to those who followed last year's content. This year it returns with a big update. Big's Fishing Derby by flamewing!
After taking last year's contest by storm, here is a vastly improved Big's Fishing Derby. Changes include:
* 14 brand new levels, and many old ones improved!
* all new single-player game modes: race against the clock 'time attack', battle bosses, limited lives and increasing difficulty on 'arcade mode', or just chill on 'zen mode'.
* many new multiplayer options: play random levels, or play them in sequence, or play a 'best X out of Y' game.
* amazing new music by Ivan IO, Nineko, Spanner, S\_T\_D and ValleyBell.
* amazing new Big by E-122-Psi.
* rebalanced power up probabilities, and a brand new shield power up.
A historical note: since last contest, I became aware that this hack has been widely claimed to be a hack of Sonic 1 (even on Retro's own Wiki, which has been fixed). This is incorrect: it was based on Sonic Classic Heroes, which was based on Sonic 2. If in this day and age you insist on distributing IPS patches (I have seen it done), at least patch the correct game: Sonic Classic Heroes. Or, if you must, Sonic 2.
If you like this hack, please vote for it. But not for the Big trophy, unless you really think this is the worst hack overall.
This post was originally written by the author for TSSZ News.