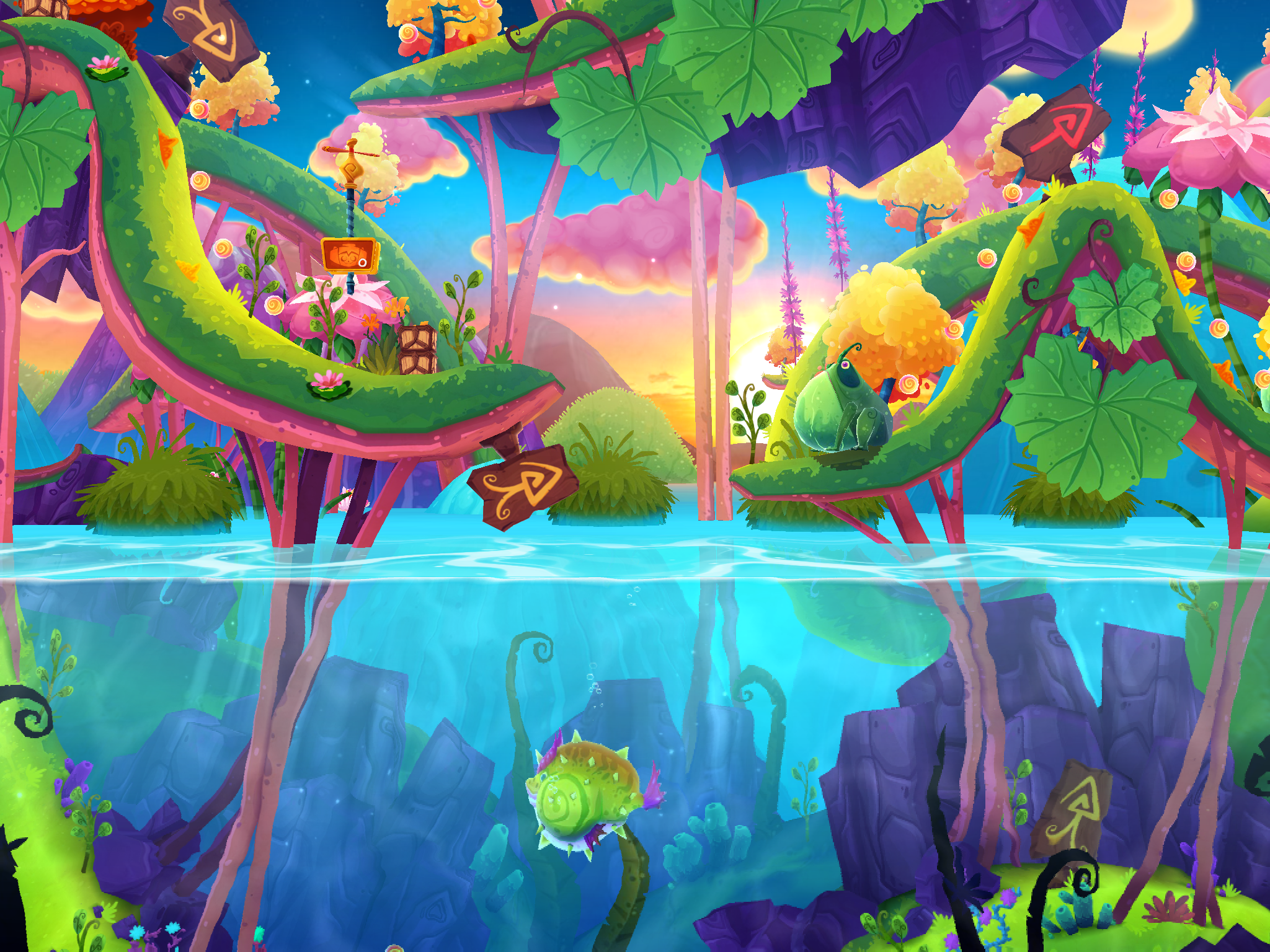 SEGA Releases Heroki On Mobile
Sonic Dash 2: Sonic Boom is not the only mobile game that SEGA has in store for mobile devices this week. A new game, Heroki, was announced today. You can see the press release and screenshots below.
SEGA® and Indie Developer Picomy™ Release Premium Action-Adventure Platformer Featuring a Whimsical Propeller-headed Hero

SAN FRANCISCO and ROTTERDAM, Netherlands – July 2, 2015 – Break through the clouds and save Levantia today! SEGA® announced today that Heroki™ is now available in North America, Latin America, Europe, Korea, China, and Japan. Developed by independent game developer Picomy™ and published by SEGA, Heroki is available exclusively on the App Store for iPhone, iPad, and iPod touch for $7.99.

Picomy, based in the Netherlands, consists of four developers who together created Heroki over the past five years in their spare time. The game boasts the Picon Engine™, a proprietary game engine they built from scratch to ensure the best possible performance and graphics. Separate from the game code, this powerful engine will be used for Picomy's future projects as they continue to iterate on the design and technical prowess of it. On top of building their own game engine, the team also designed each level by hand to ensure that no two levels were the same.

"There's something inherently magical about Heroki — we think players will delight in exploring the world as the playful propeller-headed hero — it will be love at first flight," said Chris Olson, COO of SEGA Networks Inc. "We are proud to work with Picomy to publish this game and bring such a great experience to market."

Additionally, the Picomy team composed the dynamic soundtrack and sound effects that play into the imaginative world of Heroki and change to match the environment. For instance, if Heroki is flying nearby the harbor, a player will hear the pirate whistling a tune to the rhythm of the music or when he's near the farm, there will be a different tune with a banjo also on rhythm.

Set in a whimsical universe full of flight and fantasy, Heroki challenges and delights players with fun and intuitive touch controls, and engaging gameplay. An action-adventure game, players take the role of the propeller-headed hero, Heroki. Using the wind to fly, free fall, dash, and bash across beautiful 3D rendered sky-islands, jungles, seas and deserts, Heroki is on a quest to save the peaceful sky village of Levantia.

"SEGA has been more than a publisher, but a partner throughout this whole process," said Michael Balm, Co-founder of Picomy. "Making a game the size of Heroki with such a small team takes a tremendous amount of time, passion and effort. It's been a magical journey to watch Heroki come to life from concept to full-fledged propeller-headed flight."

Join the colorful and kind propeller-headed hero on his quest to save Levantia today!

Get Heroki on the App Store: http://bit.ly/HerokiApp

For more information on independent developer, Picomy and to learn about Heroki, please visit their website. For the latest social update you can follow them on Twitter and LIKE them on Facebook.

For more information about SEGA, please visit their website. For the latest social updates you can follow them on Twitter and LIKE them on Facebook.

©SEGA. All rights reserved. SEGA is registered in the US Patent and Trademark Office. SEGA and the SEGA logo are either registered trademarks or trademarks of SEGA Holdings, Co., Ltd or its affiliates.

Heroki, Picomy, and the Picon Engine are trademarks of Picomy.
About SEGA Mobile in the West
SEGA's mobile division in the West has its headquarters based in San Francisco with dedicated studios across North America and the UK. Focused on creating fun, compelling and engaging games, SEGA's games feature iconic intellectual property as well as original innovative content for mobile and tablet devices. Since 2008, it has been a leader in the smart phone and tablet space and continues to be at the forefront of mobile gaming. SEGA's mobile studios include Hardlight™, Three Rings™, and Demiurge Studios™, and SEGA has investments in Space Ape Games™ and Ignited Artists™. Recent SEGA mobile titles include Sonic Dash™, Sonic Jump Fever™ and Crazy Taxi™ City Rush. For more information, visit www.sega.com.
This post was originally written by the author for TSSZ News.