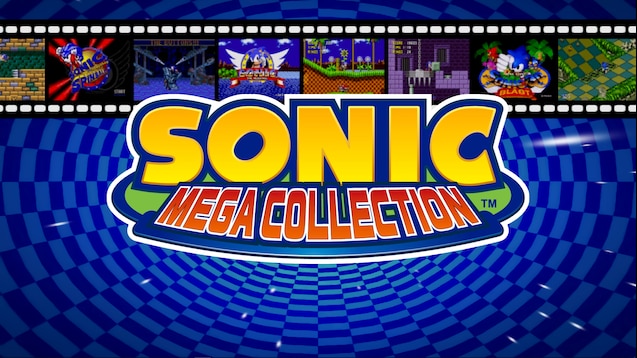 SEGA Games On The Cheap – "Sonic Mega Collection Plus"
Yes everyone it's time once again for another SEGA Game on the Cheap, and this time it's going to be a Sonic game (HOORAY!!!!!) and that Sonic game is none other than "Sonic Mega Collection Plus".
Released on the Nintendo Gamecube (Sonic Mega Collection as it was called on the GC) in 2002 (NA & JP) & 2003 (EU) and then on the Sony Playstaion 2 & Microsoft's Xbox in 2004 (NA & JP) & 2005 (EU), Sonic Mega Collection Plus brought back all the classic and most popular Sonic Games throughout the years and added them all into one whole disc, with such classic titles such as:
Sonic The Hedgehog 1/2/3 & Knuckles
Sonic Spinball
Dr. Robotnik's Mean Bean Machine &
Sonic 3D Flickies Island
Plus also on Mega Collection Plus which you can't get on the original Mega Collection, it included Sonic games from the SEGA Game Gear so you could play on the classic Sonic games on the Mega Drive/Genesis, and also play on the classical handheld Sonic games from the Game Gear, there is so much to choose from in Mega Collection Plus that you won't get bored.
Game Gear Games Included:
Sonic The Hedgehog
Sonic Drift
Sonic Labyrinth
Sonic The Hedgehog Chaos
Sonic Blast &
Dr. Robotnik's Mean Bean Machine
Here is the official Press Release from SEGA of America from the 2nd November 2004:
SAN FRANCISCO (November 2, 2004) SEGA of America, Inc. today announced the release of Sonic Mega Collection Plus for the PlayStation2 computer entertainment system and Microsoft Xbox. At only $19.95 MSRP, Sonic Mega Collection Plus offers a great value for long time fanatics and newcomers to the series alike, featuring more than thirteen classic Sonic The Hedgehog games, four additional unlockable games and a Sonic museum filled with art, comics and more.

Sonic Mega Collection Plus includes seven of the most-loved Sonic games of all time, including: Sonic The Hedgehog, Sonic The Hedgehog 2, Sonic The Hedgehog 3, Sonic & Knuckles, Sonic 3D Blast, Sonic The Hedgehog Spinball, and Dr. Robotnik's Mean Bean Machine. New to the collection are six SEGA Game Gear Sonic games, as well as SEGA Genesis favorites Comix Zone and The Ooze.

"Since his introduction in 1991, Sonic the Hedgehog has been one of gaming's biggest stars," said Scott A. Steinberg, vice president of entertainment marketing, SEGA of America, Inc. "While he's evolved over the years, Sonic's 2D classics remain as fun to play today as they were over a decade ago."

Loaded with hyperspeed ring-collecting fun, Sonic Mega Collection Plus features SEGA's mascot and all his friends in some of their greatest adventures ever. The game also includes a collection of Sonic The Hedgehog comics, with concept and cover art, and many more surprises.

Sonic Mega Collection Plus is rated "E" for Everyone and is available at retailers nationwide for an MSRP of $19.95. For screenshots and artwork visit the SEGA FTP site at: ftp://segapr.segaamerica.com.
Now then it's time for the prices (Prices were from Amazon for the EU & GameStop.com for the US), Sonic Mega Collection Plus (PS2 & PC only) is going for about £7.09 (PS2 version) and £1.85 (PC version) which are both pretty decent little prices considering that you are getting so many classic games all in one disc, there are only six left in stock for the PS2 version and only 10 left for PC so you better buy, buy, buy.
Other places where you can get it on the cheap (PS2 & PC only) include, France for about EUR 16.90 (PS2) and EUR 8.99 (PC) and also in the USA for about $9.99 pre-owned (PS2) and $19.99 new (PC).
So if your into your old classic Sonic games and you want to get them all at once, then why not go ahead and get yourself Sonic Mega Collection Plus.