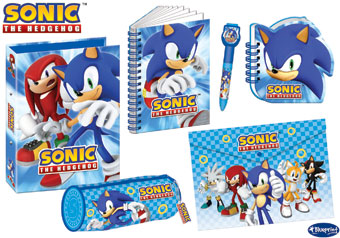 SEGA Europe Reveals Major New Anniversary Licencing Venture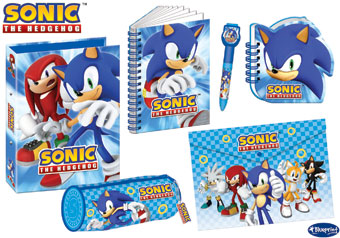 Appearing in trade magazine MCV today is confirmation of a new licencing venture with design entity Blueprint Collections Ltd. This is the latest in a series of moves by SOE to licence out Sonic and friends in time for the twentieth anniversary. Blueprint, who already deal with the lucrative Barbie, Doctor Who and Hello Kitty licences have already secured orders with several major high street names, including key UK stationary outlet WH Smith, supermarket heavyweights Tesco and Morrisons, well known department store chain Debenhams, as well as perennial shifter of Sonic licensed goods Next.
The range of goods which extends to stationary (pens, pencils, notepads, binders) to rucksacks, is due to launch in the Summer.
Sissel Henno, SEGA Europe's head of brand licencing is also keen to stress that this is not the last move of this kind:
"We have a lot of great partners on board already for different merchandise. We've merchandise that targets kids and parents individually, and licences that appeal to the family as a joint experience, for instance the many promotions we have run with Burger King and Pizza Hut as well as our collaboration with Alton Towers.I believe there is still a vast untapped potential for licencing based on games and we will see an increase in overall sales as more retailers start listing the stick and see the results through their sell-through numbers."
So good news – more Sonic stuff is coming your way, bad news – if SOE don't keep a lid on it things could get, arguably, as bad as the situation in America. Lets hope SOE licencing is a bit more choosy than SOA have been in the past.
The article also confirms more work with Toys 'R' Us in the anniversary year, including a "Sonic Island", whether this is for in store or perhaps for online purposes we will have to wait and see.
What are your thoughts? Tell us below…