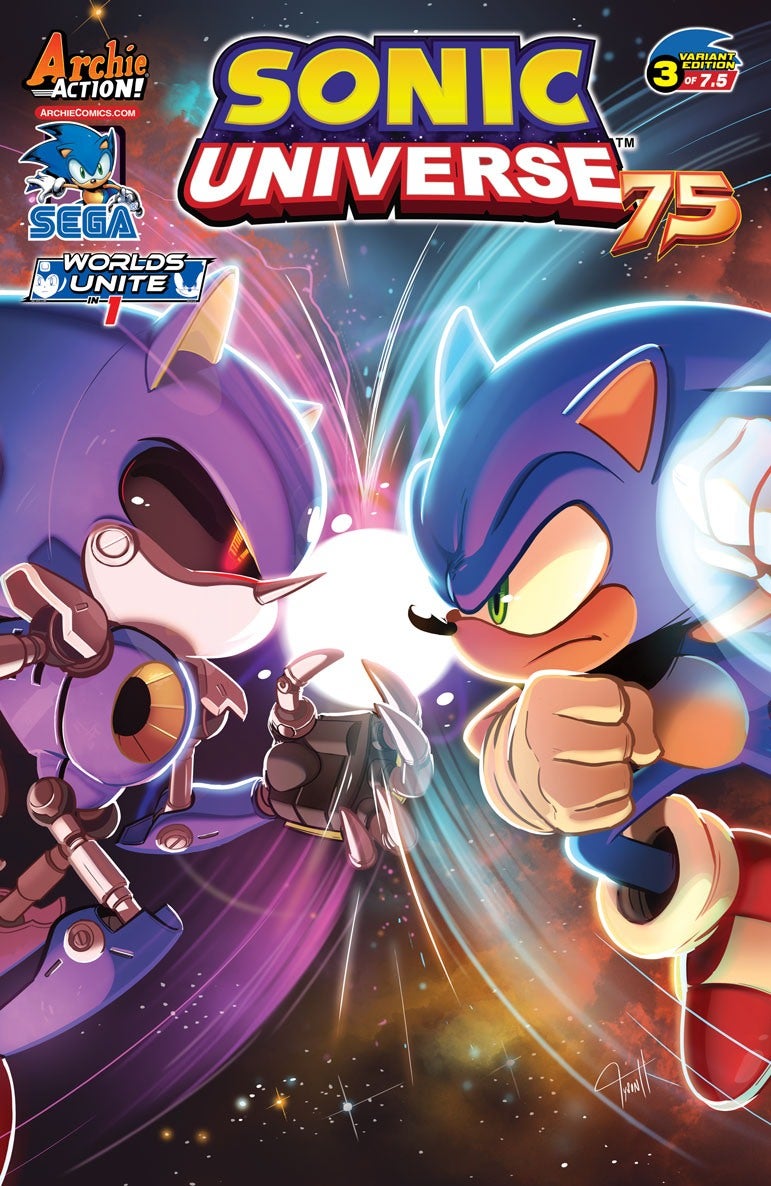 Preview: Sonic Comics For April/May
April marks the final month of normality for the Sonic and Mega Man Archie Comics universes before the Worlds Unite saga gets underway. IGN has posted cover art and plot summaries of the month's Sonic publications. All of them have a countdown to the coming crossover hinting that it all begins around June.
Included is the re-release of the Worlds Collide saga. You can see all covers, including their variants, along with the plot summaries down below.
UPDATE: The other variant covers for Sonic Universe #75 have been found and added to the gallery below.
SONIC Boom #7

A multi-part story? In MY Sonic Boom comic?? You got that right!

It's wacky-racin' adventure in "Everybody's Super Sonic Racing" Part Two: Dr. Eggman's fun and "friendly" go-kart challenge has turned deadly! But, really, who didn't see that "twist" coming? Can Sonic salvage the race and prove to the bad doctor he can win fair and square? More importantly—can Sonic survive long enough to return to the race course?! Discover the fate of life, limb and ego in this super-fast story with cover art from Sonic comic fav Jamal Peppers, and an all-new "insubordination" variant cover from painter Erik Ly! …And BOOM goes the dynamite!
Script: Ian Flynn
Art: Ryan Jampole, Jennifer Hernandez, Rick Bryant, Jack Morelli and Matt Herms
Cover: Jamal Peppers, Rick Bryant and Matt Herms
Insubordination Variant Cover: Erik Ly
On Sale Date: 4/29
32-page, full color comic
$3.99 U.S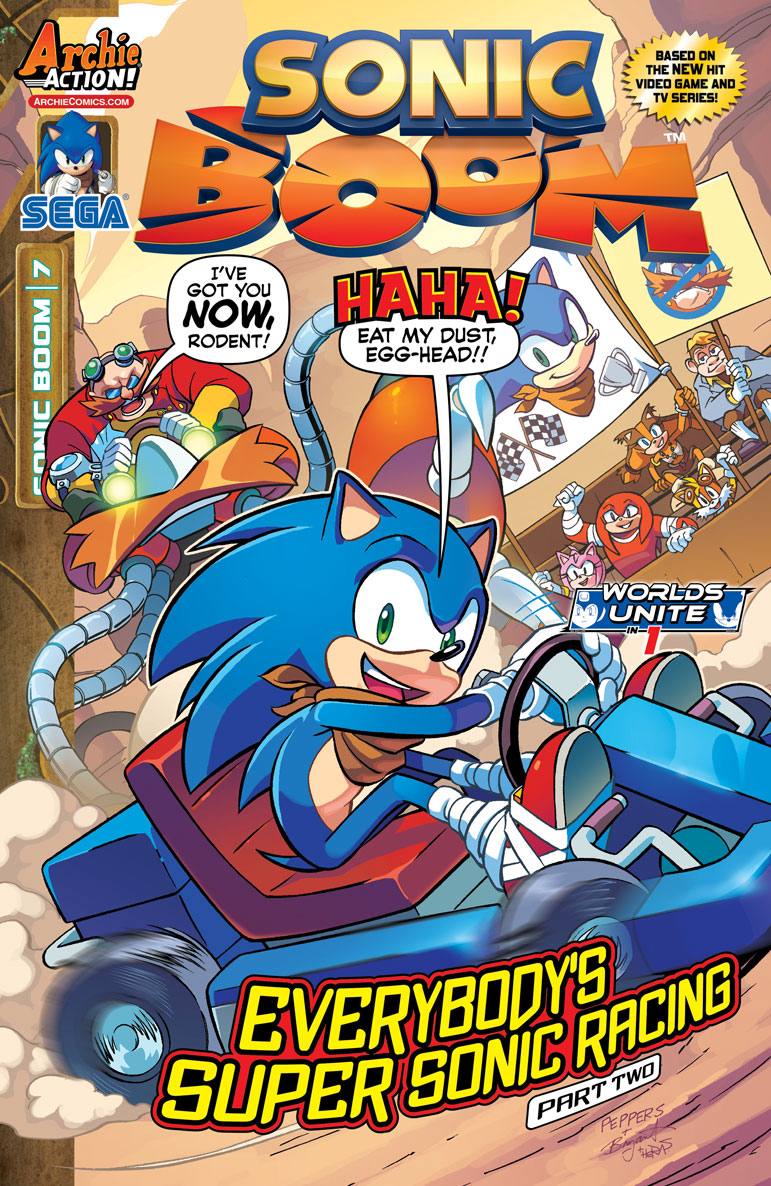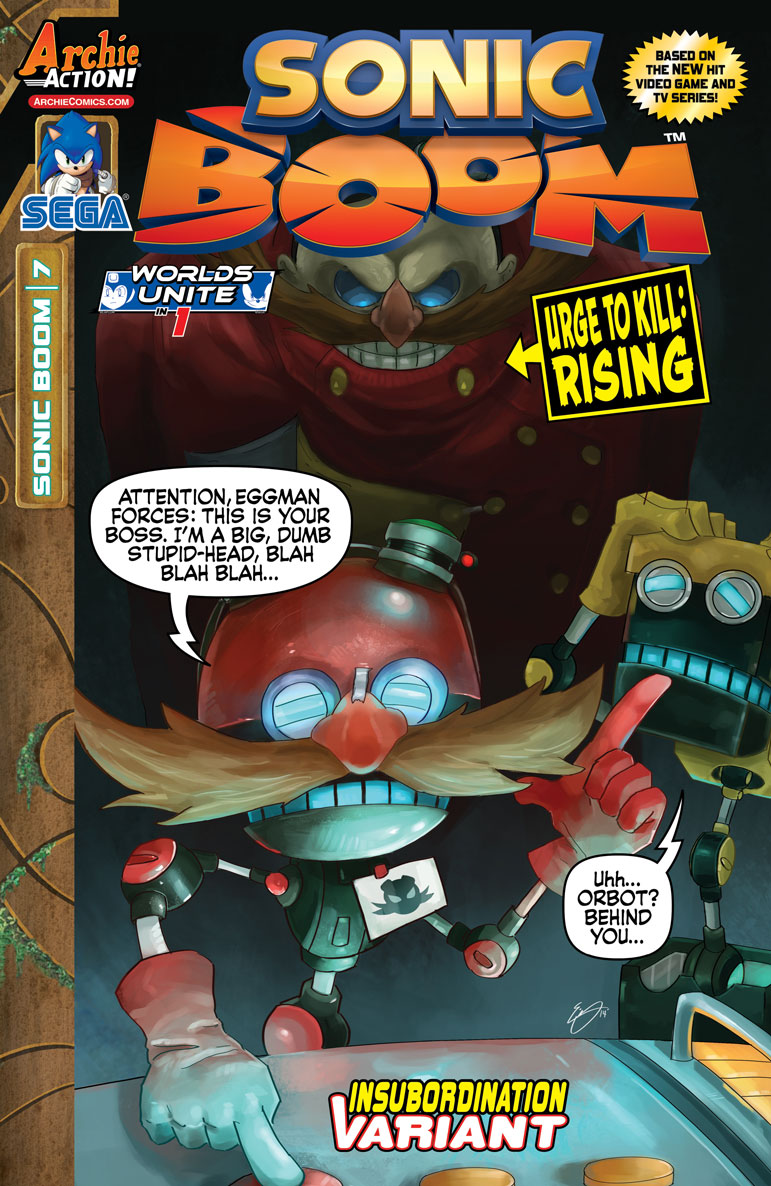 SONIC/Mega Man: Worlds Collide The Complete Epic (TR)

It's the crossover of a lifetime! The team-up you've been dreaming of! Two of video game history's most iconic heroes come together for the greatest action story ever told! SONIC THE HEDGEHOG and MEGA MAN unite in WHEN WORLDS COLLIDE! It all begins with a meeting of the minds–EVIL minds! Dr. Wily makes contact with Dr. Eggman, and the two malicious mechanics conspire in a plan that will reshape entire worlds! Using the power of the Chaos Emeralds, they build themselves an unstoppable army of Robot Masters and Roboticized Masters–Sonic's corrupted friends! It's pan-dimensional panic as Sonic and Mega Man race to uncover the doctors' diabolical plot, save Sonic's friends, and brave the nightmarish landscape of the Skull Egg Zone! Along the way they gain new allies, Mega Man gains all new powers, and the stakes keep getting higher until two universes hang in the balance! You CANNOT miss this critically acclaimed crossover! Celebrated by old and new fans alike, beloved by critics and casual readers, this is one big love letter to all things SONIC and MEGA MAN! WORLDS COLLIDE collects the entire crossover event, containing SONIC THE HEDGEHOG #247-251, SONIC UNIVERSE #51-54, MEGA MAN #23-27 and material from SONIC THE HEDGEHOG #252 and MEGA MAN #28.
Script: Ian Flynn
Art: Jamal Peppers, Tracy Yardley, Ben Bates, Ryan Jampole, Evan Stanley, Terry Austin, Gary Martin, Jim Amash, John Workman, Jack Morelli, Thomas Mason, Dustin Evans, Matt Herms and Steve Downer.
Cover: Patrick "SPAZ" Spaziante and Matt Herms
Previews-exclusive Variant Cover: Patrick "SPAZ" Spaziante and Matt Herms
978-1-62738-951-8
$29.99/$34.99CAN
6 5/8 x 10 3/16"
TR
336 pp, Full Color
Direct Market On-Sale Date: 5/6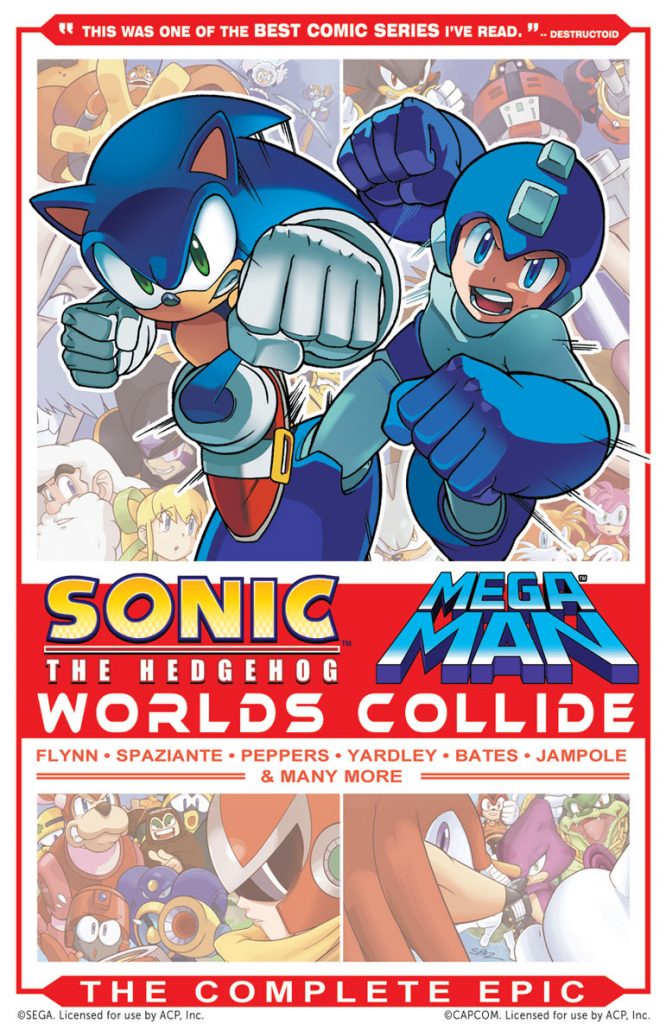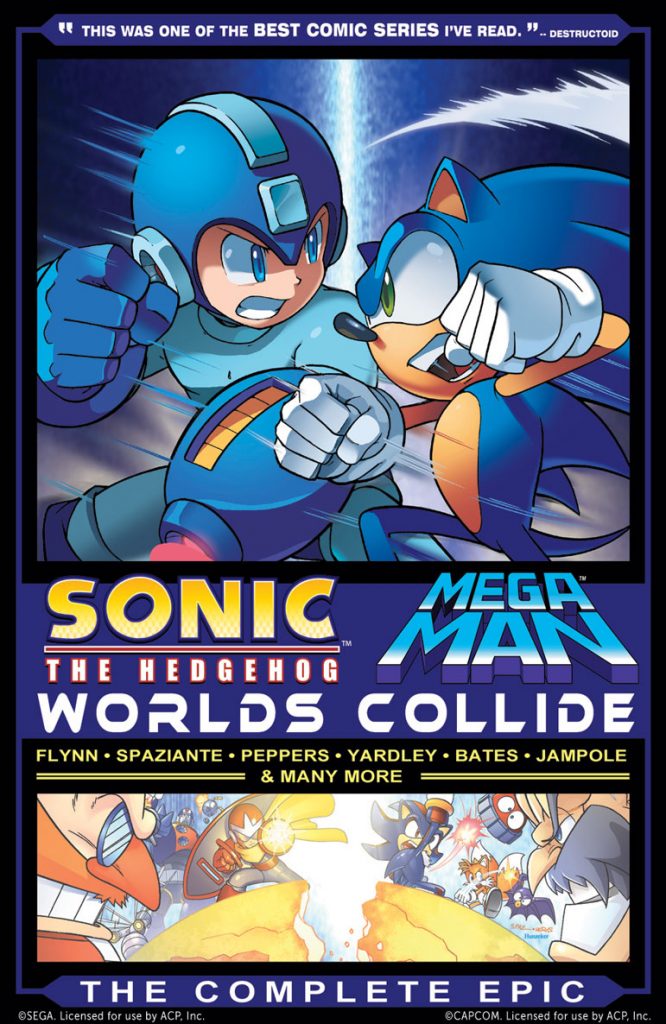 SONIC The Hedgehog #272

Time is up—the WORLDS UNITE crossover event is almost upon us!

"A Ray of Hope": As Sonic and the Freedom Fighters continue their journey to save the shattered planet, Sonic and Chip journey to Apotos to uncover the secrets of the Gaia Gate! Meanwhile, Knuckles and the Freedom Fighters take on a TITANIC challenge of their own! Does Sonic have a hope in saving the world? Will battle tear the freedom fighters apart first? Find out the answers to these and more exciting questions as our heroes journey to the much-awaited crossover event of the year—WORLDS UNITE! Featuring new cover art from Edwin Huang (Uncanny Skullkickers) and a crazy-new Metal Sonic game art variant provided by Sega!
Script: Ian Flynn
Art: Diana Skelly, Terry Austin, John Workman and Gabriel Cassata
Cover: Edwin Huang and John Workman
Metal Sonic Game Art Variant Cover provided by SEGA
On Sale Date: 5/13
32-page, full color comic
$3.99 U.S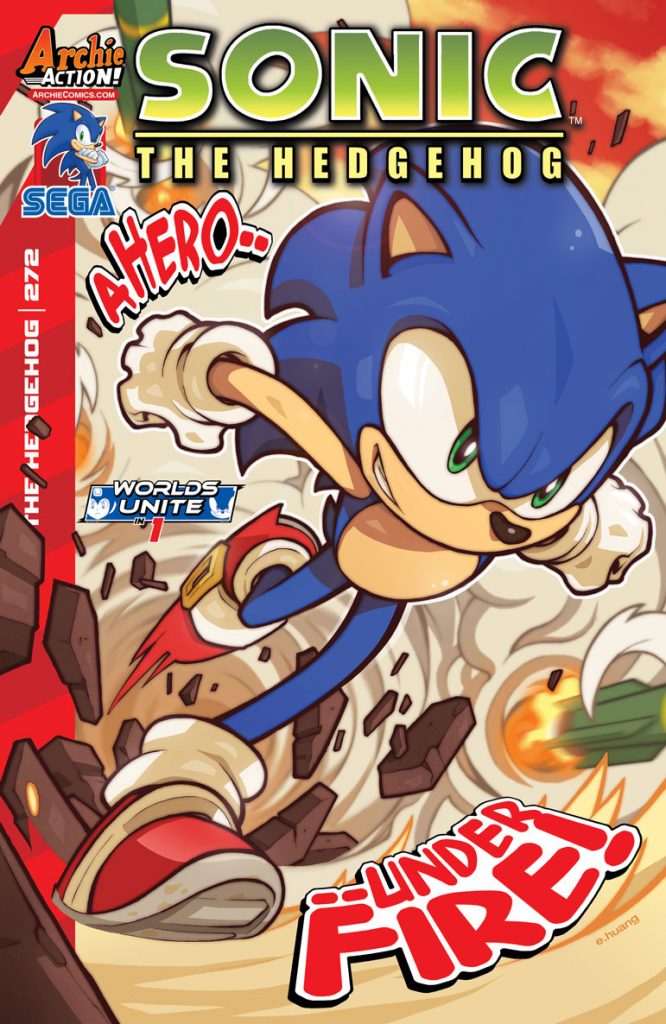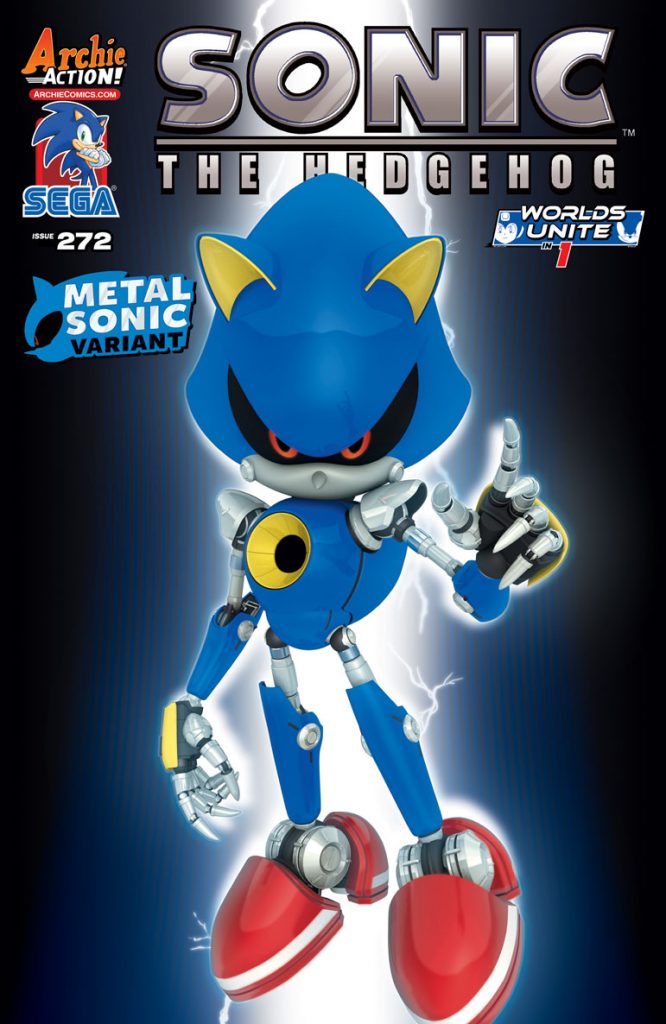 SONIC Universe #75

Sonic Universe has reached 75 thrilling issues—and we're celebrating in style!

"Fury": The race is on as Sonic chases down Metal Sonic for one of the sought–after Chaos Emeralds! But when their chase takes them to a very unexpected place, Sonic's worth as a hero may be put to the test! Can Sonic win the day, secure the emerald and retain his sense of self by the end? As our journey to WORLDS UNITE crashes to a close, join us in celebrating the longest-running Sonic the Hedgehog spin-off comic in history with 7.5 variant covers from your favorite Sonic artists! Featuring cover art from Patrick "SPAZ" Spaziante, Tracy Yardley, Ben Bates, Tyson Hesse, EGA Studios, Patrick Thomas Parnell, Lamar Wells, Evan Stanley and Jonathan H. Gray! To name a few!
Script: Ian Flynn
Art: Tracy Yardley, Jim Amash, Jack Morelli and Matt Herms
Cover: Patrick "SPAZ" Spaziante
Variant Cover 1: Tracy Yardley
Variant Cover 2: Ben Bates
Variant Cover 3: Tyson Hesse
Variant Cover 4: EGA Studios
Variant Cover 5: Patrick Thomas Parnell
Variant Cover 6: Lamar Wells, Gary Martin and Gabriel Cassata
Variant Cover 7: Evan Stanley, Jim Amash and Matt Herms
Variant Cover 7.5: Jonathan H. Gray, Gary Martin and Matt Herms
On Sale Date: 4/22
32-page, full color comic
$3.99 U.S
This post was originally written by the author for TSSZ News.