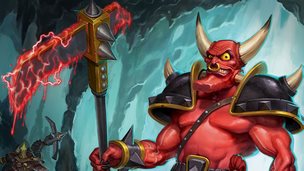 New Dungeon Keeper Game In "Free to Play" Debate
Dungeon Keeper was a clever game developed by Peter Molyneux and Bullfrog Productions, where you play a Dungeon Keeper tasked to create and manage dungeons, and send hapless fools to their deaths. It was an inventive game that is still fondly remembered over 15 years later.
Dungeon Keeper for the mobile platform might be remembered for as long, but for all the wrong reasons.
EA, once awarded the "Worst Company in America" by The Consumerist, made a brand new Dungeon Keeper game. Like with most of their phone and tablet games, it employs the "Freemium" model. That is, it's free to play, but there are options to buy in-game items to speed your game along. For some games, this could be unique items you can't get elsewhere, or a small price to make the game less restrictive and to disable those always present adverts. For EA, this can come in the form of in-game currency, and for Dungeon Keeper, it renders the game unplayable.
You see, rather than sitting down and playing the game, you sit down, click on a few things, and wait hours before you can do the next thing. It effectively tells you that, unless you pay real money for in-game currency, this free game is effectively a 5-minute distraction every few hours (or as some commentators have said, a "free to wait" game). This isn't the first game that has had similar problems, with The Simpsons: Tapped Out pretty much doing the same thing (also made by EA).
This has, of course, raised the debate about micro-transactions in games and the "Freemium" model as a whole. Suffice to say, something is probably a little odd if you're paying the equivalent of the original Dungeon Keeper on Good Old Games for the price of 900 in-game Gems, maybe less. Regardless, 900 Gems gets you only one of the following:
24 x 4 hour blocks dug out [50 gems each]
4 x 24 hour blocks dug out [250 gems each]
your third imp [800 gems]
various one-off boosts [100-750 gems each]
Gems are obtainable in-game, but they do not make up for the expenditures the game requires if you don't want to dip into it after so many hours. EA are confident that their game is perfectly playable for those who do not wish to spend money, and has a lot of 5-star reviews and happy players. Time will tell if this will continue.
[Dungeon Keeper for the mobile (and the feature image) is copyright EA. For more information, see the BBC news article here]