Mobile Versions of Sonic 4 Episode I & II Removed (UPDATE)
It seems the casualties from SEGA's mobile gaming quality control plan won't spare Sonic either.
We have been informed by AugieD369 and TheTMOBGaming2 via Twitter that both episodes of Sonic 4 are being removed from online mobile app stores in multiple international regions. At first it seemed the iOS Store in the US was excluded. That was until the latter user confirmed that wasn't the case. TheTMOBGaming even provided pictures of the store, both of which can be seen below, confirming that at the very least Sonic 4 Episode II was indeed no longer there and that Episode I, for now, was still available:
The removals haven't been performed for all stores as of yet. The UK Play Store, for example, still have the games available to buy: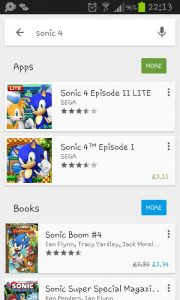 UPDATE: Sonic Stadium is now reporting that Episode II is gone from the UK Play Store.
This post was originally written by the author for TSSZ News.