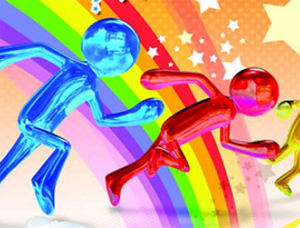 Let's Tap Reviews Generally Favorable
The domestic reception to Yuji Naka's Let's Tap has not been uniform, but it has generally been positive.
Thus far the GameRankings.com average puts the Prope debut at 72.55 percent, based on an average of 11 reviews. On Metacritic, the average is slightly lower, with a 71 score.
As was the case with Sonic Unleashed, this Sega showing is seeing better scores from European media outlets than in North America. Organizations such as Edge, Games Master UK, and even IGN UK round out the highest scores with 80% or above–and IGN's UK division has to date given Let's Tap its highest score of 85. Here's a quick glimpse of what TotalVideoGames.com, who also awarded the game an 80% rank via its 8 out of 10 average, had to say:
Let's Tap's biggest success is the fact that Prope has succeeded in developing what could have easily been a gimmicky control setup into something that works supremely throughout the entire game. It's so good that you're left to look at other Wii titles with their lumbering gestures and cheap controls with utter disdain. There's a fine line of skill, timing, and control with the Wii Remote that's posed by the various games, something that can't be said about the vast majority of Wii titles that fail to differentiate between wild swings and small flicks.
Of course, the game couldn't get away scot free. Some media outlets weren't as kind, including 1UP.com's C+ rank that averages to a 58 on Metacritic, and Game Informer's short, sweet, and stinging 55% score–a 5.5 out of 10 on their ranks. Not helping was the magazine's second opinion by Matt Helgeson, which was even worse:
I'm not going to mince words. This game is terrible. It's not just that the mechanics work poorly – and believe me, they barely work at all – it's that the concept itself is so dumb I can't imagine how this game got approved in the first place. But, for the sake of argument, let's imagine there is someone out there whose idea of fun is playing shallow minigames by banging on a Kleenex box. Even this fictional person would have to laugh at Let's Tap's sloppy control. Perhaps someone at Sega should have known that it's a bad sign when it's difficult to do something as simple as selecting options in the menus.
Our review of Let's Tap will follow soon. If you've played it, you can give us your thoughts of the game in the comments below.
Originally posted on TSSZ News.