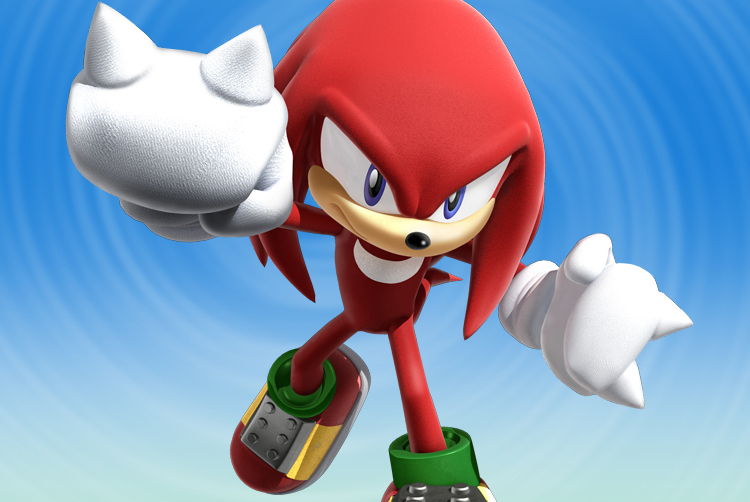 Ken Penders Saying Knuckles Comic in Danger
On his very own message board, Ken has said something that may chill fans of the Knuckles comic:
"I'm not one to normally do something like this, as I recognize immediately that some people will claim my motivation is strictly self-interest. To be honest, self-interest does play a part, but only to a certain extent. However, when the deck keeps geeting stacked against you, you tend to resort to everything and anything in the hope that something will work.
The problem is this…because various suits have affected the way KNUCKLES is distributed, KNUCKLES is now on the endangered list, with the very real possibility of being published only nine times a year, maybe six, or even being outright cancelled.
How can this be so? you ask. Let me explain.
Months ago, some woman complained to a manager at a WalMart that her child bought a comic book with offensive material at his store. Rather than simply not carry the offending title, WalMart made the corporate-wide decision to not carry ANY comics altogether. This resulted in 10,000 less copies of KNUCKLES alone being sold.
While some of those readers probably bought subscriptions, the majority went looking for other sources. Unfortunately, despite the overwhelming evidence that SONIC and KNUCKLES would only bring in more customers, many comics retailers still refused to increase their orders. As for other outlets, they've proven to be hit and miss due to various factors with newstand distribution.
Which brings us to the second shoe being dropped: how the current system of newstand distribution could spell disaster for KNUCKLES fans.
In case anyone hasn't noticed lately, there are more magazines being published than there is room in stores to display them for sale. That means if you wish to get your product to market, you have to jump through the hoops set up by newstand distributors. Recently, the distributors have decided to charge more money for less space. That means a publisher like Archie has to cough up more money to maintain every title on the newstand they currently publish, or…
…they could pay the same amount and get less shelf space, resulting in some books getting cancelled, and others scaled back in their frequency of publication.
While SONIC has been a solid performer with name-brand recognition, for some reason, both KNUCKLES and SONIC SUPER SPECIAL have a harder time getting through the food chain and into the readers hands.
Be that as it may, the fact is, the publishers don't care about the whys and wherefores. They're not looking for explanations. Either a book sells or it doesn't. While that may not be fair from a fan's point of view, this is how business is currently conducted in America today.
Now that we've defined the problem, that various factors are making it more difficult than ever for KNUCKLES' fans to follow their hero, we obviously need a solution, and in this case, there's only one. The only one the publishers will listen to.
If you really, truly think the book is worthy of your time and effort, I recommend that everyone who feels this way buy one extra copy for six months and pass 'em along to different friends, getting them hooked.
I say six months for two reasons. One: it's going to take that long for the initial sales figures to reach Archie, and Two: it's going to take several months of steady sales to encourage the publishers to maintain KNUCKLES on a monthly basis. As it stands now, after issue #35, there's a very real chance of a "skip" month between every 3-issue story, resulting in only nine issues a year of KNUCKLES. Once that happens, it'll be a long time, if ever, before KNUCKLES is fully restored to 12 issues a year.
If anyone has really looked at what's on the magazine racks these days, you know that both the retailer and the distributor make more money selling Time, Newsweek, Better Homes and Gardens, etc., than they do selling comic books. Therefore, if you wish to save that which you enjoy, you have to make the effort to show that support. The more fans that do come through, the louder the message will be.
So start by spreading the word, and if anyone has any questions, don't hesitate to ask."
Later, he had some additional information.
"One of the factors I didn't carefully explain is why a book like KNUCKLES can be on the endangered list, despite being one of the better selling titles on the market. Because Sega owns KNUCKLES, Archie has to pay them a fee each time an issue is published, therefore when you factor this in and other budget costs, it costs Archie more to produce KNUCKLES than, say, your typical issue of BETTY & VERONICA. Because of that, if Archie's share of the profit on KNUCKLES doesn't exceed that of BETTY & VERONICA's, the company doesn't consider publishing the book to be worthwhile to them. After all, they don't own the character, so they can't exploit it like they can their own.
Personally, I don't understand it, either, but the concept of not making enough of a profit is just as bad as actually losing money to a lot of companies these days. They expect to make a certain amount, and if they don't make it, they look for any excuse to cut costs, figuring the product wasn't good enough even though other factors, such as distribution difficulties and costs in this case, were the main reason the product wasn't exposed to the widest possible audience looking for it."
After a person names "Pepper" posted a message, Penders had this to say:
Pepper:"WHAT THE HECK?!?!?!?! If Archie cancels Knux, they're losing ALL my business!!! Knuckles and Sonic are really the only "American" comics I read! How can they do this to the fans? Is there any way to start some sort of petition to save the comic?? I mean, I think we can get more fans if we really try, but what about US?! *sniffle* ….I want my Knuckles comic to stay in publication! More importantly, Mr. P…what's gonna happen if this worst-case scenario plays out? I mean..Sonic will be around… but… will we ever see Julie-Su, Kragok, Remington, etc…ever again?? Oh, how depressing…:( "
KP: "Pepper, this is why it's hard for me to discuss this, because I'm basically asking people to show their support in the only way that matters to the publisher. Some people will take this as a bit of self-interests on my part. Do I get paid for my work? Yes. Will I continue to be paid as long as the book is published, yes. However, even if Knuckles were to sell all those additional copies, I would NOT receive any more than I do now. Only the PUBLISHERS and SEGA would benefit from the extra sales. Justin wouldn't, Spaz wouldn't, I wouldn't, nor anyone else who works on the books. That's just the way it is.
Would you rather I said nothing, didn't do anything to allow people a choice on whether or not they wish to do what they can to support the book, and simply let the book die a slow death? Or would you rather I sound the call the action and give people that choice, possibly saving the book for the long run?"
Unfortunately, it seems that Knuckles, the comic that has a lot of support (some say even more than the original Sonic) may be going down the drain very soon. How can this be solved? At this time, the best solution is to write to Knux Notes, or Archie themselves.
Of course, we all know there is a petition at tSf to get the Tails comic back. Now this will probably take a back seat as many people will start petitions to save a living (but "endangered") strip.
This post was originally written for TSSZ News.