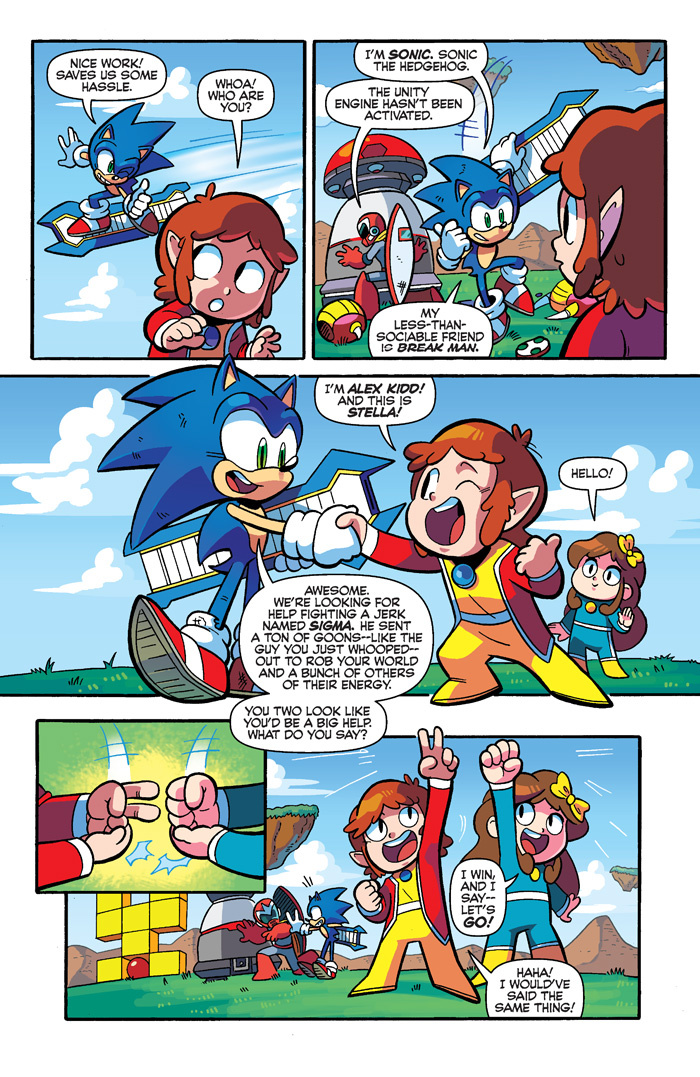 Inside The Pages: Worlds Unite Chapter 9
Another Comics Alliance preview of the next Worlds Unite chapter is up and the rest of the SEGA and Capcom franchises are now making their grand appearance in the crossover. You can read the text solicitation and sneak preview below.
SONIC UNIVERSE #78
Script: Ian Flynn
Art: Tyson Hesse, Jim Amash, Jack Morelli and Matt Herms
Cover: Patrick "SPAZ" Spaziante
New Worlds Variant Cover: Jamal Peppers, Jim Amash and Matt Herms
Covers Unite Variant (9 of 12): Ben Bates

The third and final act of the EPIC SONIC/MEGA MAN CROSSOVER EVENT begins here! "Worlds Unite" Part Nine: Sigma has begun his conquest of ALL the worlds. Now it's up to Sonic, Mega Man and X to unify those worlds AGAINST Sigma! It's a "who's who" of SEGA and Capcom heroes answering this important call to arms! But with Sigma still active on the unified world, he turns his gaze upon those left behind..! Featuring the worlds of STREET FIGHTER, SKIES OF ARCADIA, NiGHTS INTO DREAMS, OKAMI, GHOSTS 'N' GOBLINS, ALEX KIDD and more! Plus cover art from the legendary Patrick "SPAZ" Spaziante, and variant cover art from "Worlds Collide" penciling star Jamal Peppers and part 9 of the epic 12-part connecting variant cover series by artist Ben Bates!
On Sale Date: 7/22| 32-page, full color
This post was originally written by the author for TSSZ News, images were replaced and expanded by LMC in 2020.