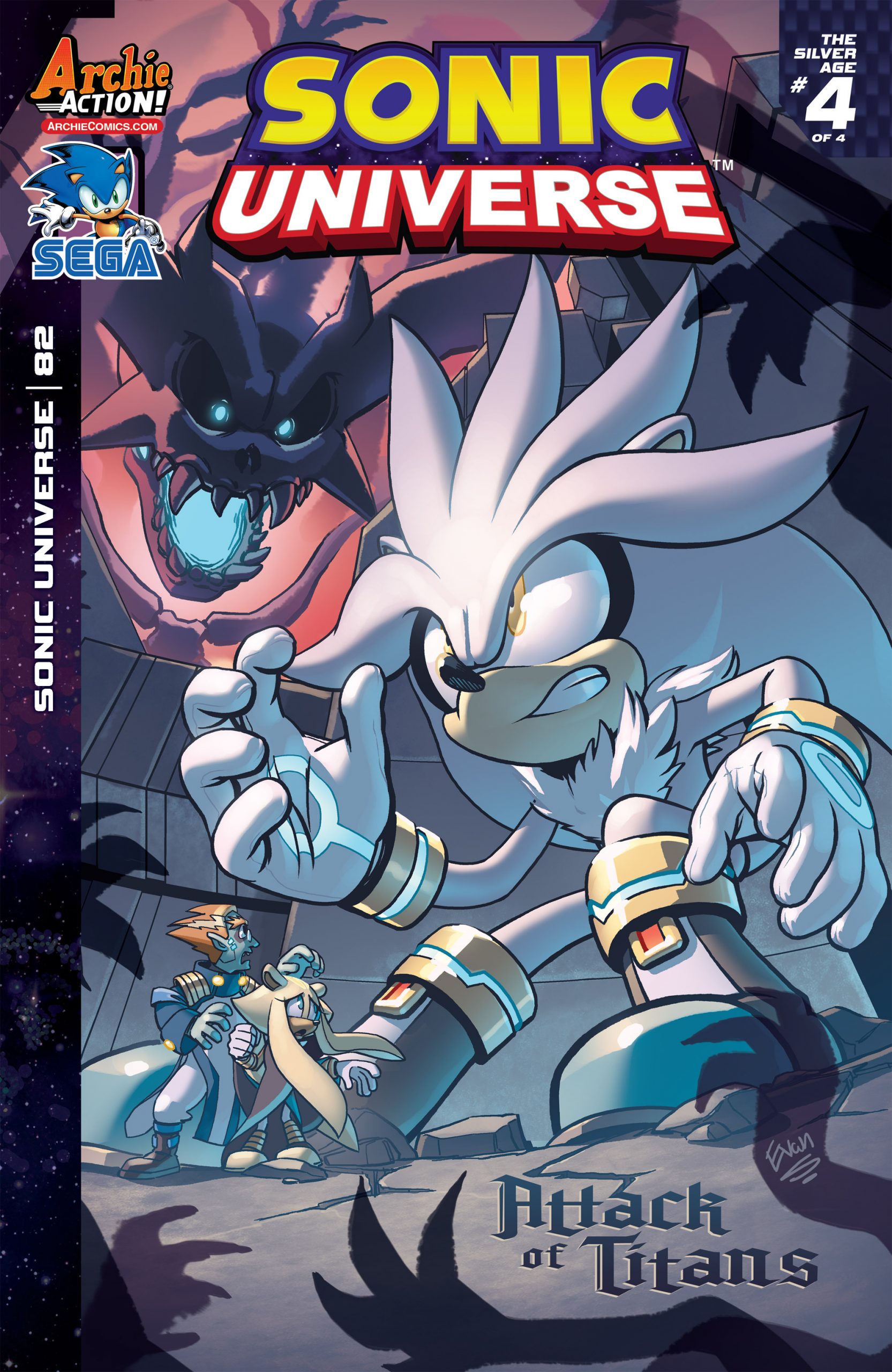 Inside The Pages: Sonic Universe #82
And so another Archie Comics preview has gone up, courtesy of Newsarama. This time, however, it contains some New Year's remarks from Archie's Sonic editor Vincent Lovallo:
Here's a preview of next week's Sonic Universe #82, which Archie's Sonic editor Vincent Lovallo calls the beginning of an "action-packed year".

"2016 is going to be an absolutely action-packed year for Sonic! The Silver Age storyline may have come to a close, but the adventures are really just beginning for the portal hopping hero, Silver," said Lovallo. "We'll catch up with the psychokinetic hedgehog and his team another day. Sonic's arch nemesis will be stealing the spotlight now in Eggman's Dozen! The mad doctor's plans for world conquest are in their final stages, but not without some interference from an unexpected enemy. Meanwhile, things are heating up in our main Sonic the Hedgehog title, as Sonic and his band of Freedom Fighters collect the last pieces they need to fix their broken planet. Everything we've been building up to in the "Shattered World Saga" will finally reach it's climax, and believe me, it's gonna be insane! If that wasn't enough, this year marks the 25th anniversary of the Blue Blur. Rest assured, we're going to be celebrating in full force!"
You can check out the plot solicitation and sneak preview below.
SONIC UNIVERSE #82
ENTER THE FINAL FIGHT FOR THE FUTURE! "The Silver Age" part four: The finale to Silver's latest adventure! Silver simply doesn't have the might to stop the creature menacing his time. Maybe the combined brain power of Gold and Prof. von Schlemmer can help! It's a knock-down, drag-out fight for the fate of the future with a shocking ending you'll never see coming-even if you're psychic! Featuring cover art by the "Silver Age" writer herself, Evan Stanley, plus a special "Movie Poster Variant" by the terrific T. Rex!
Script: Evan Stanley
Art: Tracy Yardley, Jim Amash, Jack Morelli & Matt Herms
Cover: Evan Stanley
Variant Cover: T. Rex
On Sale Date: 1/13
32-page, full color comic
$3.99 U.S.
This post was originally written by the author for TSSZ News, images were replaced and expanded by LMC in 2020.