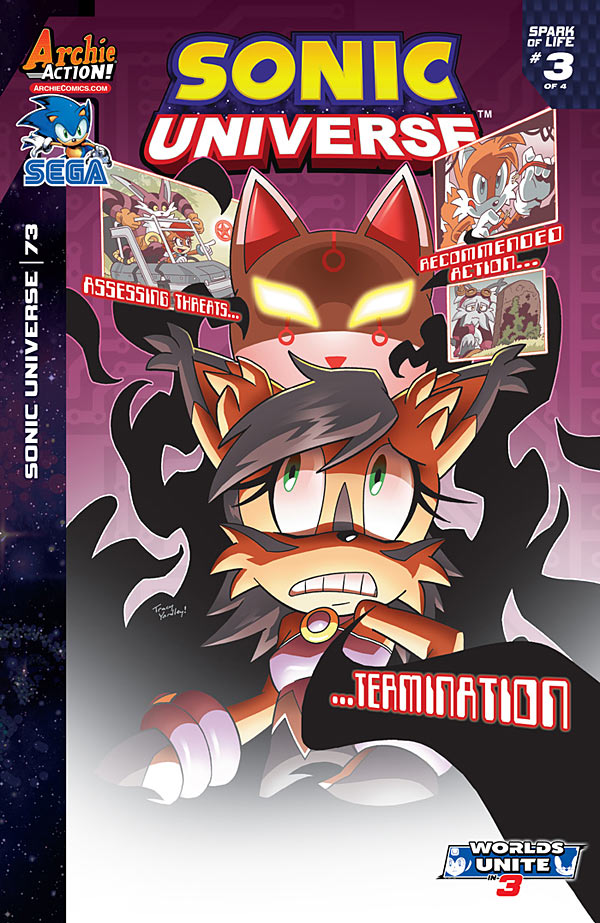 Inside The Pages: Sonic Universe #73
We have another comic preview to share, one that is more of the kind to be expected, from Comic Book Resources. The highlight of the comic? Nicole's origins are to be explained. You can see the plot solicitation text and five-page preview below.
It STARTS with a SPARK! "Spark of Life" Part Three: Shocking truths are exposed as Dr. Ellidy reveals the tragic origin of the beloved A.I., Nicole! Meanwhile, Phage erupts from the shadows of the Digital World to sew chaos on the island! Can our heroes rally to save Nicole and drive off this new threat? Night is falling, and terrible monsters are closing in! Don't miss this exciting next chapter in the latest Sonic Universe epic, featuring all-new cover art from Sonic artist supreme Tracy Yardley, and a special new "EXTREME BFFs" variant cover from My Little Pony artist Agnes Garbowska!


Story by: Ian Flynn, Aleah Baker
Art by: Tracy Yardley, Jim Amash
Colors by: Matt Herms
Letters by: Jack Morelli
Cover by: Tracy Yardley
Publisher: Archie Comics
Cover Price: $3.99
Release Date: Feb 25th, 2015
This post was originally written by the author for TSSZ News, it was expanded in 2020 by LMC to include the alternate cover and clean page scans.