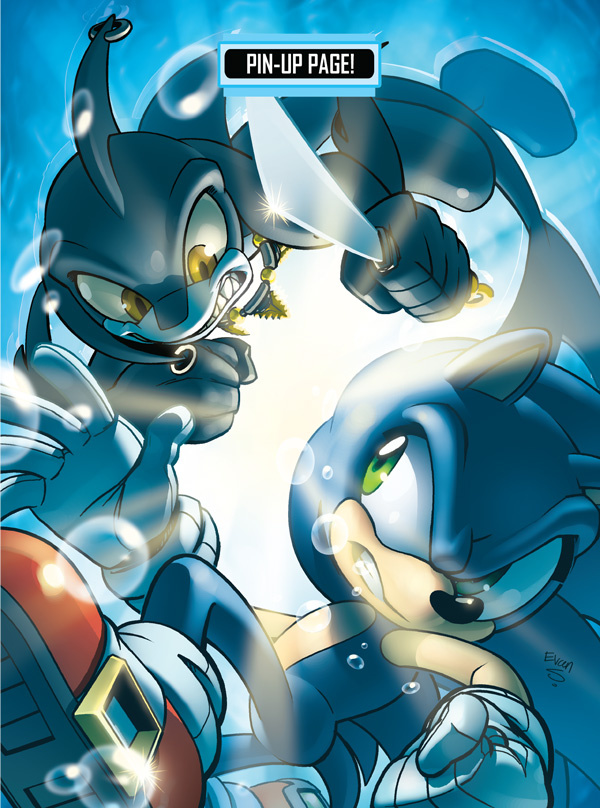 Inside The Pages: Sonic Super Digest #15
From Comicosity comes another preview of a Sonic Archie Comics issue. You can check out the sneak preview and plot solicitation below.
SONIC SUPER DIGEST #15

Sonic Comic Origins continues this month with an ALL-NEW story featuring Razor the Shark! This never-before-seen tale showcases an EXCLUSIVE back-story to the underwater side of the new Sonic Comic universe with one of the most popular new characters to debut in the series! It's a real splash this month in Sonic Super Digest! Plus, don't miss all the classic fun and adventure you love in stories from the comics' 20+ year history as Sonic and his friends embark on daring adventures, face evil villains and save the day one chili dog at a time! Race into the fun that only Archie Comics and Sonic Super Digest can bring! Featuring super-duper cover art from Tyson Hesse and story & art from the biggest names in Sonic comics history!

Script: Ian Flynn
Art: Adam Bryce Thomas, Rick Bryant, Jack Morelli, Matt Herms & Various
Cover: Tyson Hesse
On Sale Date: 1/13
128-page, full color comic
$4.99 U.S.
This post was originally written by the author for TSSZ News, images were replaced and expanded by LMC in 2020.