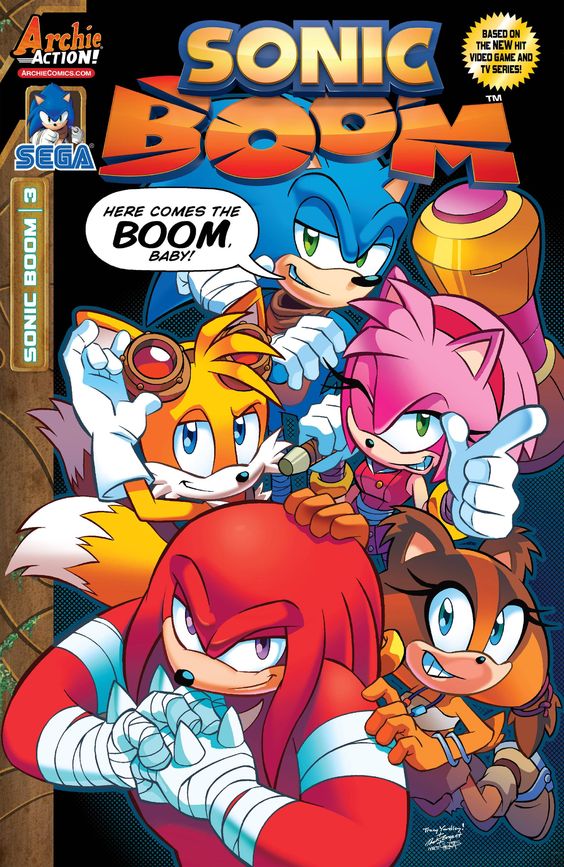 Inside The Pages: Sonic Boom #3
Another day, another Archie Sonic comic five-page preview and plot summary. This time it's the third issue of the Sonic Boom comic series as provided by Arcade Sushi. You can see both the preview and plot summary down below.
SONIC BOOM #3
Script: Ian Flynn
Art: Ryan Jampole, Jennifer Hernandez, Rick Bryant, Jack Morelli and Matt Herms
Cover: Tracy Yardley, Rick Bryant and Matt Herms
Team Sonic Variant Cover: Art provided by SEGA

ARE YOU READY FOR THE BOOM?! The NEW ONGOING SONIC COMIC BOOK SERIES from Archie Comics continues its frantic fun with Sonic Boom #3: Hammer Spaced! Amy's most precious possession, her piko hammer, has gone missing! And if she can't find it, her hammer won't be the only thing she'll lose! While the boys are on a hammer-hunting quest, Sticks tries to show Amy a new arsenal—but will she survive the experience?! Don't miss the exclusive tie-in comic to the new TV Show and Video Games from Sega, featuring cover art from Sonic comics legend Tracy Yardley and a special "TEAM SONIC" variant edition!
On Sale: 1/7
32-page, full color comic
$3.99 U.S.'
This post was originally written by the author for TSSZ, images replaced and expanded by LMC in 2020.