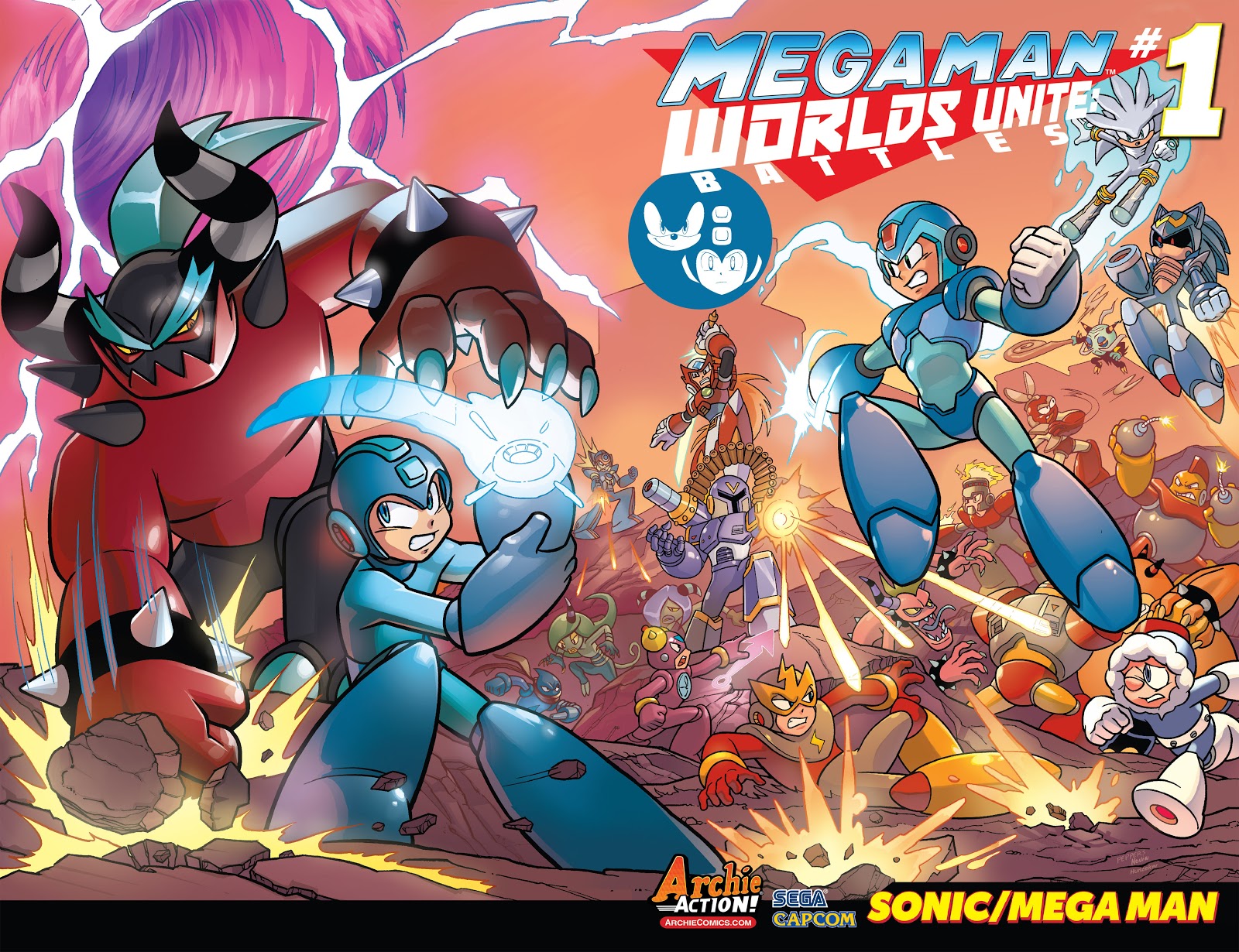 Inside The Pages: Mega Man Worlds Unite Battle Book #1
Finally we're seeing the start of the Worlds Unite Battle Books being released thanks to another ComicsAlliance interview. First up is the first Battle Book for Mega Man. You can see the plot solicitation and preview below.
MEGA MAN: WORLDS UNITE BATTLES #1
Script: Ian Flynn, T. Rex
Art: Ben Bates, Jamal Peppers, Brent McCarthy, Rachel Deering and Elaina Unger
Cover: Jamal Peppers, Phyllis Novin and Ben Hunzeker
Sketch Variant Cover: Jamal Peppers
United Variant Cover: Patrick "SPAZ" Spaziante

ALL-NEW DIRECT MARKET-EXCLUSIVE special! There are so many epic battles in the SONIC/MEGA MAN crossover event that the biggest brawls of the bunch have exploded into their very own book! This extra-special bonus issue features exciting duels spilling over from the pages of the much-talked about "Worlds Unite" event, and feature an all-star cast of creators! Watch Mega Man bring the ruckus to the Deadly Six, the Maverick Hunters ultimate showdown with Vile and Dr. Light's Robot Masters tussle with the unstoppable power of hero-turned-uber-villain Sonic Man! LET'S GET READY TO RUMBLE! Also featuring variant art from Patrick "SPAZ" Spaziante, and a special wrap-around cover and sketch variant by Sonic and Mega Man superstar Jamal Peppers!
On Sale Date: 6/17 | 32-page, full color comic | $3.99 U.S
This post was originally written by the author for TSSZ News, images were replaced and expanded by LMC in 2020.