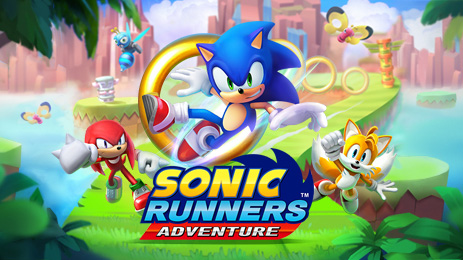 GameLoft Screw Up Confirms Existence Of "Sonic Runners Adventure"
Today's news events are a clear indication that when you leak something, the Sonic community will find it. That, and GameLoft seems to have screwed up.
We now know where the info on this game came from, which were official stuff for the game on GameLoft's website. Although GameLoft has been slowly removing the info over the course of the day, the Sonic community was able to relay the info before it went down. Here's what we know:
While the original Runners required an internet connection at all times, Adventure will only require it when starting the game for the first time. After that the game can be played offline.
There are now three different kinds of level types: Finite, Looped, and Infinite.

Finite levels require you to reach a finish line to finish the level.
Looped levels are short levels that repeat for several laps, where you need to reach the end of the last lap.
Infinite levels are endless and require you to complete all available goals to finish them.

It looks like the levelling system has been overhauled. While you could level up characters in the original Runners up to level 100, characters in Adventure will already be fully levelled up at level 5.
Characters are now part of teams, which include Hero, Chaotix, and Dark. Each having an unique skill that's triggered after collecting 300 rings.
The original game's gambling mechanics appear to be gone, and instead characters can now be unlocked by buying them with rings.
Special stages make an appearance, and in this iteration you fly and collect rings.
There's a new Timed Mode, where the level ends when the timer reaches 0.
In Finite and Infinite levels there are moments where the camera angle will change to showcase stunts
This post was originally written by the author for TSSZ News.