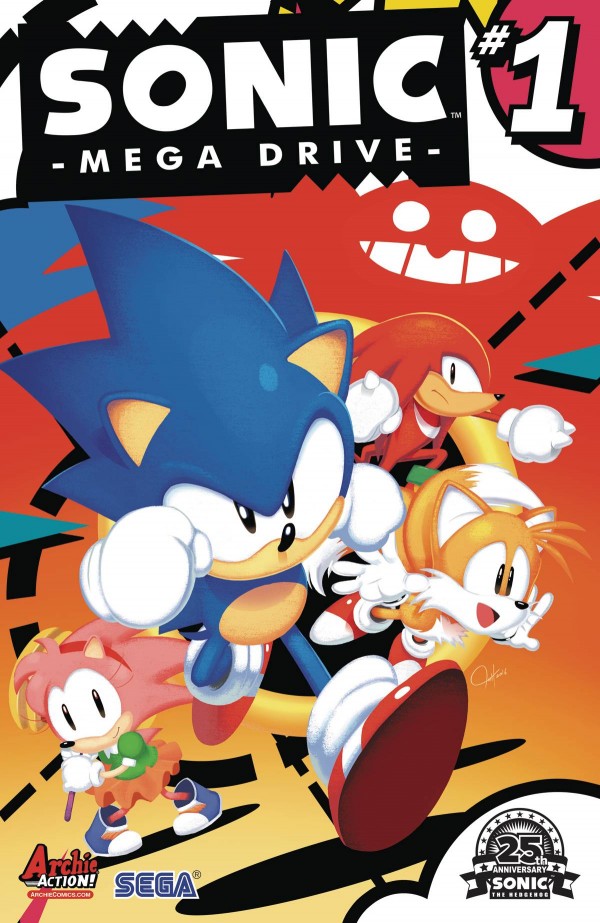 First Look: Sonic Mega Drive #1
Yep. Archie Comics is celebrating Sonic's 25th anniversary too. A special comic called "Mega Drive" will arrive in July. Comic Book Resources received a statement from Vincent Lovallo, who is editor of the comic:
The partnership between Sega's "Sonic the Hedgehog" and Archie Comics is one of the longest-running and most fruitful licensed deals in comics history, resulting in hundreds of issues based on the high-speed video game mascot since 1993's "Sonic the Hedgehog" #1. In July, Archie returns to those 16-bit days with the "Sonic: Mega Drive" one-shot — "Mega Drive" being the Japanese name for the Sega Genesis, the first system a "Sonic" game appeared on — as a celebration of the character's 25th anniversary, and CBR has the exclusive first details.

"Sonic: Mega Drive" will be written by Ian Flynn and illustrated by Tyson Hesse (creator of BOOM! Studios' "Diesel"), a reunion of the creative team behind Archie's 2015 Sonic and Mega Man crossover "Worlds Unite." The story is set in the era of the original Sonic games, and will feature Tails, Knuckles and Amy Rose, all characters from the first few Sonic titles.

"Long time 'Sonic' comics writer Ian Flynn is at the helm of this commemorative story, which he is currently writing up and crafting in the same vein as an actual Genesis-era 'Sonic' game," "Sonic: Mega Drive" editor Vincent Lovallo said in a statement to CBR. "It's been a while since we've delved into the Classic Era of Sonic, so we figured the 25th anniversary was as good a time as any to revisit this iconic art style."
You can check out the plot solicitation and comic cover below:
SONIC: MEGA DRIVE #1
Sonic spins into a brand new, Classic-styled, SUPER SPECIAL one-shot "Mega Drive"! Join Sonic, Tails, Knuckles and Amy Rose on a brand new adventure—set after the fall of the Death Egg! The nefarious Dr. Eggman is trying to build a new engine of destruction: the MEGADRIVE, and it's up to Sonic and his whole crew to stop the mad doctor and save the day! Join Sonic and his friends in this special commemorative issue celebrating the 25th Anniversary of the Blue Blur!
Script: Ian Flynn
Art: Tyson Hesse, Jack Morelli and Matt Herms
Cover by Tyson Hesse
On Sale Date: 7/6
32-page, full color comic
$3.99 U.S.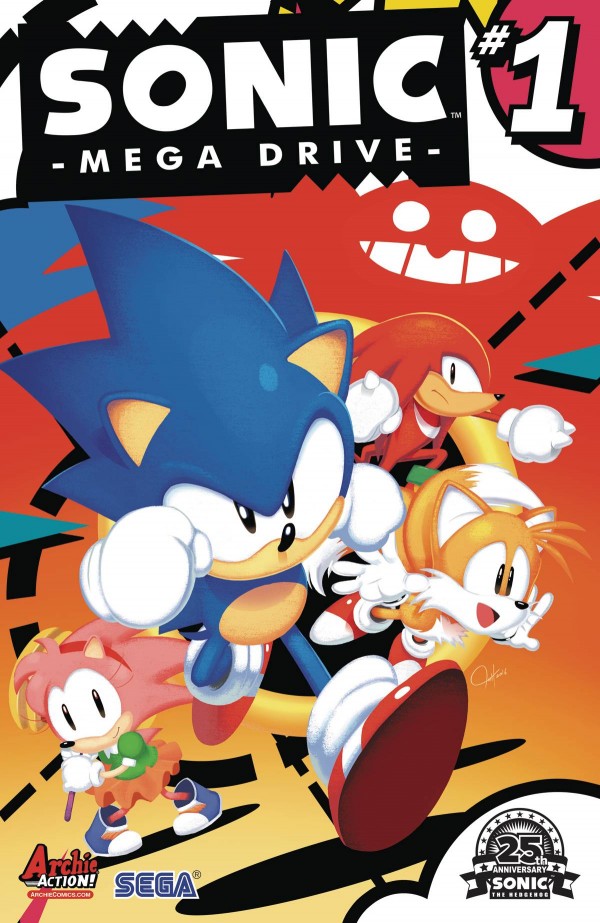 This post was originally written by the author for TSSZ News.