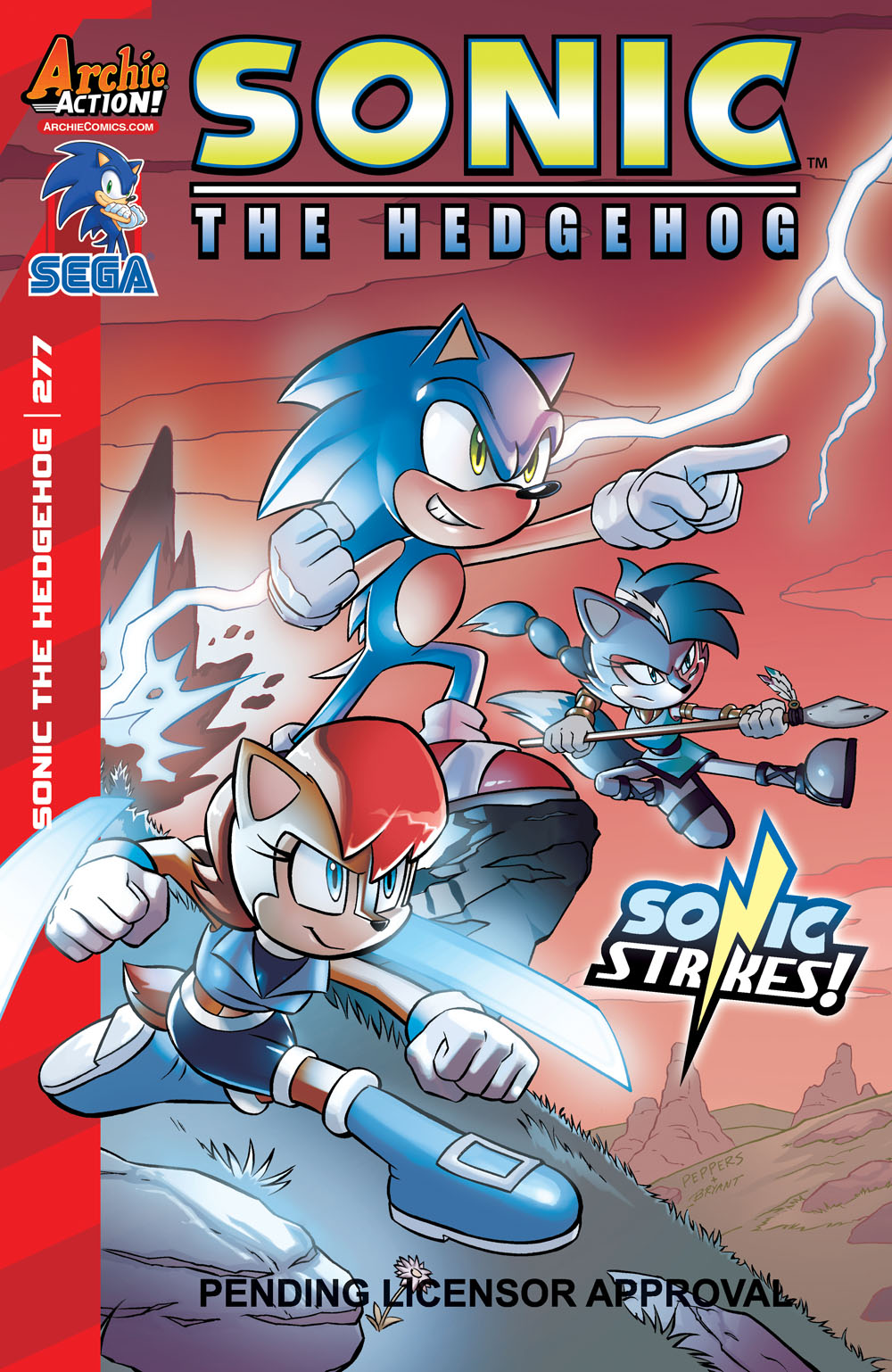 First Look: Archie Sonic Comics For September/October
We're starting to get the Sonic comic previews for the waning months of 2015 now, courtesy of Arcade Sushi. The plot solicitations also indicate that the Genesis Portals and shattered world that have been plaguing Sonic's universe leading up to, and during, Worlds Unite are still going to be a problem even after the crossover concludes.
You can see the covers and plot solicitations below.
ART OF SONIC THE HEDGEHOG COMICS (TR)
Script: Various
Art: Various
Cover: Patrick Spaziante, Ben Hunzeker and various

SONIC THE HEDGEHOG is the single longest-running video game-inspired comic book series ever! With over 400 issues and over 20 years of adventures, the artists on Sonic comic books have created thousands of pages of show-stopping artwork. Join us in a parade of visual splendor as we revisit the finest pieces of art to come from SONIC THE HEDGEHOG, SONIC UNIVERSE, SONIC BOOM and all the other Sonic titles you've come to know and love over the years, featuring an exclusive behind-the-scenes look at the artists and their work, including sketches, pencils and stage-by-stage break-downs of your favorite true blue artwork, plus an extensive variant cover gallery! No Sonic fan will want to be without the dazzling works of PATRICK "SPAZ" SPAZIANTE, TRACY YARDLEY, BEN BATES, JAMAL PEPPERS, JENNIFER HERNANDEZ and many, many more!
978-1-62738-936-5
$39.99/$45.00CAN
8 1/4 x 11 1/4″
TR
304 pp, Full Color
Direct Market On-Sale Date: 10/7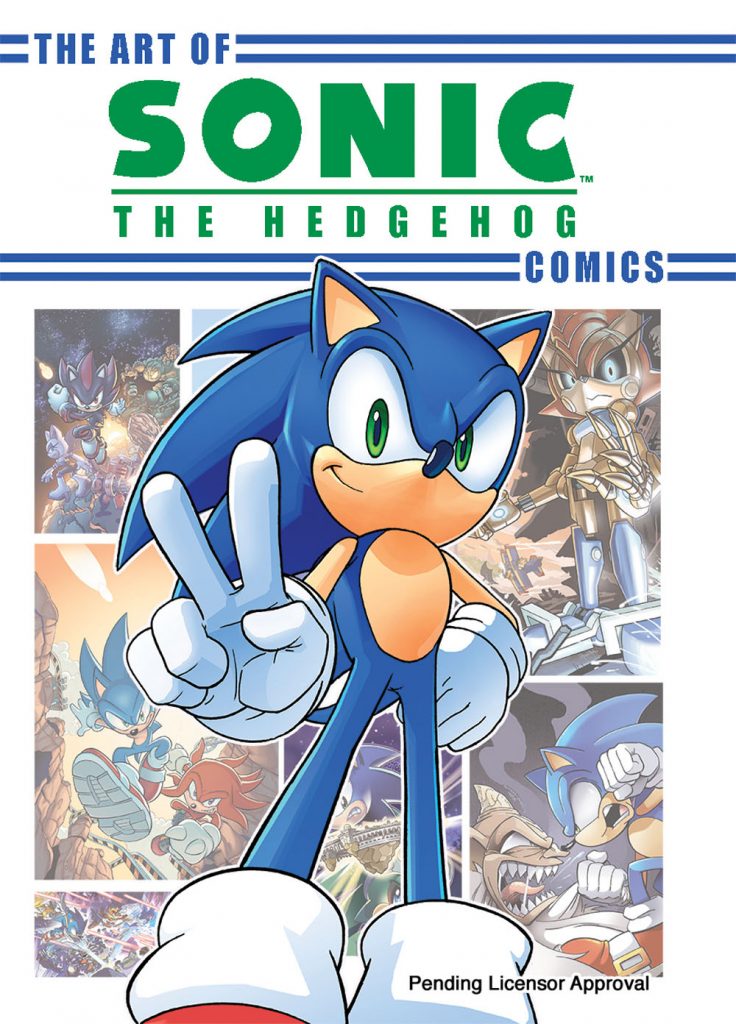 SONIC THE HEDGEHOG 4: CONTROL (TR)
Script: Ian Flynn, Benjamin Bailey, Joey Esposito, Eric Esquivel
Art: Tyson Hesse, James Fry, Jamal Peppers, Evan Stanley, Terry Austin, John Workman and Gabriel Cassata
Cover: Patrick "Spaz" Spaziante

Things are about to get a little HAIRY! Moving at the speed of sound, keeping the world free from robotic tyranny—it's SONIC THE HEDGEHOG! One of the most beloved video game icons speeds into brand new comic book stories with new friends, new foes and new adventures! It's Sonic—UNLEASHED! The corrupting energies of Dark Gaia have infected our heroic hedgehog, transforming him into the fearsome WEREHOG! It's up to his old buddies Mighty and Ray to tame the savage beast! And the race for the Chaos Emeralds grows dire as the Freedom Fighters fight for their lives against the fearsome E-100 killer robots! SONIC THE HEDGEHOG 4: CONTROL collects SONIC THE HEDGEHOG #264-267.
978-1-62738-955-6
$12.99/$14.99CAN
6 5/8 x 10 3/16″
TR
104 pp, Full Color
Direct Market On-Sale Date: 9/30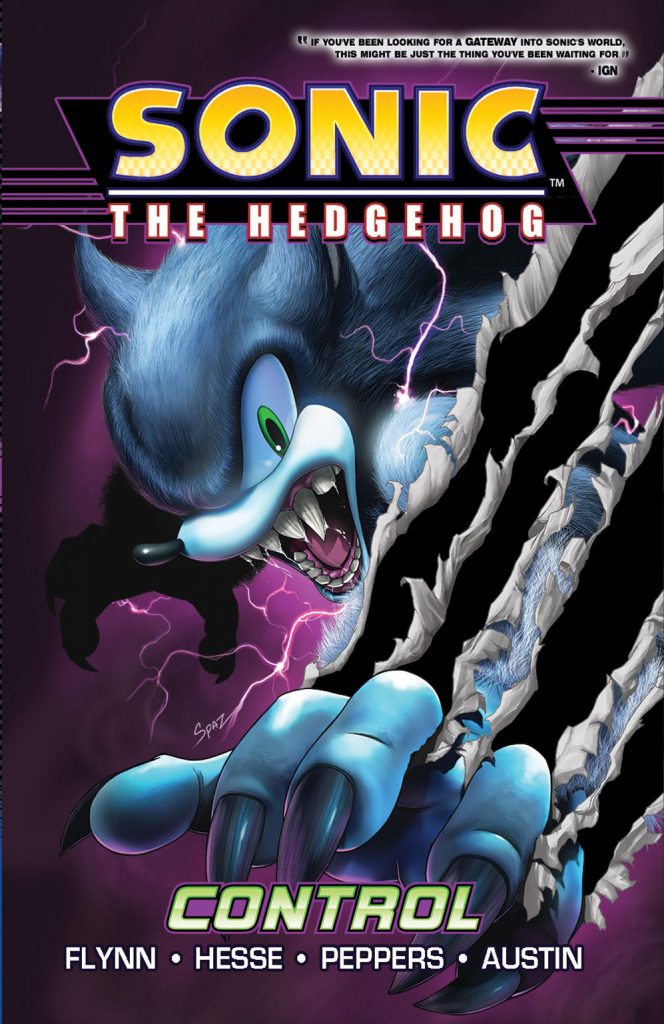 SONIC THE HEDGEHOG #277
Script: Ian Flynn & Aleah Baker
Art: Adam Bryce Thomas, Evan Stanley, Terry Austin, Gabriel Cassata and John Workman
Sonic the Hedgehog #277 CVR A Reg: Jamal Peppers, Rick Bryant and Ben Hunzeker
Sonic the Hedgehog #277 CVR B Variant: Tyson Hesse

SONIC TAKES THE LEAD in the race to fix the planet! "Thunder, Rain and Lightning": Sonic and the team link up with Lupe to destroy one of Dr. Eggman's super badniks! How does this tie into fixing the shattered world? And just what secrets does Lupe keep? Then, in "Hidden Costs" Part One, Sally and Bunnie hunt down the final Chaos Emerald—which is in the heart of Egg Boss Clove's forbidden territory! Featuring cover art from jammin' Jamal Peppers and a "BATTLE!" variant from Sonic comics all-star Tyson Hesse!
Ship Date: 9/30
On Sale Date: 10/14
32-page, full color comic
$3.99 U.S.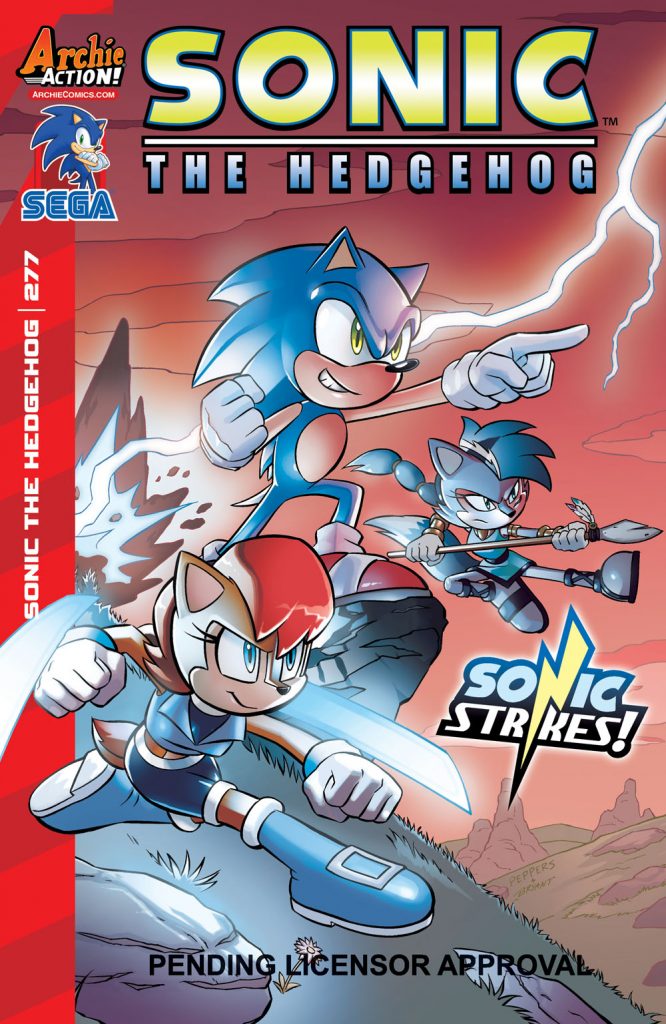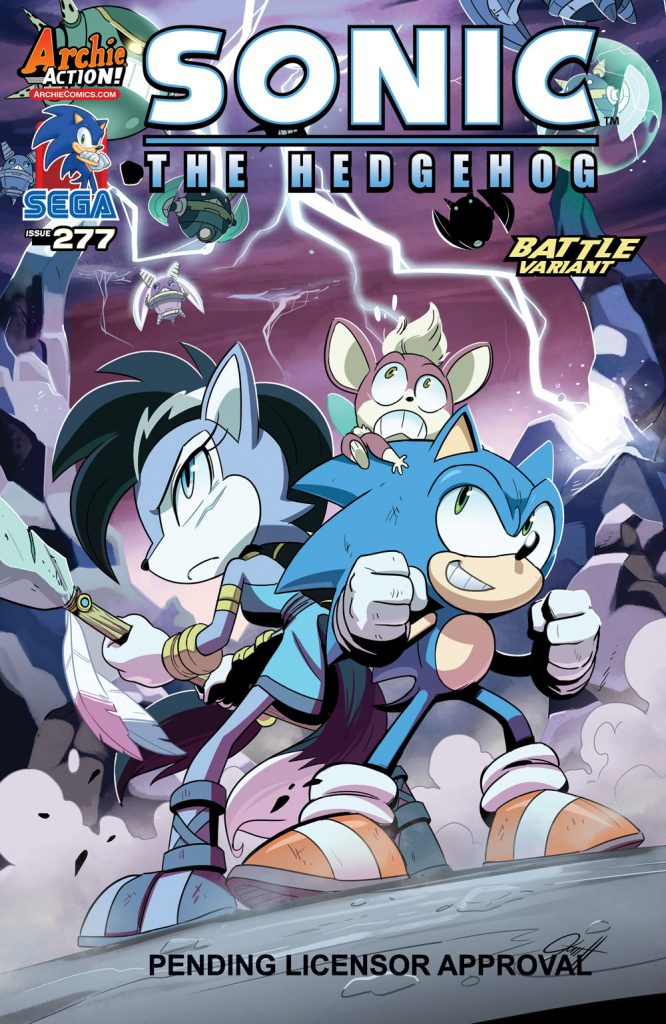 SONIC UNIVERSE #80
Script: Evan Stanley
Art: Tracey Yardley, Jim Amash, Matt Herms and Jack Morelli
Sonic Universe #80 CVR A Reg: Tracy Yardley and Matt Herms
Sonic Universe #80 CVR B Variant: Rafa Knight

The FUTURE is in DANGER, and only Silver the Hedgehog can make things right! "The Silver Age" Part Two: Silver has teamed up with Prof. von Schlemmer and they have a plan for stopping the Genesis Portals! This seems like the solution everyone's been waiting for—but why doesn't the Council want to hear it? The mystery deepens as a voice calls out to Silver—a voice that only he can hear! Will our unlikely heroes uncover the conspiracy, or die trying? Featuring cover art from the Sonic comic master Tracy Yardley and a CHAOS CRISIS variant by Rafa Knight!
Ship Date: 9/9
On Sale Date: 9/23
32-page, full color comic
$3.99 U.S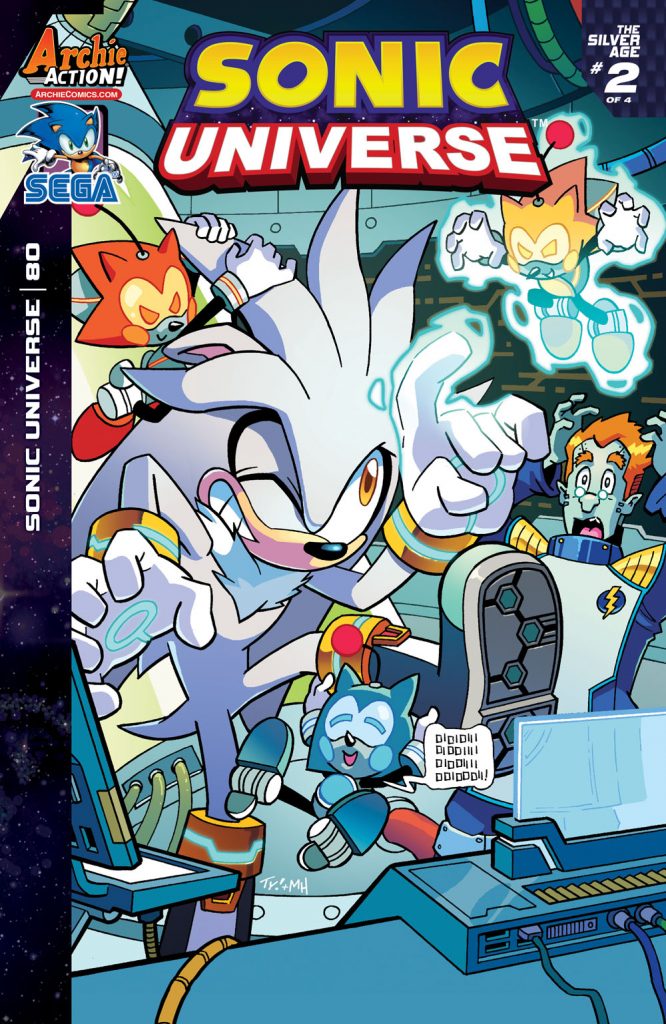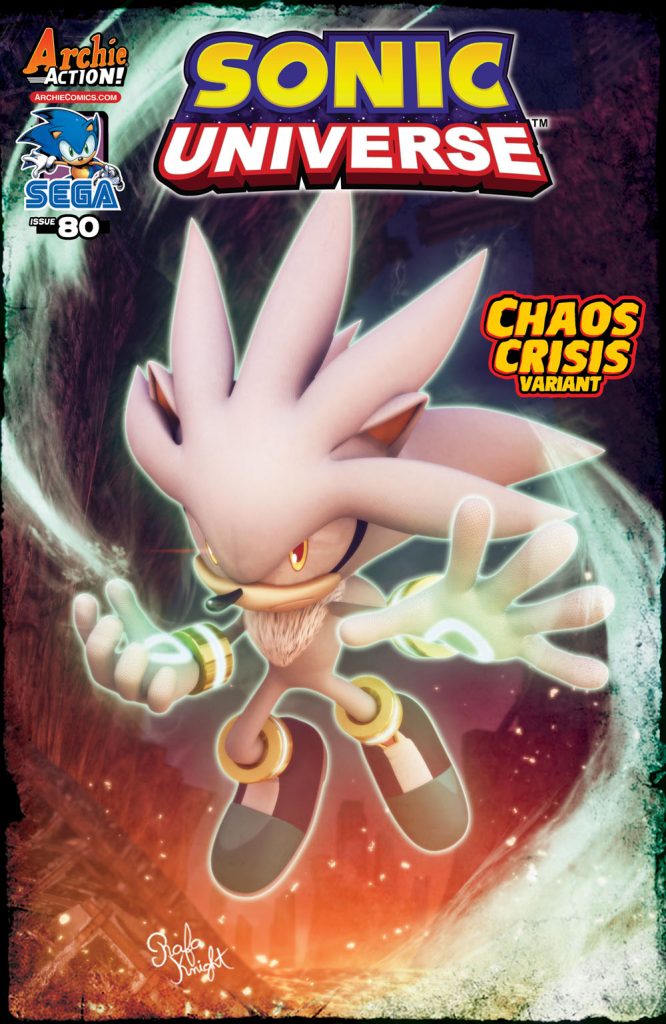 This post was originally written by the author for TSSZ News.
Owing to the original source being erased, images were replaced with those from the Archie official solicitation post by LMC in 2020.