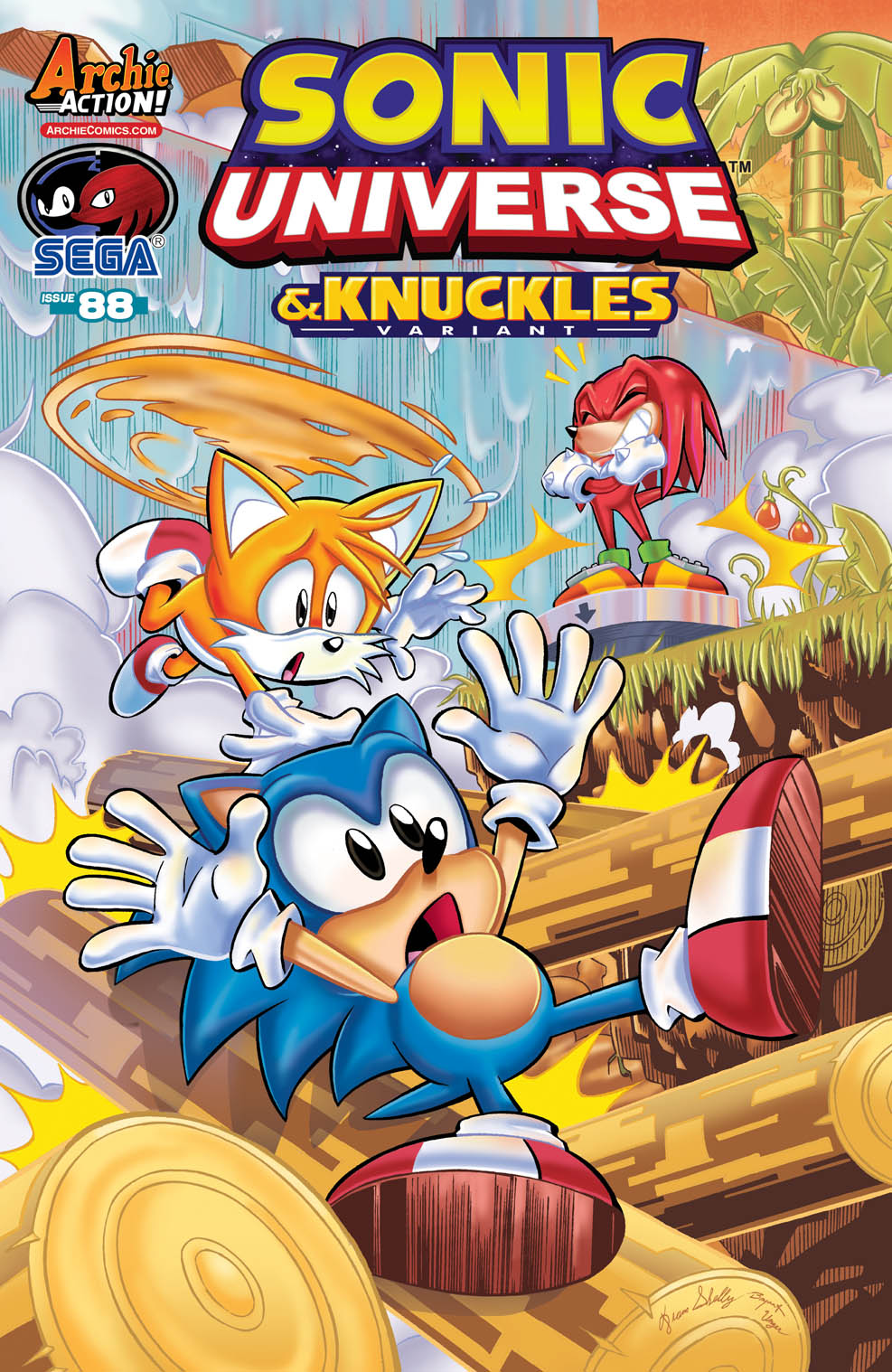 First Look: Archie Sonic Comics For June/July
At long last, with the delayed Sonic comics finally being released by Archie, the publisher has begun releasing previews for more issues. Courtesy of ComicsAlliance, here's June and July's plot solicitations and covers:
SONIC: MEGA DRIVE #1
Script: Ian Flynn
Art: Tyson Hesse, Jack Morelli and Matt Herms
Sonic: Mega Drive #1 CVR A Reg: Tyson Hesse

Sonic spins into a brand new, Classic-styled, SUPER SPECIAL one-shot "Mega Drive"! Join Sonic, Tails, Knuckles and Amy Rose on a brand new adventure—set after the fall of the Death Egg! The nefarious Dr. Eggman is trying to build a new engine of destruction: the MEGADRIVE, and it's up to Sonic and his whole crew to stop the mad doctor and save the day! Join Sonic and his friends in this special commemorative issue celebrating the 25th Anniversary of the Blue Blur!
Ship Date: 6/22
On Sale Date: 7/6
32-page, full color comic
$3.99 U.S.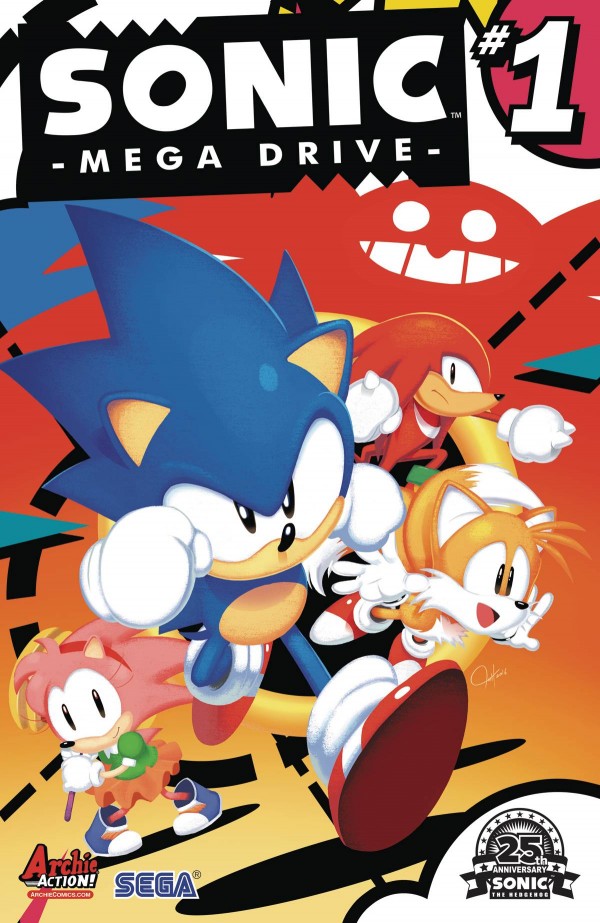 SONIC/MEGA MAN: WORLDS UNITE VOL. 1: DEADLY FUSION 1 (TR)
Script: Ian Flynn, various
Art: Dan Schoening, Tracy Yardley, Ben Bates, Jamal Peppers, Terry Austin, Phyllis Novin
Jack Morelli, Rachel Deering, Matt Herms, Luis Antonio Delgado & Ben Hunzeker
Cover: Patrick "Spaz" Spaziante

The sequel to the record-shattering Sonic the Hedgehog and Mega Man crossover is here! You saw what happened when "Worlds Collide," now brace yourself for when WORLDS UNITE! Dark forces have come together in the far future! The vicious conqueror, Sigma, has cheated death again and escaped the justice of X and the Maverick Hunters. He's crossed space and time to join forces with Zavok and the malicious Deadly Six of Lost Hex! Sonic and Mega Man could save us-but they've gone missing! Now the Freedom Fighters of Sonic's world and the Robot Masters of Mega Man's world must take up the fight to save their heroes and stop the coming tide of darkness! WORLDS UNITE features guest appearances by the cast of SONIC BOOM, MEGA MAN X and some of CAPCOM and SEGA's biggest stars! This volume collects WORLDS UNITE parts 1-4 from Sonic Universe #76, Sonic Boom #8, Sonic the Hedgehog #273, Mega Man #50 and selections from Mega Man: Worlds Unite Battles #1 and Sonic: Worlds Unite Battles #1.
978-1-62738-998-3
$14.99/$16.99 CAN
6 5/8 x 10 3/16″
TR
136 pp, Full Color
Direct Market On-Sale Date: 6/29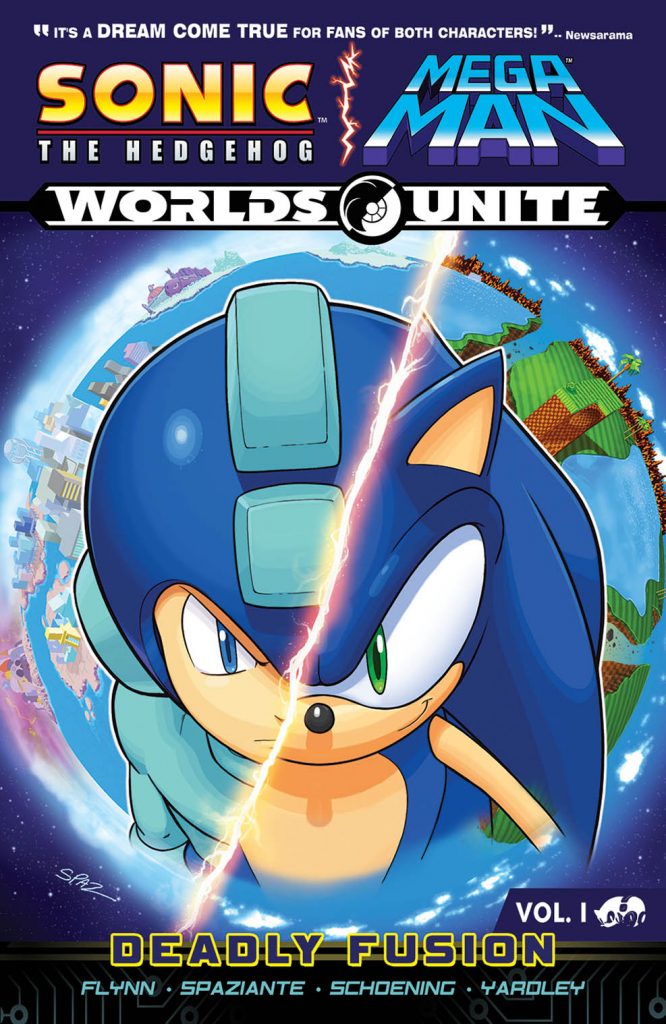 SONIC THE HEDGEHOG #285
Script: Ian Flynn
Art: Diana Skelly, Terry Austin, John Workman and Gabriel Cassata
Sonic the Hedgehog #285 CVR A Reg: Dan Schoening and Luis Delgado
Sonic the Hedgehog #285 CVR B Variant: Evan Stanley

The suspense builds for Sonic in "Panic in the Sky" Part Two: Sonic and the Freedom Fighters have faced a crushing defeat at the hands of Dr. Eggman and his entire evil Eggman Empire! Now it becomes a race against time to get back in the fight and save the day! But when Dr. Eggman uses Chip and the power of the Chaos Emeralds, are our heroes already too late? Featuring the second of four connecting covers by comics pro Dan Schoening plus a "Gaia Colossus" variant by the excellent Evan Stanley!
Ship Date: 6/29
On Sale Date: 7/13
32-page, full color comic
$3.99 U.S.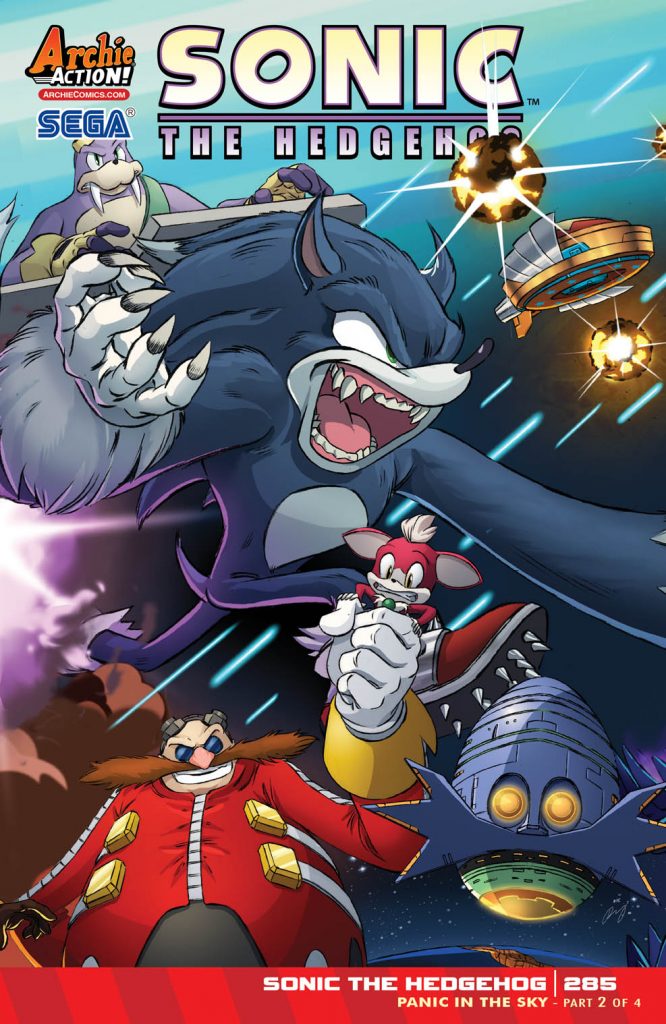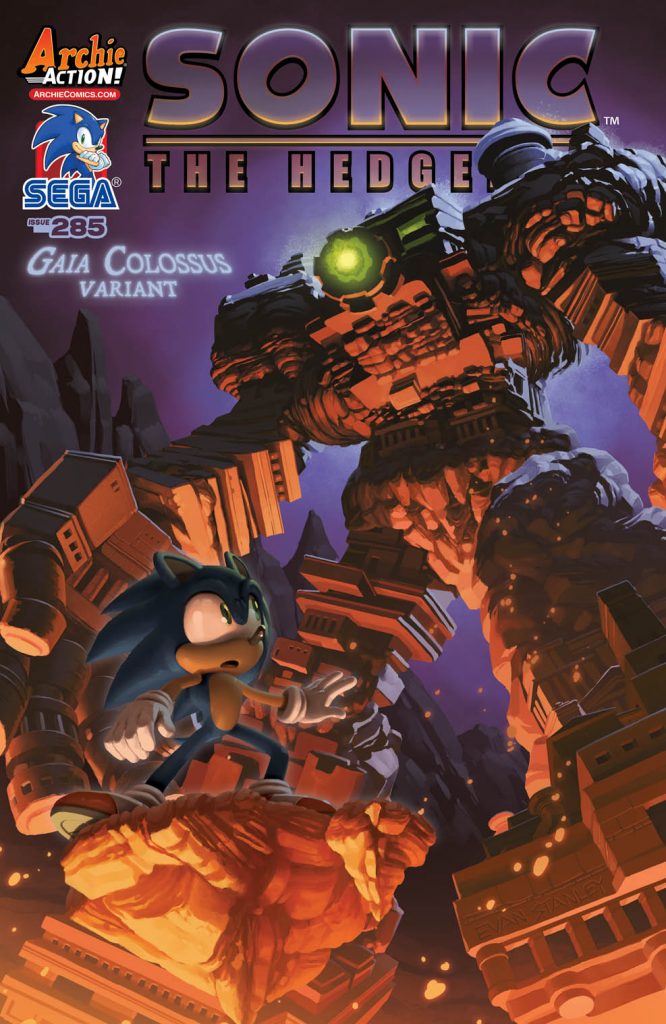 SONIC UNIVERSE #88
Script: Ian Flynn
Art: Adam Bryce Thomas, Jim Amash, Jack Morelli and Matt Herms
Sonic Universe #88 CVR A Reg: Tracy Yardley and Matt Herms
Sonic Universe #88 CVR B Variant: Diana Skelly, Rick Bryant and Elaina Unger

Tougher than leather, it's Knuckles in "Shattered" Part Two: The mysteries deepen and the suspense builds! Amy and Rouge fight for their lives! Omega is out of commission! And Knuckles is lead deep into the heart of the Hidden Palace Zone by the new Echidna, Nixus! But is this strange newcomer everything he seems to be? Featuring cover art by Sonic comics legend Tracy Yardley and an "& Knuckles" variant by the delightful Diana Skelly!
Ship Date: 6/8
On Sale Date: 6/22
32-page, full color comic
$3.99 U.S.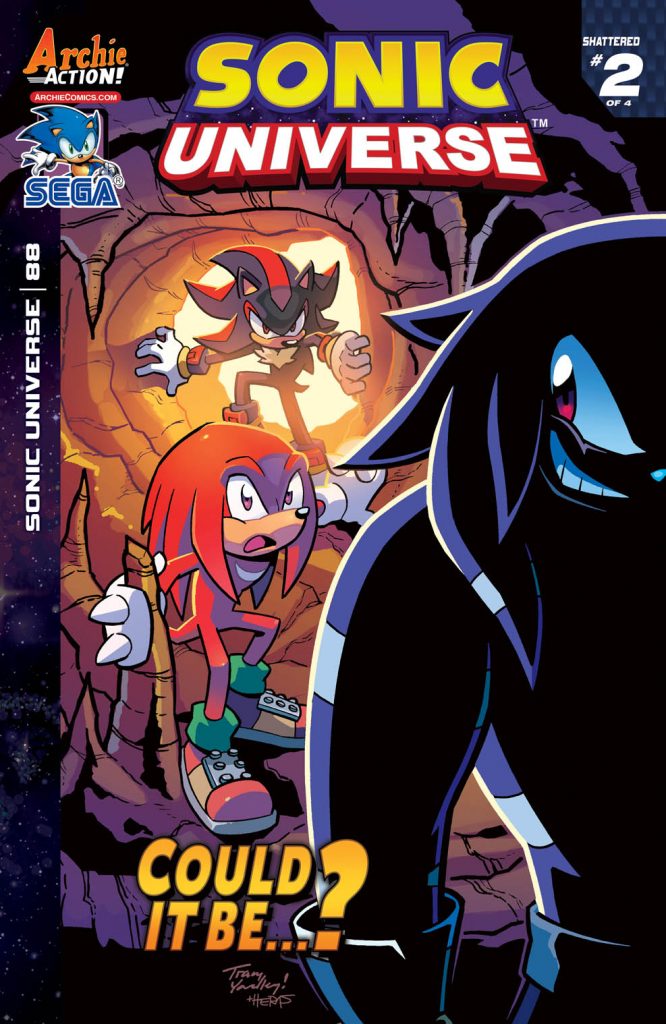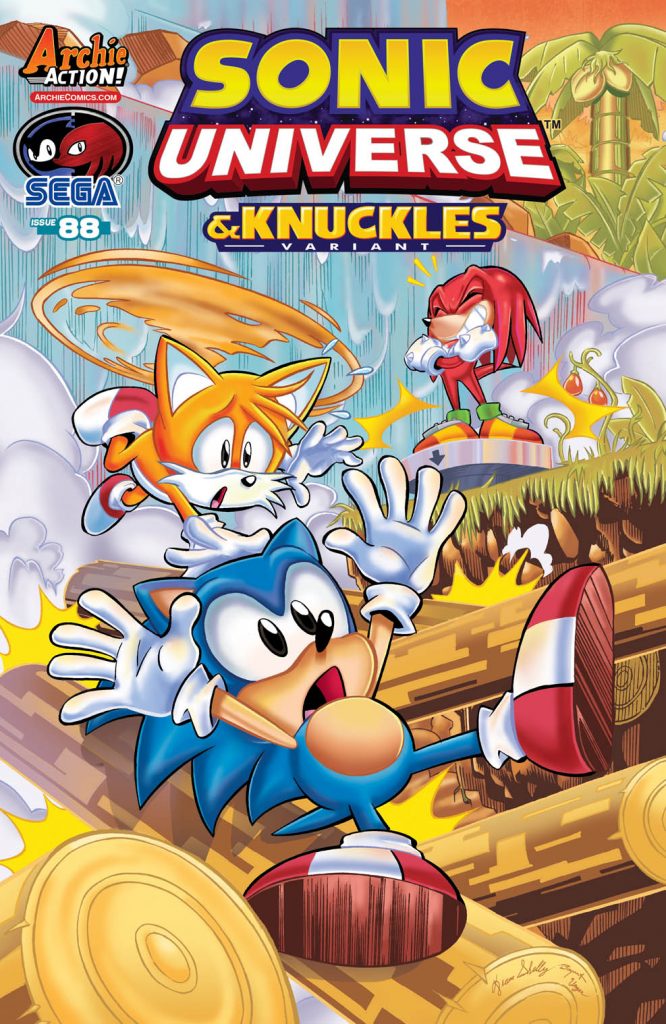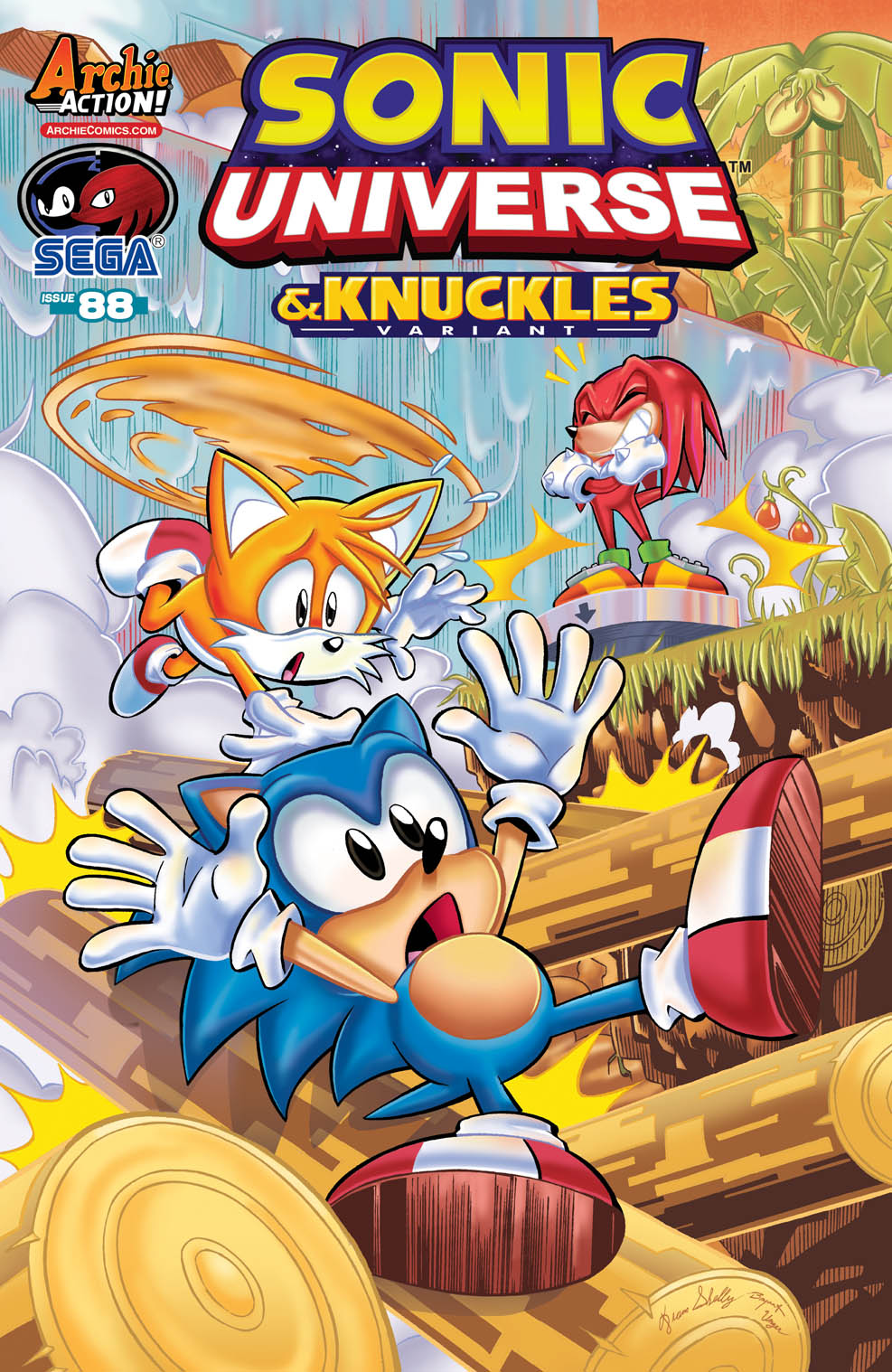 This post was originally written by the author for TSSZ News.