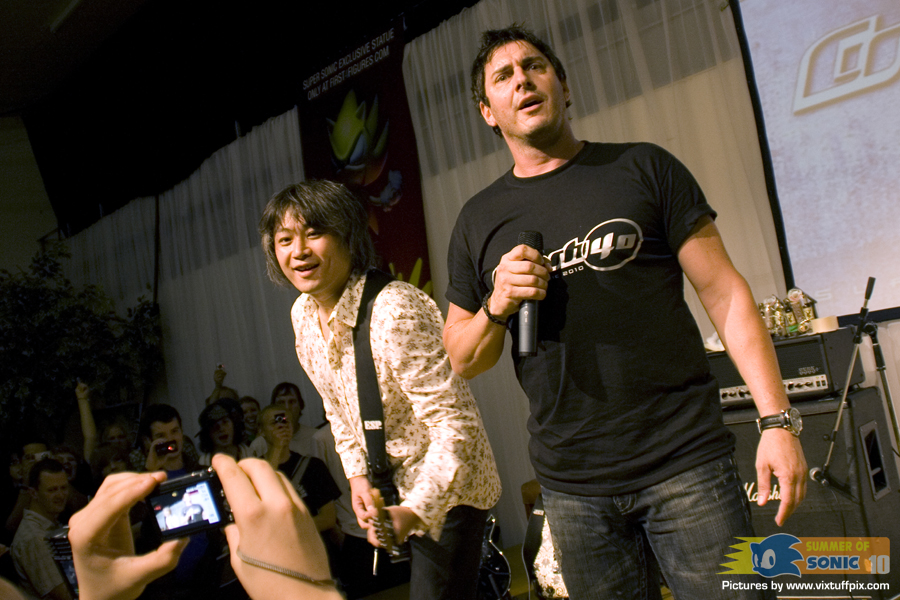 Summer Of Sonic 2010 – CRUSH 40 CONFIRMED
At the end of Summer of Sonic 2009 I asked everyone who they'd like to see at the 2010 Summer of Sonic the near universal response was Crush 40. Since then we've not said anything on the matter, but I can today confirm that the Summer of Sonic 2010 will play host to the legendary rock group CRUSH 40 this year!
We've been rather fortunate actually, what you guys don't know is that the staff – namely myself and T-Bird (who has been invaluable in this occurring and deserves your thanks) have been making private overtures to C40 since late last year with the aim of possibly having them at a potential SOS 2011 as we thought we'd need that long to arrange a hole in their hectic schedules. Nevertheless the opportunity has presented itself this year. So minor miracles AND ahead of schedule. Not bad eh?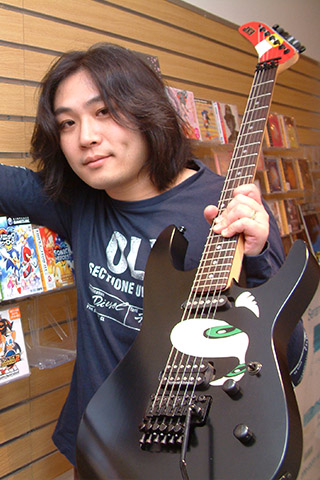 Both Johnny Gioeli and Jun Senoue will be joining our already incredible roster for the day (we're not even finished announcing stuff yet) , and you, the fans will have the rare opportunity to come along and meet the band members! For those of you who have been living under (after presumably being chased by) a rock, Johnny Gioeli has been busy blowing away audiences for nearly twenty years with his incredible vocals, fronting acts such as Hardline and Axel Rudi Pell. Teaming up with Jun Senoue to initially form band Sons of Angels, they later became Crush 40. Gioeli's powering voice has become synonymous, with a huge number of Sonic the Hedgehog title tracks including Open Your Heart (Sonic Adventure), Live & Learn (Sonic Adventure 2) and I Am…All Of Me (Shadow the Hedgehog).
Jun Senoue is one of the most influential composers in the Sonic the Hedgehog universe, having worked on Sonic titles as early as 1993. Sound directing some of the most prolific soundtracks to date including the Sonic Adventure series, Sonic Heroes and Sonic & The Black Knight to mention but a few, Senoue has become infamous for his musical direction as well as his musical prowess, with his trademark guitar work becoming the staple of countless Sonic the Hedgehog titles. He's also composed and produced all the music for the upcoming SONIC THE HEDGEHOG 4 Episode I.
Jun and Johnny will also be answering any questions you might have in a Crush 40 Q&A event on stage. They will also be available for a quick chat in the afternoon in a meet and greet session, where you can bring along your Crush 40 memorabilia to have signed!
Now did anyone else think the fact we said the event would be going on a bit later than previous years was a bit odd? Anyone catch that? No? Well there's a reason why and this is where you get VERY excited. We are delighted to reveal that Crush 40 will be treating Summer of Sonic fans to a very special performance on stage at the end of the show, playing a selection of fan-favourites that will rock you to your core in their first public gig since the Tokyo Game Show in 2008 and their very first in the West! All for FREE as part of the Summer Of Sonic experience.
You're not going to want to miss this year's convention… it truly will be way past cool!
Excited? Why not leave a comment and tell us about it!