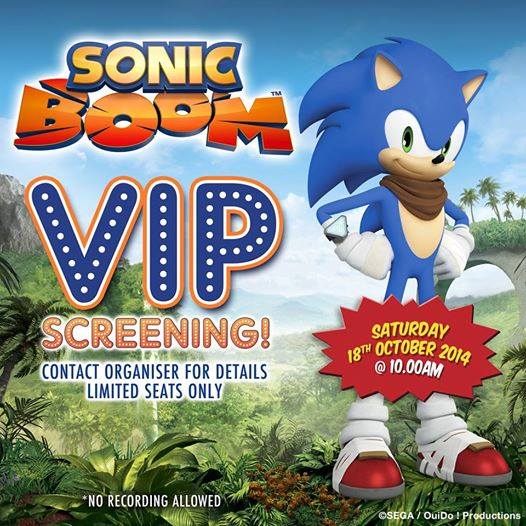 Armageddon Expo To Hold VIP Sonic Boom Cartoon Screening
Melbourne, Australia's Armageddon Expo has announced that there SEGA will be showing a VIP guest exclusive crowd a screening of the premiere of the Sonic Boom cartoon on Saturday October 18th at 10:00am. The organizers themselves explain more:
WORLD EXCLUSIVE – MELBOURNE, The FIRST EVER screening of the new TV show Sonic Boom! This exclusive event will be a closed screening and seats are very limited with guaranteed seats for all Gold, Silver and Whovian VIP ticket holders. Exclusive to Melbourne at 10.00am Saturday October 18th. For more info on how to be part of this world exclusive event email bookings@armageddonexpo.com
Sonic won't be limited to just the VIP screening though. You will be able to purchase new Sonic merchandise at the expo itself. This includes t-shirts, hats, and Sonic Boom figurines. Sonic himself will also be there for a trivia competition and an arm wrestling competition.
You can check out the promotional images that came with the announcement in the gallery below.
This post was originally written by the author for TSSZ News.