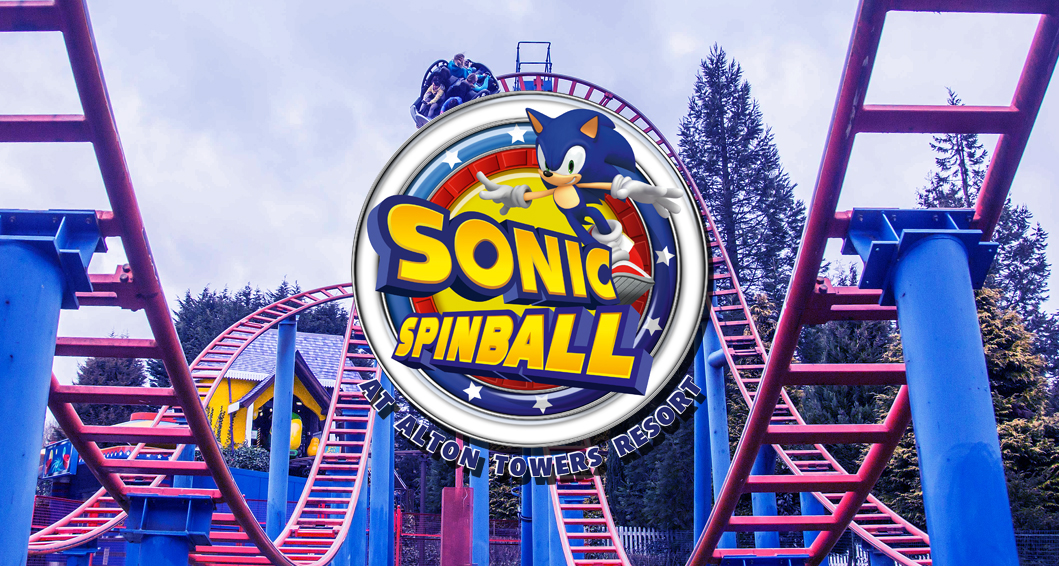 Alton Towers To Get Some Super Sonic Racing
As reported elsewhere and as I've been waiting to tell you all for months – UK theme park Alton Towers is getting a Sonic The Hedgehog themed ride. The ride itself doesn't consist of you donning a pair of shoes that for some reason allow you to grind down metal… you know, rubber being such a really non-grippy substance and all. No, its a reworking of the existing Pinball Whizzer but is now decidedly more Sonicified and re-branded as Sonic Spinball. Think of a roller coaster where you keep flipping between looking forward and backwards and you're sort of in the right ballpark.
LONDON (TBC January, 2010) – SEGA® Europe Ltd today announced an exciting three year partnership with Alton Towers Resort, the most popular theme park in the UK. The deal, which gives SEGA the exclusive videogame rights at the resort, also marks the first time a video game character has been given their own 'Ride and Stay' experience at the popular UK attraction.

The sponsorship will encompass the launch of a Sonic The Hedgehog branded roller coaster and Sonic The Hedgehog themed room at the Alton Towers Hotel. The Sonic hotel room allows guests to live, sleep and even play the latest games from the Sonic franchise in a room dedicated to the famous Sonic video game universe. The roller coaster, entitled Sonic Spinball, and the Sonic hotel room will open to the public on 13th February 2010.

"We are delighted to be working with Merlin Entertainments and Alton Towers Resort" commented Amanda Farr, SEGA Europe UK Marketing Director. "Partnering Sonic with one of the UK's most popular destinations for a family day out is a fantastic opportunity for people to engage, and have fun, with the Sonic brand. I'll certainly be there at the launch of the roller coaster to have my turn!"

Morwenna Angove, Sales and Marketing Director at the Alton Towers Resort, said: "It's a great joint venture between the Alton Towers Resort and SEGA. The affiliation of both brands will add to the great family offering at the Resort for kids seeking fabulous family fun and adrenaline addicted adults".

Sonic The Hedgehog has starred in a number of video games since his first appearance on the SEGA Mega Drive back in 1991, his next video game outing will be Sonic and SEGA All-stars Racing, launching Feb 26th 2010.
"A number of video games"? Understatement of the year so far I think, but yes not only a ride but a hotel room as well. Funnily enough I was looking online for some items for said room the other day… I won't tell you what, but lets just say shiny shiny! The SW team will be bringing you more news directly from Alton Towers itself in a few weeks time… as will some other familiar sites – they just don't know it yet.
Oh and no, Bunny Rabbot does not feature on the ride. Sorry SatAM fans.