Rebellion Has The Balls For Sniper Elite The Board Game Kickstarter
Rebellion, the UK based gaming company behind the Sniper Elite franchise as well as other games like Strange Brigade, Zombie Army and Evil Genius are taking the leap into the world of board games with a new Kickstarter as part of their spin-off arm 'Rebellion Unplugged'.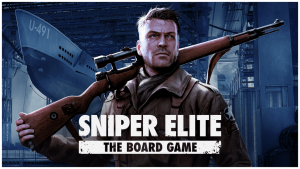 Focusing on the aforementioned Sniper Elite series, the game has a lone player operating in the shadows as the series protagonist and perennial hater of intact testicles Karl Fairburne. It's up to the other players, controlling the Axis forces to deduce where Karl is moving and what his aims are in order to stop him before he completes his mission. The game is full of neat miniatures including that nasty little Hitler fellow and in a nod to "one of gaming's greatest hits" even includes one with the Fuhrer having been shot in his gentleman's area.
Nasty – but then again, fuck that guy. Press release and link to the Kickstarter below, which at the time of writing has already surpassed its initial goal of £22,000.
(Oxford, UK – 11th August, 2020) Rebellion Unplugged, the board game division of Rebellion – one of Europe's largest independent creative studios, has launched the Kickstarter campaign for Sniper Elite the Board Game. Sniper Elite the Board Game brings the stealth, action and epic longshots of the award-winning video game series to tabletop, with an exhilarating two to four player campaign set in a top secret WWII U-boat launch facility.
One player takes the role of allied sniper Karl Fairburne. Tracking their movements on their own hidden board, the sniper player is engaged in a tense bluffing game; remaining undetected, using equipment to misdirect opponents, and picking off enemies one-by-one.
Meanwhile, up to three other players control squads of German soldiers who must defend against this shadowy threat; deducing Karl's location and secret objectives, while striking a balance between defending their base and hunting Karl down.
Designed by David Thompson (creator of the hit board games 'War Chest', 'Castle Itter' and the 'Undaunted' series) alongside Roger Tankersley, Sniper Elite the Board Game features artwork from the video games series' concept art team and unique, beautifully produced miniatures.
Kickstarter backers can receive exclusive extras including a solo player mode designed by celebrated Anachrony creator Dávid Turczi, additional miniatures, and the Eagle's Nest expansion pack.
Also available is the exclusive Hitler teste-kill miniature, representing an iconic moment from the Sniper Elite series. One bullet really can change history.
Duncan Molloy, Head of Rebellion Unplugged, said, "It's a privilege to bring the hugely popular Sniper Elite video game series to the tabletop, with brilliant designers, beautiful art and lovingly crafted miniatures.
"Sniper Elite the Board Game delivers all the tension and excitement about the video games. We can't wait for players to get their hands on it!"
You can back Sniper Elite the Board Game on Kickstarter now.
For all the latest news and info from Rebellion Unplugged, follow us on Twitter and Facebook and check out rebellionunplugged.com.