How SEGA Helped Resurrect Typing Of The Dead OVERKILL
The House Of The Dead is an odd franchise for SEGA, despite its Japanese origins its an SEGA "all-star" franchise that has a predominantly Western ownership in terms of its main development. Certainly during the last generation at any rate.
A successful venture born in the arcades it spawned a number of sequels (including among others a bizarre zombie love story spin-off) and most of them have at one time or another found a home on home consoles. It has also produced a ghastly movie, a comic (believe it or not) and two notable standalone games.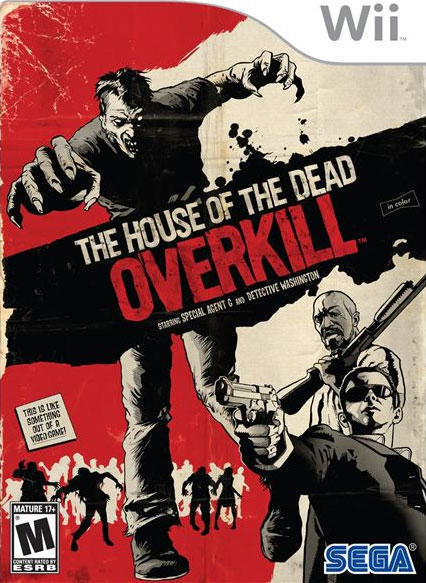 The first was a Dreamcast classic Typing of the Dead which played off the series' rather dubious quality for dialogue with the need to type odd words and phrases in order to effect the kill and Wii-based grindhouse style prequel THE HOUSE OF THE DEAD: OVERKILL. A game full of a delicious amount of cheese and self-deprecating jokes and which, thanks to co-protagonist Isaac Washington, revelled in the title of most foul-mouthed video game ever.
Take that family friendly, 'casual' audience!
Now, in a move no one was expecting, SEGA have merged the two to form TYPING OF THE DEAD OVERKILL, a Steam port of OVERKILL combined with a version of the game in the Typing Of The Dead format. Not only that the port is not of the Wii version but the better quality, longer Director's Cut version that was ported to the Playstation 3 last year. The merging is a triumph, combining the best bits of Typing's innate quirkiness with OVERKILL's…er…overkill but the birth of this hybrid was not without complications. Indeed SEGA had to step in to prevent the entire project from falling into the development void.
With this in mind and in a mood to beat some mutant heads in ("We don't use the z-word." – Agent G), we grabbed one of the main people behind the rise of the undead – SEGA Europe's Digital Distribution Director James Schall – and whilst using him as a human shield quizzed him on SEGA's dedication to digital, it's relationship with Valve/Steam, it's classic back catalogue and how exactly it saved the day with their latest effort.
LMC: Firstly congratulations on a very stealthy announcement and launch. Were you surprised by the response the game got from gamers on announcement?
Schall: Thanks for those kind words, everything went fantastically and our main response right after the launch was one of genuine happiness. We've been looking at Typing and bringing it back in some form for a number of years within the PC side of our business. Our team were pretty confident that it'd go down well but the scale of the positivity took our breath away, it was a pretty emotional day!
LMC: We've heard from the Development Studio their side of the story of how THE TYPING OF THE DEAD OVERKILL came to be, and how SEGA came to the rescue but we've not heard the story from SEGA's point of view. Perhaps you could give us a rundown from the top.
Schall: The PC digital team here in London is focussed primarily on working with our superb in-house developers – Sports Interactive, Creative Assembly and more recently Relic. We also look at our heritage titles and Typing jumped out really early on as a must do. The cult status made it a priority for us to work on, right near the start, two of the Production team: Jessica Padkin and James Langtry mentioned bringing Typing to Overkill rather than re-releasing the 10 year old original.
LMC: The original Typing of the Dead was full of very peculiar phrases and you've certainly replicated that feel with it's succcessor. Even "twerking" gets a mention in the new game. What's your favourite word or phrase you've come across in the game?
Schall: "Unicorns" I don't know why, it just tickles me. The guys at Modern Dream did an awesome job on the dictionary, but we're not done there.
Typing has so much scope for us adding extra libraries or themes. One of the ones I'm fortunate to play in our behind the scenes backend, I can't repeat the words but anyone who plays it ends up giggling and laughing so much the game becomes really difficult!
LMC: Are there any word additions you yourself are responsible for?
Schall: There might be one or two little things but we're very conscious to not make this a massive in jokefest…
LMC: What would you say was your favourite part of the game?
Schall: That's easy, I love the randomness of the dictionaries, if a phrase or words starts me smiling or giggling that can take you out of the zombie killing zone that you're in, I love that, it's a game that makes me laugh out loud. not many games do that. Once you lose your focus, you slip a letter, the bad guy gets closer, your pulse quickens and the game gets frantic.
LMC: There's also the prospect of custom dictionaries which are mentioned in the game. Will we be seeing any more options down the line from SEGA or is this just for users to use their own libraries.
Scall: Yes, we'll be exploring both opportunities. We have some that are done (Indeed SEGA have added DLC's already for "Shakespeare Of The Dead" and "Football Manager Of The Dead"…) but we also want to hear from the fans on what they want to see or add. That will come in time.
LMC: OVERKILL's original development team were reported as saying they were interested in making a new Virtua Cop game with a similar sort of feel. A Miami Vice-esque Virtua Cop perhaps? Could we see other lightgun-type games coming to PC or console in the future for SEGA, or would you say that door is rather closed to the market now for new products?
Schall: We had a look at lightgun games on PC but there's just no peripheral supply of guns out there, we felt converting a light gun game to mouse was too easy to play, but we know some would still like it so we added a conversion into the Typing of the Dead: Overkill package free. The success of Typing means we can have another look at what's around but nothing is in production, put it that way.
LMC: There is a moment in the game where it loses all sound, when using a hammer on a 'rage monster'. Is this one of those instances where its a 'deliberate error' as with some of the cutscenes or was that moment censored for distribution/rating purposes?
Schall: We haven't censored any part of Typing of the Dead from the original OVERKILL game.
This 'rage monster' was introduced in the Director's Cut version so that might explain this, still it seems pretty unusual for there to be no sound effects in the game during these moments when the subtitles show there is clearly dialogue supposed to be being used. We took the opportunity at this point to turn the conversation in the direction of digital itself.
LMC: As Digital Distribution Director how do you see SEGA's future relationship with Digital evolving – and specifically your partnership with Valve/Steam?
Schall: SEGA is in a really good place with PC right now, we work with our fantastic studios and have a 1st class relationship with Valve and our other partners. We get a lot of the strategies that Steam promote and we try and figure out how best to integrate ideas in our titles. Take the Sonic Transformed PC characters, that free content was generated by ideas we had working with Valve.
LMC: How would you say they themselves see the relationship?
Schall: I would hope that they would say very nice things about us! in all seriousness we have a great line up of PC titles and we get on really well with them. As I said, we think along very similar lines.
LMC: What would you say was your biggest coup with the Steam platform so far?
There's a great partnership there, you could say having the Team Fortress 2 team in Sonic & All-Stars Racing Transformed, the Total War: Rome 2 MvM take over or the Half-Life 2 car in Renegade Ops, those are standouts.
LMC: This does bring us to the subject of ports.
This is essentially the fourth game released from the same source material (OVERKILL, OVERKILL PS3, Lost Reels and TYPING) what makes the source material so compelling that it allows this flexibility? Why revisit SEGA's 'Adult On Wii' range at all?
Schall: Interesting question and not one I've thought about! What is key is the content and how relevant it is to PC players. The core thing for me is the platform is not anything I'm concerned about, is the game compelling enough with mouse, keyboard or controller? A PC should be able to manage most titles – our re-visit of Creative Assembly's Viking is an example, a great game that with some adjustments made it to PC and is being enjoyed by gamers.
LMC: Speaking of the Wii, would you be open to more ports of Nintendo titles? Like the under appreciated MADWORLD or maybe a keyboard-controlled version of Samba De Amigo? Even old DS games like the awesome Infinite Space – that would probably give FTL a run for its money.
Schall: As I said, I want to look at games that will fit the experience, we have a huge list of titles to look at some are near impossible to get working well, others which may well be our next project may make a little more sense.
LMC: Obviously this is a new Typing Of The Dead, what of the old one – could we see it somewhere down the line as a port to Steam?
There's no reason why not, we're not working on it now but we could one day look at the original Typing game.
LMC: Regarding the Dreamcast and the Saturn, we've not heard anything else from SEGA's Heritage line since the wonderful NiGHTS Into Dreams HD which is now over a year old. Can we look forward to news of a new release from either platform in the near future?
Schall: I'm very mindful of SEGA's heritage, even as we pass into this new PS4 and Xbox One generation, that puts 360 and PS3 in the retro/heritage section now, we have a whole range of games to look at and I'm sorry I'm in no position to announce anything today.
LMC: We know sometimes things just cannot be revisited. If there were no restrictions or limits on you, what game would you like to see get a new lease of life?
Schall: Ha that's a really tough question and I won't talk about SEGA games as that's unfair, I can think of a ton of games I'd like to see again though, Road Rash 2 and X-Wing on the PC.
LMC: Finally, any message for those still on the fence about buying THE TYPING OF THE DEAD OVERKILL?
Schall: Don't take our word for it, we're slightly biased. Ask a friend who owns it, I'm confident the word fun will be used somewhere during that conversation
Our thanks to SEGA Europe and James Schall for their time. THE TYPING OF THE DEAD OVERKILL is available now on Steam. Playstation 3 users can pick up the OVERKILL Director's Cut and Wii users the original game at a reasonable price.
LMC fans will also be able to enjoy a special Let's Play of TYPING OF THE DEAD OVERKILL in the near future.
This slideshow requires JavaScript.