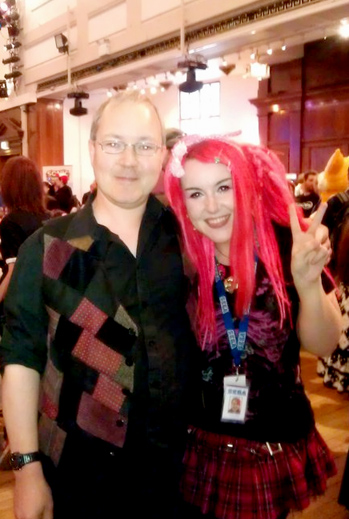 Community Spotlight: Lynne "TRiPPY" Triplett
Welcome to the Community Spotlight, where from week to week, I will take a few moments with a member of the community and see how their art of different varieties has shaped over the course of the years, among other things.
Today, that spotlight shines brightly on Lynne Triplett, otherwise known by her online alias' of Imagni and TRiPPY.
So, sit back, relax, and enjoy what I hope will be an insight into the artistic side of some of our community.
TC: When did you first start doing SEGA related artwork and why?
LT: I first started drawing Sonic when Sonic 3 was due for release. I was so hyped for that game, words can not even explain. I'd never owned Sonic 1 or 2, but I'd read STC due to stealing my little brothers comics. After a while it was me buying the comics instead of him and when I was a wee little TRiPPY my dream was to one day work for Fleetway drawing Knuckles all day, haha.
SEGA, Sonic and NiGHTS have always been my stability in life, especially through my childhood. So many good memories are attached to them all that it carried over into my adult life where I am probably a bigger fan now than I was back then. Now I'm pretty much living the dream minus Fleetway still being around. It goes to prove if you care about something enough you'll find a way eventually nomatter how rubbish life can be. I've been drawing SEGA related art now for over half my life. That's crazytalk.
TC: Can you show us examples of how your artwork has improved over the years?
LT: Do i really have to? *shudder* A lot of online Sonic fans remember my name from having stuff constantly printed in STC back in the day. But they never really got to see the bulk of my Sonic related fan comics. They were terrible! Yeah I was about 14, but still.
I remember back in 1994 I done a full colour 58 page Knuckles comic and it got sent to SEGA America. That's how I became so involved with the company as a kid. The directors got wind of my art and took me under their wing. Which is why I'm a shining example of a citizen today! Of course…
I should scan some of this stuff *digs through dusty boxes* Oh wow the HORROR.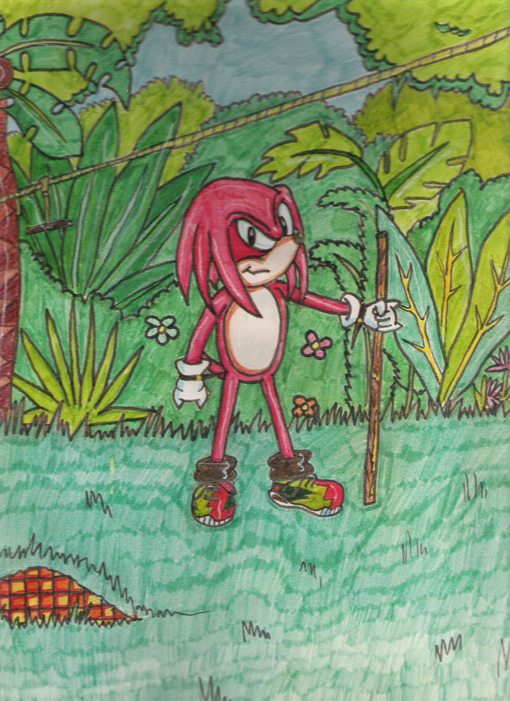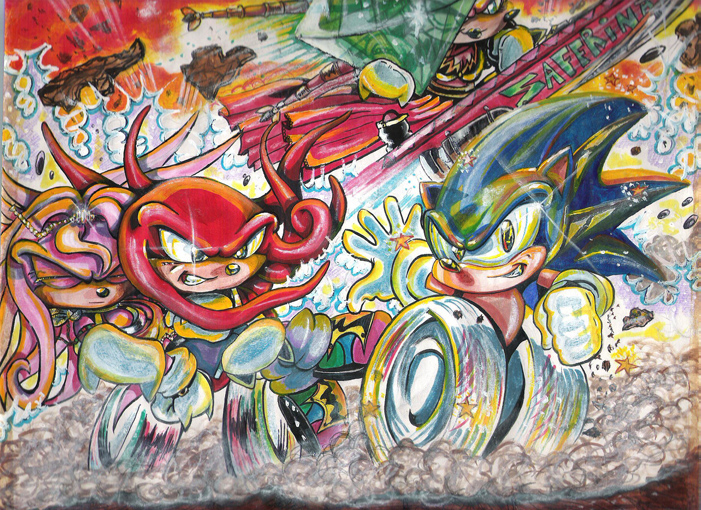 TC: Out of all the artwork you've created so far, do you have a favourite piece?
LT: Yes, oddly enough it's a few years old now too. 'My Muse' was a piece of realistic pencil art I drew of NiGHTS back in 2004. I think it's the one bit of art I've done over the years that truely pinpoints my emotions regarding my artwork as a whole. I wasn't particularly happy at that time in my life and the art that resulted was this curious passive aggressive very vivid image of NiGHTS that a lot of people really responded to. It stirred up emotions in people that I hadn't expected.
I'd always wanted to pass the original drawing to NiGHTS' creator Naoto Ohshima and just last month I was finally able to. It felt like I'd come full circle in a way. Now when I look at the picture I feel happy and accomplished rather than sad. It's my 'I didn't let go' piece I guess. Now I'm glad it's in a good home.
TC: Moving onto Summer of Sonic, you were a featured fanartist there, how did you find the event?
LT: Unfortunately I spent the majority of the day getting really wound up over a bit of a mishap, but after all that had calmed down and i was able to actually enjoy the event and appreciate all the good things that had happened. When you're running a table things get really hectic, which is why last year I passed up on the chance to man one. But this year was a special occasion since it was NiGHTS' 15th anniversary so it was our job to represent the fandom.
I always love meeting fans and introducing new people to NiGHTS. Especially kids. I think it's my maternal instincts kicking in, lol. I just remember how happy I was to discover NiGHTS at a young age and how much it helped me, so to be able to share that with a new generation is something I hold really close to my heart.
This year we were approached by the new wave of NiGHTS fans which is something I had never experienced before. Younger fans who only know NiGHTS because of Journey of Dreams on the Wii. That really floored us. The Sonic fanbase get a new Sonic game every year… but for us guys to have new fans pop up was really something lovely. So it's important to me that I bridge the gap between classic and modern NiGHTS for everyone.
The general thing I adore about Summer of Sonic is that it unifies the Sonic fanbase for the day and everyone can just have a good laugh about the fact they care so much about a talking blue hedgehog. We're all nerds and we're all proud. It's such a great atmosphere and it shows SEGA how much love there is on a more human level than shouty fans in forums. Summer of Sonic has really grown into something special.
TC: What was your favourite Summer of Sonic moment, as an attending artist and as a general spectator?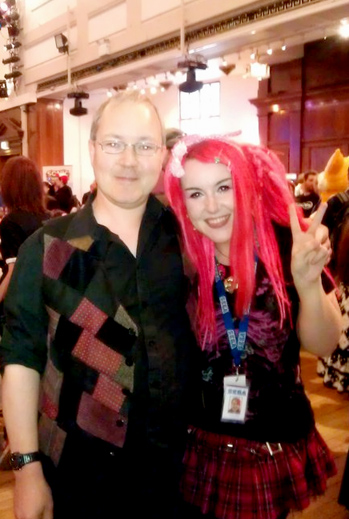 LT: As an artist it had to be Nigel Dobynn coming to chat to me at our table. I see him every year but don't usually get to say much due to us both being a bit swamped. This year though he was talking to me about our comic Engelbaum which really surprised me. He gave the best compliment on my art ever, 'Your artwork looks like it's drawn with light.' I mean, lol, how cool is that? The guy indirectly taught me how to paint traditional Sonic art as a kid so it's always nice to have creative responses reflected back at you after so many years of looking up to a person.
As a spectator it was finally getting the chance to sit down with Takashi Iizuka and Yuji Naka and have a good old private chat about NiGHTS face to face. We've been lucky enough to interview them both extensively before but this time we just got to more or less hang out and ask casual questions and have a joke about with them. I think they both really needed to see how much love there is for Sonic over here and how enthusiastic the fans are.
There was a lot of love for NiGHTS this year and they were both really happy to experience that for the first time. Being able to hand them my artwork in person was so funny, especially since Iizuka-san has something of a small collection of my original pieces now. It's things like that, that put a grin on my face, knowing that even when doing things for your fandom might have its ups and downs that there is always people who appreciate what you do, even at the top.
TC: How do you come up with new ideas for artwork?
LT: Turn the music on. Sit in bed. Stare off into space. Grab a pen. Doodle like there is no tomorrow.
I tend to put a lot of random stuff down on paper that ends up just being thrown out as junk. I usually write down my ideas rather than sketch them. This is why my sketchbooks these days are very boring and full of stickmen with unreadable writing. I have to remind myself of what I really want to draw a lot. Otherwise I'll forget and waste a good idea.
TC: Where do you find the inspiration for your artwork?
LT: My dreams. It sounds massively corny but i have seriously crazy lucid dreams and they have always been the source of everything I do creatively growing up. People, creatures, landscapes, general ideas, all from my subconscious. If I have art block I usualy nap while listening to music and wake up feeling supercharged.
Feedback from others also inspires me to work harder. I get such a buzz from people who take the time to read or look at my work and explain how it made them feel. It's magic.
TC: What are your current projects?
LT: My main focus right now is to get our comicbook Engelbaum up and running properly.
The project had a promotional print run a few years ago and was very well received by the public so our goal now is to get this all up and running full swing. I know if i dedicate myself to it enough that it could really take off in the future. The story and all its gory details has been in development and revision for years now.
Besides Engelbaum I'm clearing up a few remaining commissions on my list and hoping to have the time to draw some new NiGHTS and Sonic related artwork. Being an admin of any large website or fandom you tend to be cursed with having your attentions pulled in different directions 24-7. But I try my best.
TC: How would you compare traditional and digital art, and which is your favourite?
LT: I started out as a traditional artist because back when I was a teenager the most technology available to me was a dodgy mouse and a powermac complete with floppy discs and no CD burner. I grew up as a traditional painter and had my work in quite a few art shows so I guess I was very reluctant to make any sort of switch to digital. After a while though I realised that there are a lot of time saving and useful things that can be done with digital. So I've been practising hard at improving. For me though nothing beats getting paint under your fingernails. I'm still oldskool at heart. For me, traditional expresses art in a raw form, it feels more expressive to me. Digital is super clean and very sharp with insanely vibrant colours I could never achieve on paper. I think it's good to have a balance and not just rely on one method. Though I do wish traditional painting had an Undo button…
TC: What advice would you give for aspiring artists?
LT: The most important thing to me is to stay humble. No matter how much praise you get or how great you think your art looks – Stay humble and people will connect with you and your work more. I've come across some great artists online over the years who unfortunately did not match the personality and love emitted from their artwork. So I like to think of myself as a big friendly learning sponge. Admire and learn from other artists ~ nobody is perfect, so never be afraid to make mistakes. Revel in them!
Also, always accept critique. A second pair of eyes can see more than one. You don't have to always agree with crit but the majority of it can seriously help you improve as an artist after the initial butthurt fades away.
I've always been one for following dreams, heck it's how I got to where I am today, but you must be 100% sure of the path you want to take in life as an artist. If you truly know it's meant for you then never let anyone tell you it's not worth it- or tell you that you're stupid for being a fan. Keep that idea in your head and heart and never let it go no matter what.
TC: Are you currently taking on any commissioned work?
LT: As a professional freelancer I currently have a scary backlog and constant demand for new material. So right now I'm trying to juggle a lot at once. The hardest thing as an artist is to not let yourself get snowed under with projects. So no new commissions from me right now. My main reason for this though is that I really want to concentrate on our original comic project Engelbaum and give it all the love and attention it deserves. I do commercial art for individuals and companies from time to time. I love drawing other peoples characters and I know how exciting it feels to see an artist draw something for you, heck I commission a lot of artists myself, so I'll always be open for commission in the future once I've cleared some of my current workload.
Keep scribbling!
Thanks to Lynne for taking her time out to answer these questions for us, and if you felt like viewing more of her work, you can see the rest of her works at the following links:
Imagni.com – The official studio site were Engelbaum lives.
Lynnetriplett.com – Lynne's portfolio site.
Deviantart – Lynne's DA page.
Nightsintodreams.com – The online NiGHTS fanbase.