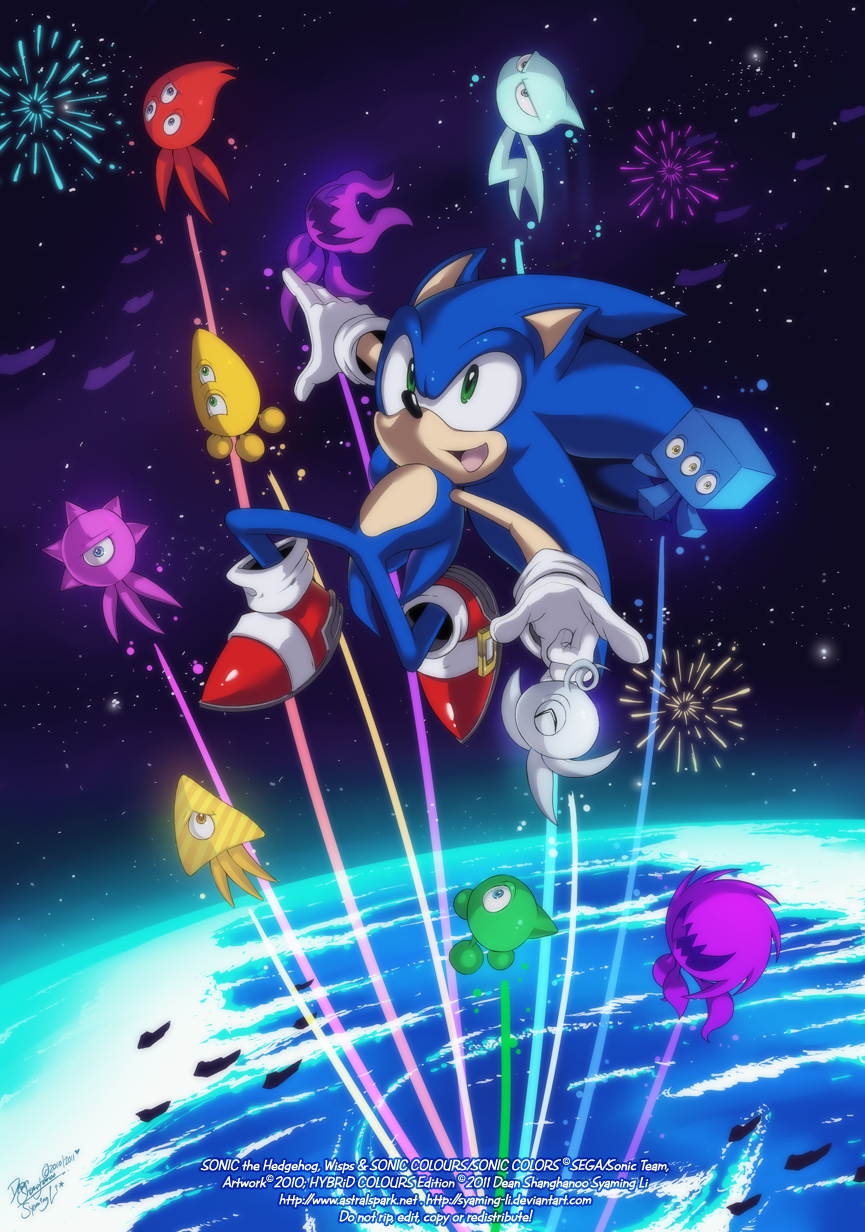 Community Spotlight: Dean Shanghanoo
Welcome to the Community Spotlight, where from week to week, I will take a few moments with a member of the community and see how their art of different varieties has shaped over the course of the years, among other things.
Today, that spotlight shines brightly on Dean Shanghanoo, otherwise known by his online alias of Syaming-Li.
So, sit back, relax, and enjoy what I hope will be an insight into the artistic side of some of our community.
TC: When did you first start doing Sonic related artwork and why?
DS: Hmm. Ever since I could get my hands on art materials, really! I've been drawing Sonic artwork since June 1991. I'd always been "That kid who draws a lot", so something just triggered inside me when I got to see Sonic running through Green Hill for the first time. I've been hooked ever since.
TC: Can you show us examples of how your artwork has improved over the years?
DS: Oh boy, that's a litt bit of an art history lesson in itself! As you know, I started from the very beginning. I drew Sonic throughout school and was quite known for it, and even had a piece featured in a Halloween edition of Sonic the Comic. But I'll cut to the chase. I found the online fandom in 2000, and I started with traditional stuff (As that's all I had and I was used to it;)
I was still heavily inspired by Sonic the Comic by this point and had just discovered Sonic Adventure (Which is why I was semi-clueless as to what colour Tails' eyes were supposed to be!); I was aware that Sonic had gone a little quiet for some time, but I'd always kept drawing him. Then I found all these people like me and all the artwork tied to this and thought it was absolutely crazy! I wanted to share my stuff too, so I just kept drawing. I didn't discover digital until 2001, when a friend of mine introduced me to a couple of programs, and I've been playing with it since.
Which I was pretty proud of them at the time, but since starting digital work I've simply been focused on improvement. Not in the sense of competition, but in the way that I wanted to be able to portray things I love about Sonic in the way that I perceived them in my head. Which is no mean feat, any artist will tell you that; I started on deviantART in September 2002, where I'd met a lot of new friends, and we basically learned things from each other, which was always fun. By the end of 2003, and I pretty much had my head wrapped around the likes of Photoshop, and it was just a case of building upon those skills; by 2005 I felt ready to take a break from heavy online activity, and only posted a few pieces between then and 2008, but this was by far one of my favourites. I made my return again in late 2008, and between then and now have been developing a style that works on technical skills as well as pretty colours, which ranged from experimenting with different digital and traditional styles.
By 2009 it got a little more cohesive, as I was working on SONIC SOUNDSPEED then, where I developed a cel style that I felt was quite simple, but was still able to convey the colour and style that I wanted it to and that's pretty much where it stayed. I've been tweaking the colouring style, but it all about little nudges here and there, now. There's always lots that a person can do to better themsleves, and I certainly plan to!
The improvement stance now is just to keep portraying every single little idea stuck in this cranium of mine, as I do feel that currently I am in a place where I can place on paper (or digital canvas) what I've been thinking about all these years. Close! …Not quite where I want to be yet, but I'm certainly getting there!
TC: Out of all the artwork you've created so far, do you have a favourite piece?
DS: It's so hard to choose! When you spend as much time on artwork as I do, it's like picking your favourite child! So far… I'd have to be super-biased and say Sonic Colours. Not because it's my most popular piece to date, but it was a piece I really enjoyed drawing. Especially as it was paired with how I felt about the game at the time. I think that was reflected in the work itself, and was the reason why it turned out to be so popular in the long run. It really helped me to remember why I still draw Sonic art. It's so much fun! However, I do also enjoy a lot of the older artwork I'd done for my comic SONIC SOUNDSPEED, as well as my current major work for Sonic Generations. (See, that's a lot of favourites. I told you I was bad at this!)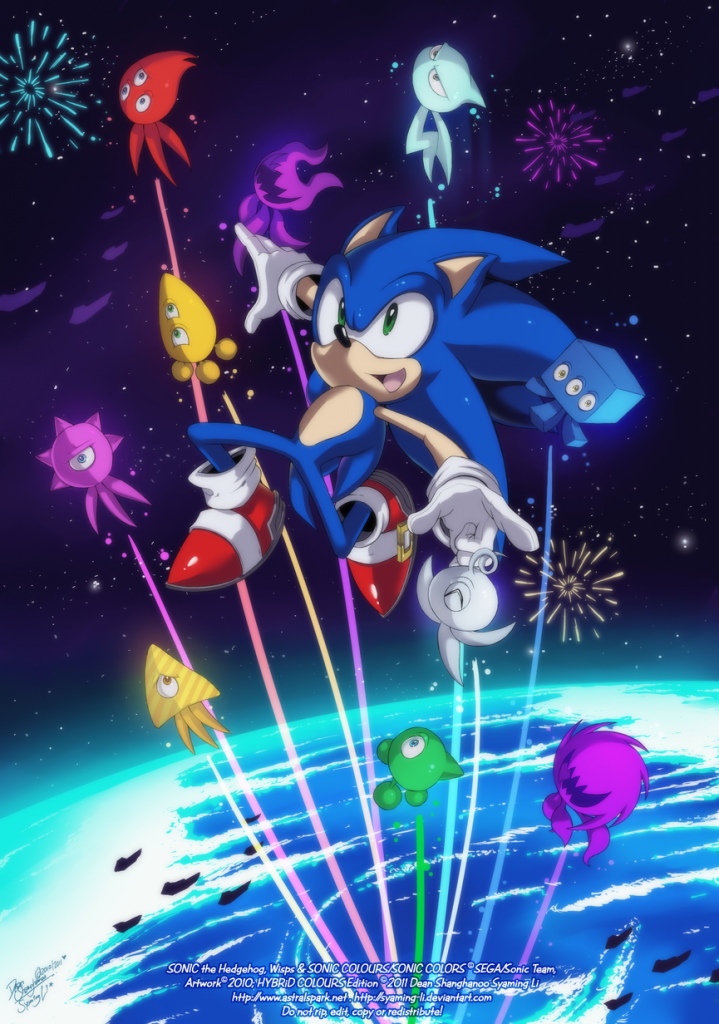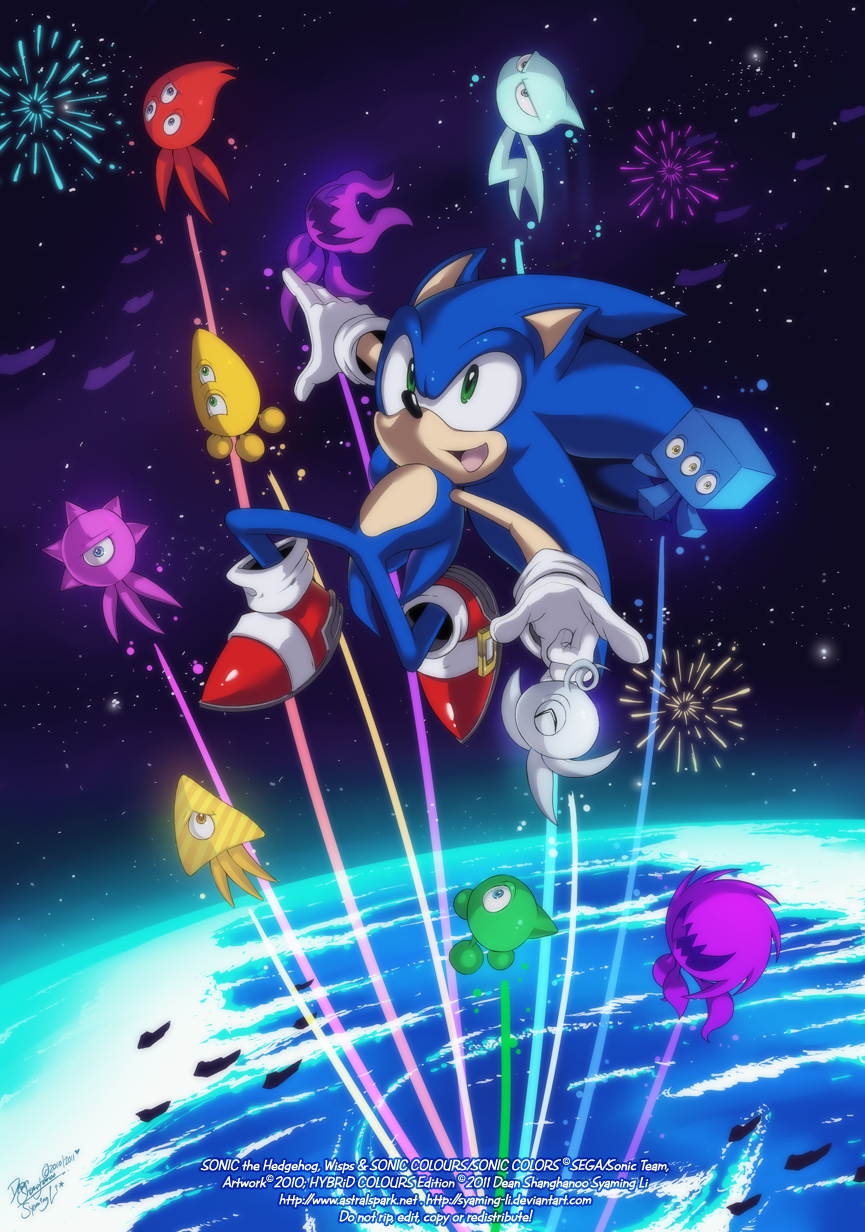 TC: Moving onto Summer of Sonic, you were a featured fanartist there, how did you find the event?
DS: Overwhelming, at the very least! In a good way, though. Comments and statistics via sites such as DeviantART are one thing, but actually getting to meet the fans and people you've inspired is a different experience entirely. I got to talk to a fair few artists and fans alike, and I would have loved to have had the time to talk to even more people, however I was very busy that day! Everything I had sold out rather quickly, and seemed to attract more attention than I'd ever envisioned. Also the compliments I'd received from David Corless – the Sonic Brand Manager- as well as finding pictures of my little stall on Naka-sans's Twitter feed no less was almost surreal, really. A great experience which I'd happily do again! It certainly made me proud to be a Sonic fan, as well as an artist.
TC: What was your favourite Summer of Sonic moment, as an attending artist and as a general spectator?
DS: I was so busy throughout the entire day that unfortunately I missed quite a lot of what was happening onstage. However, my favourite moment was just as I was setting up the table for the day. Jun Senoue had been getting ready to practise on stage and had also been looking around the venue whilst he was getting set up. Whilst walking through, he turned, looked at me and said "Hey! Stay cool!" I laughed. He's a great guy. I want to see him play again, actually.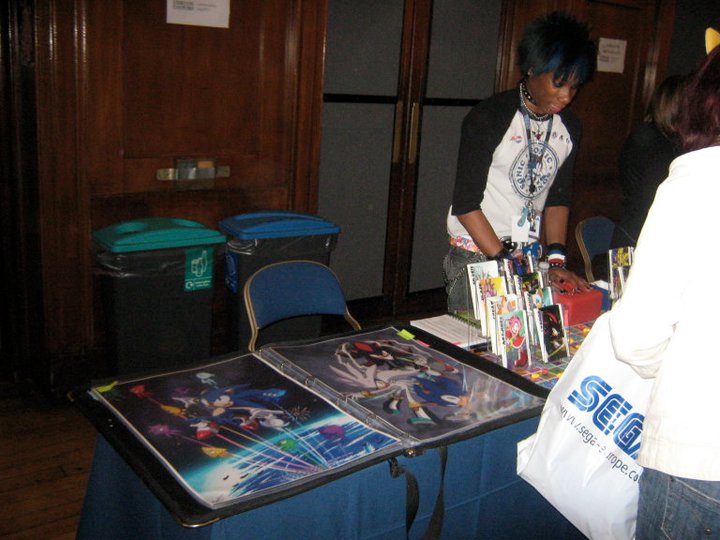 TC: How do you come up with new ideas for artwork?
DS: Thankfully, they are mostly just coming out of thin air at the moment! I find it pretty easy to come up with new ideas, especially whilst playing the games. There are always scenarios I'd like to draw or paint with my own interpretations. In fact, at present my main issue is finding the time to squeeze all these new ideas in. Paired with everything else I'm working on at present, it's a little difficult to do.
TC:Where do you find the inspiration for your artwork?
DS: Mostly the games. I have developed my style from the official game art, and given it a few extra manga twists along the way to define it. In terms of colours and ideas, I tend to look beyond the franchise for those, such as other games, various pieces of anime artwork, music, paintings, random conversation and even real life. Inspiration can be drawn from anywhere, really. That's the beauty of it.
TC: What are your current projects?
DS: At the moment I am creating several pieces for Sonic's 20th Anniversary -including one for Sonic Generations-as well as the ongoing postcard project, which currently stands at 18 characters to date of this interview, with a grand total of 45 characters upon it's completion. I'm also working on SONIC SOUNDSPEED, a comic project which I've been working on for quite some time now; in fact, the initial 11-page pilot went so well, I feel that I am under extra pressure to deliver a better product this time! That will not be due for re-release for some time, though. So eyes to the sky for that little number when it's finally ready.
TC: How would you compare traditional and digital art, and which is your favourite?
DS: They obviously have their advantages and disadvantages; I use digital media as it is more convenient and it's easier to produce print-quality pieces, but aside from that I wouldn't say that one is better than the other. I started with using traditional media (as that's all you had to work with as a kid) and started using digital media almost 11 years ago. Think that what I learned from using traditional media instantly translates into what I do in digital media- especially with digital painting- so I feel that learning both is very important.
TC: What advice would you give for aspiring artists?
DS: Stay in school and- No, seriously… Study everything. Even if you think it's got nothing to do with what you plan to go into, you'll find that even the most boring of subject matter can help you improve. Yes- unfortunately this does include drawing bowls of fruit and jugs in art class, and studying colour wheels until your face falls off- It helps, I promise!
…Oh, and draw it like you mean it. If you give it your heart, everyone can see it in the picture.
TC: Are you currently taking on any commissioned work?
DS: I am currently full-to-bursting with commissions at present, however I plan to take on more commission work in November this year.
Thanks to Dean for taking his time out to answer these questions for us, and if you felt like viewing more of his work, you can see the rest of his works at the following links:
DeviantArt: http://syaming-li.deviantart.com
AstralSpark: http://www.astralspark.co.uk