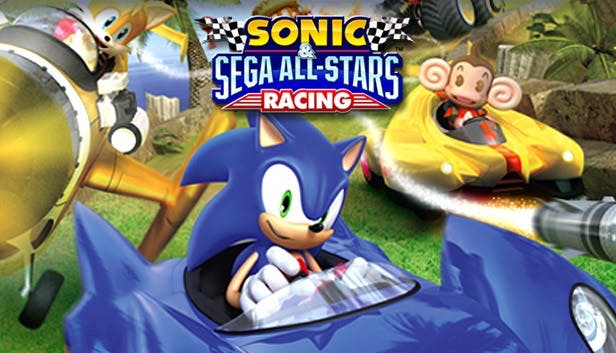 Win All-Star Racing Goodies With Sonic Wrecks
Come one come all, its competition time over at Sonic Wrecks! We've got a nice ASR competition for you to enter – yes we're now going to have REGULAR contests so even more reason that Sonic Wrecks should become your home.
Sonic & SEGA All-Stars Racing has come out in Europe and America and large swathes of the community are coming down with a fever, and the only cure is more RACING. We've teamed up with SEGA (yes, I understand that sounds a little pointless me saying that under the circumstances…) to provide you with a solution, or perhaps that should be S0L-ution for your cravings for more ASR.
THE TASK
Imagine through some ingenious act of blackmail, presumably involving photos and/or incriminating video footage, Sonic Wrecks has procured a spot on the SEGA board and has already made sure there is a Sonic & SEGA All-Stars Racing II. Yay us! Now being a benevolent and charismatic despot we've seen fit to grace our fans with the chance to participate in choosing new characters to add to the roster – I should point out in this fiction NiGHTS is already in so you'll need to think of someone else that can be from any point in SEGA's past. Anyone at all, though maybe you think we might be able to tie up an exclusive character for our Wii2, PS4, XBox 720 or DS2 formats and have a suggestion? Well the suggestions box is OPEN.
We want to know:
The Character
The Series
The Vehicle
The All-Star Move
And why they'd make a good addition
"
WHAT CAN I WIN, AAUK?"
No you can't win AAUK silly… but we do have 10 prizes to give away! The best justified suggestions as judged by the Sonic Wrecks staff will be awarded the following prizes.
1st Prize – A large Sonic & SEGA All-Stars Racing print of the Sonic The Hedgehog car concept art.
2nd Prize – A large Sonic & SEGA All-Stars Racing print of the Big The Cat bike concept art.
3rd prize – Sonic & SEGA All-Stars Racing – Double sided A2 poster + door hanger.
7 Runners Up – Receive a Sonic & SEGA All-Stars Racing door hanger.
HOW TO ENTER
Simply leave the details for your prospective ASR2 entrant in a comment which you can write at the bottom of this page if you're reading the article seperately or simply click on comments at the top of the post – hey why not sign up for a user account on SW while you're at it and set your own avatar and other details. Please note: Comments are moderated so will not appear immediately, this does not mean your entry has not been recieved.
Edit: Please note you CAN enter a character previously suggested.
THE RULES
Entries must be received before 12:00 UK Time on March 12th.
The contest is open Worldwide, yes even Puerto Rico and Quebec.
One entry per person.

Entrants must include their email address in the required comment field.

All decisions are final.
Abusive comments will not be approved and your entry will be invalidated. Sonic Wrecks retains the right to refuse any entry.

Winners will be individually contacted by email and asked to supply name and address for postage, refusal to supply or failure to reply to the email will result in the prize not being sent.
Good luck!