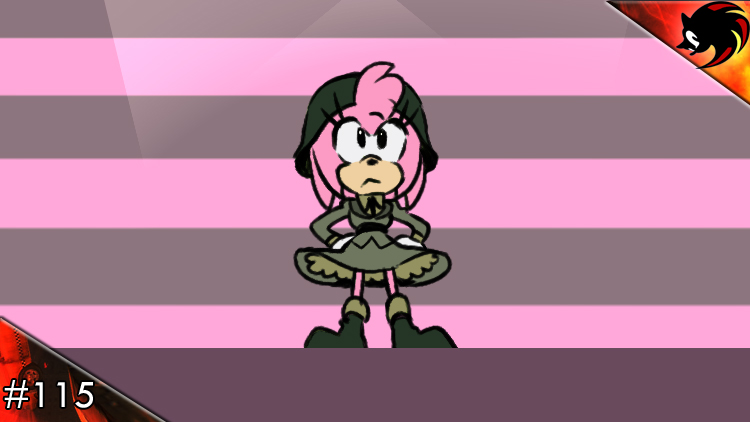 #115 – You're In The Army Now

COMIC NOTES
SW #115: "You're In The Army Now" was finalised on January 1st 2021 in line with the release of Last Minute Continue's long awaited site revamp,, although the actual comic art was completed some time in November.
The title "You're In The Army Now" relates to the 1981 Bolland & Bolland song of the same name, or alternatively the 1986 cover by UK rock band Status Quo which is probably equally, if not better, known.
Actually the title had been on the Sonic Wrecks 'To do' list for a very long time – at least as far back as 2008! So we've waited a decade plus to be able to use it!
Kevin and Catherine (DoubleXXCross) are now listed as Writer and Illustrator specifically, with Sonic Wrecks now a collaboration between the two.
Whilst it's meant to be obvious a lot has time has passed, as it has in real life, since the last storyline comic (#113: "Weren't We Telling A Story?") the events here were always intended to be a direct follow-up and call back to #066: "The Chosen One".
Amy's outlook and presentation are a deliberate nod to that of General George S. Patton in the 1970 film Patton.
The flag is also a call back to the Amy Army graphics used at various points on the Sonic Wrecks site long ago.
Unsurprisingly there's a LOT of characters and cameos in this and most of them were actually planned! Let's start with frame 5, going left to right unless stated: Espio, Sonic Man (from SONIC The Hedgehog/Sonic 06), Antoine D'Coolette (SatAM), Charmy, Vector (Sonic Boom cartoon-style), Saffron (Archie), Vanilla, Cream (who has undergone quite the transformation in this time, oh dear…), Tangle (IDW Comics), Cheese the Chao, Stella The Pigeon (DoubleXXCross's OC), Madonna – Sonic's scrapped love interest from Sonic the Hedgehog (1991) then Chris Thorndyke (Sonic X) between the Redux rabble of Angelus, Alzari and Frost. All three getting a proper, PROPER look at last.
E-123 Omega has been a severed head since 2006 comic #050: "Risible Of The Robots"; ironically he would about 12 years later become a severed head in official Sonic media as part of the IDW Sonic comic storyline. When he found out Kevin expressed amusement that it only took a decade for Sonic Wrecks plot points to somehow become canon.
Frame 7: Turbo (Sonic The Comic as well as a nod to our own Turbo), Vger's representation on his comic Emerald Coast, Lil Kate from Sonic Unleashed), Honey The Cat (Sonic The Fighters), Johnny Lightfoot (STC), Tails, Porker Lewis (STC), both Jeff and Davis from SW #105 and very obscurely the swan waitress from Archie's Knuckles the Echidna #26 and #28.
Frame 8: Professor Pickle, Nicole (Kevin's favourite Archie character, who is specifically in her issue #221 design), Amy, Relic The Pika (IDW), Demx – minus his funky coat – from Sonic Style, Tiara Boobowski (Sonic X-Treme), Matt TY from Sonic Vegemite and Cyrus The Lion (Sonic Underground).
DoubleXXCross: "Why would Amy have a t-shirt cannon?" Kevin: "Trust me. She would."
Frame 10: Ray The Flying Squirrel, Mighty The Armadillo, the Babylon Rogues: Jet, Wave and Storm, Rouge with E-123 Omega's head (as shown earlier) and Topaz from Sonic X.
Frame 14: Going clockwise from Nack The Weasel/Fang The Sniper, Sly The Ferret (from Craig of the Creek), Whiffy the Skunk – a beyond obscure reference to Sonic the Hedgehog Adventure Gamebook 3, Dave The Intern (Sonic Boom) and in a last community comics reference Tennah the Ninja Fox from Power Rings.
Frame 16: Ebony (STC), Sonic Boom writers Alan Denton and Greg Hahn (who are joined by Sam Freiberger in Frame 19), the Avatar from Sonic Forces, Bean The Dynamite and finally Bark The Polar Bear.
Even people's wardrobe can be a reference: Alan is wearing a fan-made Dreamboat Express t-shirt he bought and has been seen photographed in on multiple occasions whilst wrestling fan Greg Hahn is wearing LMC's own CM Punk/Sonic Boom fusion shirt "2nd City Speedster" which he owns.
Finally we get on to the disclaimer. Man, it's been a long time since we've had one of these to dive into. Gotta keep our TV Tropes fans happy, right?
The description of Kevin is actually from the Cookie Cat song from Steven Universe. Please note: He cannot be found at your local grocery store.
DoubleXXCross's description references the song You're In The Army Now: "Night is falling and you just can't see, is this illusion or reality?
You're in the army now. Oh-oo-oh you're in the army, in the army now."
The mention of a 1971 Buick Riviera is a reference to a rare car owned and utterly obsessed over by Detective Ray Vecchio in the series Due South.