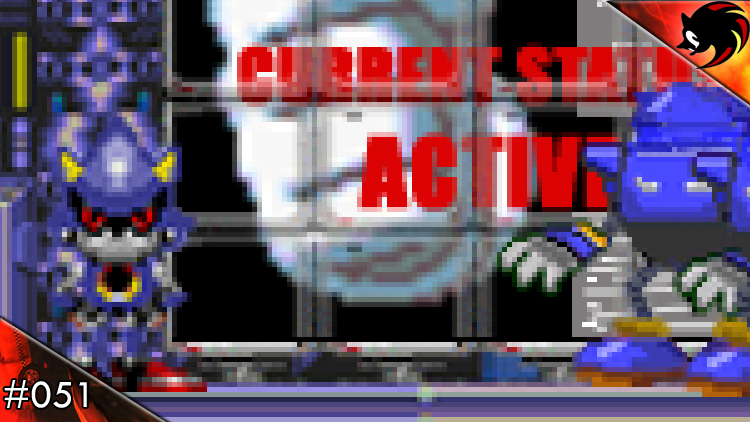 #051 – Full Metal Hack-It

COMIC NOTES
'Full Metal Hack-It' was completed 16/11/06.
The title is a play on the title of the Stanley Kubrick film Full Metal Jacket.
By this stage the Red Weed virus had all but taken over the Sonic Wrecks website, again there are many codes hidden this time the text was amongst other things flipped, inverted, rotated and all three.
The top one referenced the growing paranoia at the forum and their desperation to decode the hidden messages, as it turned out even with the greater difficulty imposed forum member Roboshi had the codes all revealed within ten minutes of the comic going online – a highly impressive feat. The first therefore read: PLEASE REMEMBER TO ENJOY THE COMIC AS WELL AS THE CODES.
The majority of the codes referenced song lyrics this time around, the top bar has YOU AND I IN A LITTLE TOY SHOP BUY A BAG OF BALLOONS WITH THE MONEY WE'VE GOT – the first line from Nena's '99 Red Balloons'.
Second line: YOU'RE A DAME I'M YOUR DUKE SOMEHOW LOVE IS A FLUKE – 'Heaven Knows' by Squeeze, as used in the film Hackers appropriately enough.
Third line: ENJOYING THIS TIME BOYS AND GIRLS THERE IS A TRAITOR AMONGST YOU – which caused a great deal of paranoia in the forum.
Central column: BUT IF YOU DIG ON VEGAN FOOD WELL COME OVER TO MY WORK I'LL HAVE THEM COOK YOU SOMETHING THAT YOU'LL REALLY LOVE – 'Bohemian Like You' by The Dandy Warhols.
Lower left column: MAYBE YOU GET WHAT YOU WANTED MAYBE YOU STUMBLED UPON IT EVERYTHING YOU EVER WANTED IN A PERMANENT STAIN – from the chorus to Coldplay's song 'White Shadows'.
Anyway, now the comic itself – in case you can't make out all the threats they ae Apple, HP, Sony, Microsoft, IBM, the RSPB, BP, Dreadknux and T-Bird (in the hat) from The Sonic Stadium, Sky, then U.S. President George W. Bush. Shell, McDonalds, the BBC, ITV, Intel and NBC.
Is there any bigger threat than Mariah Carey? I think not.
So, all Robot Legion egg pawns are blue… worth baring in mind maybe.
Disclaimer city!
'I see the end coming…' is The Oracle's prophetic speech from The Matrix Revolutions – the 'D' being spied of course being 'death'.
The TV series ReBoot used ASCII as a way of saying 'ass' on a kids show and get away with it.
'It will rock you like a baby when the cities fall' is a line from 'When The World Ends' by the Dave Matthews Band, a Paul Oakenfold remix of which featured on the credits for The Matrix Reloaded after which the trailer for The Matrix Revolutions was played first featuring The Oracle's speech mentioned earlier.
"We are samurai, the keyboard cowboys…" Is a line by 'The Plague', antagonist in the film Hackers.