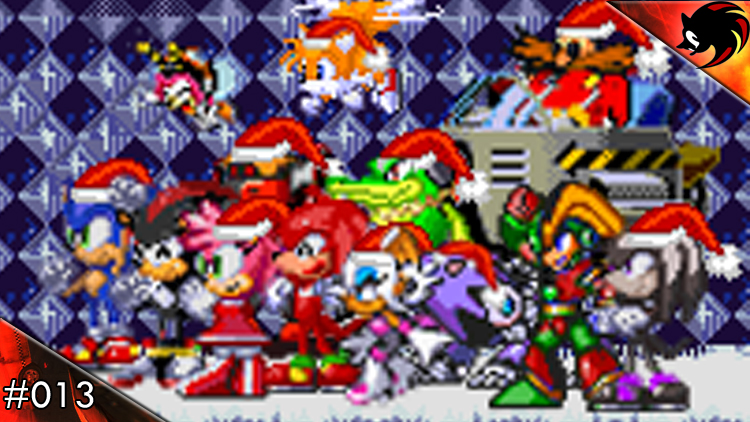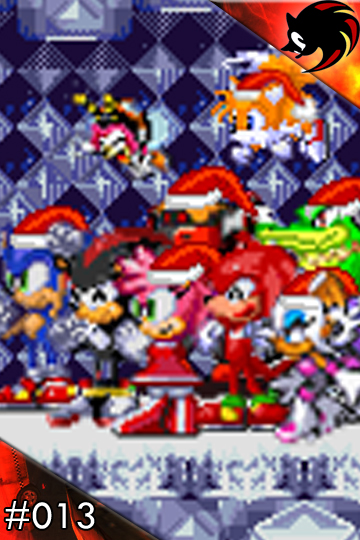 #013 – Five Goooold Rings

COMIC NOTES
This comic was the second Sonic Wrecks Special and the first Christmas Special!
The comic itself was finished after MUCH work on December 20th 2004.
This features the first appearance of the 'Will Of The Author' represented by the Master Hand.
There are so many edited sprites in this comic it's not worth naming them all. But note Alzari's festive get up!
The SW Affiliates area features the graphical representation of Haze from ShadowGrounds (Shadow w/blue trim) & Matt from Sonic Vegemite (light blue S.Adv Sonic).
The reason Cold Turkey (#012) was chosen was because Sonic Vegemite decided to affiliate with SW after Cold Turkey because "It 0wned all".
Poor Charmy… AGAIN. *Sniggers*
9 would of course be 9 Drummers Drumming (depending upon your version of '12 Days') the green hedgehog if you didn't know is Sonic's 'brother' Manic from Sonic Underground – a drumming nutcase.
Tails and Knuckles' beards are beards from Dr.Dot of Megaman.
The 5 Gold Rings Container was pinched from a Sonic Adv. 2 sprite sheet.
Another guest character! This time Bunnie Rabbot from the Archie related Sonic series and comics. Also Tikal makes a very rare appearance.
The Gents loo was made out of various Eggman machine parts.
The one and only appearance of Miss Will of The Author! Hence the pink glove.
People sometimes forget Rouge is a thief by trade.