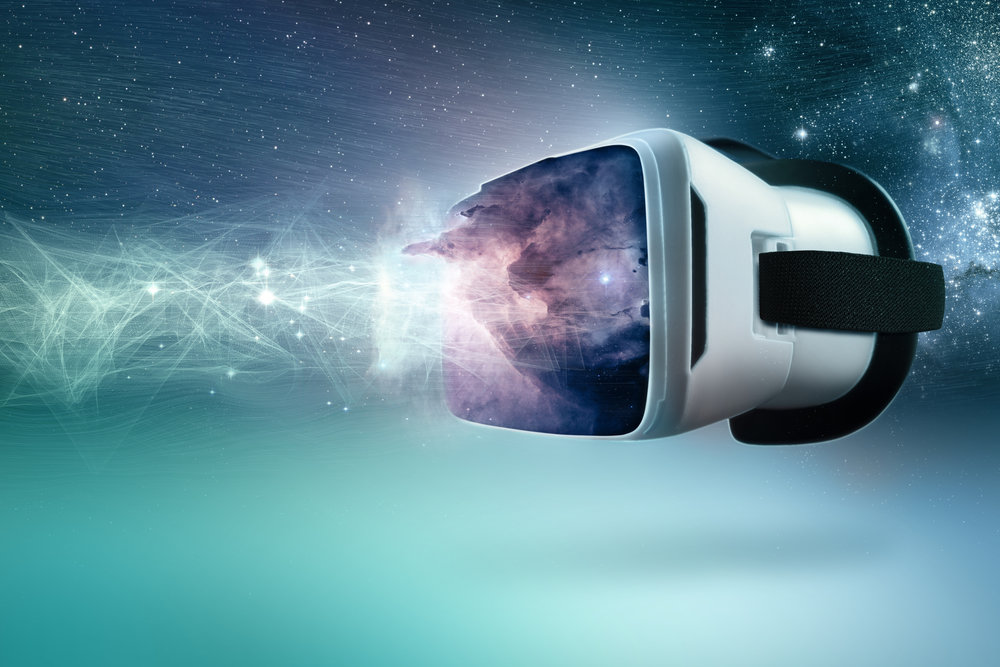 VR vs. Fiction – Vol III: Current Creativity
It has been a good couple of months since the last time I dipped into how immersive technology keeps popping up in fiction, but then again there's been quite a lot going on. What with Facebook's F8 event, Google I/O being a bit crap, Mother Nature trying to take immersion in films a little too far, and this year's E3 expo… well, also being a bit crap to be honest. Since things are a little bit on the quiet side at the moment in terms of topics to discuss let's turn our attention back to something we last looked at during the beginning of May.
So, in this series I'm looking at how immersive technologies are represented in film and television, in books, comics, video games, even manga and Japanese anime. In this we're counting virtual reality (VR), augmented reality (AR), mixed reality (MR) and we're throwing in uses of very obvious head-mounted displays (HMDs) in there as well. Simulated reality, which is technically different to VR we're throwing in too because hey, why not. It's still immersive technology – and I don't want to spend an eternity explaining to people why The Matrix somehow doesn't count in this series.
So far we've looked at a lot of items that featured the idea of VR but from its first commercial period in the nineties. Things like the films Arcade and Hackers. There's still plenty from that era to touch on, and even more so in between. For today though we're looking at a couple of works of fiction from more recent times, including one that isn't actually out yet.
Kiss Me First
If Ready Player One tickled your fancy when it came to the idea of virtual worlds where you can do anything or be anyone you like – but not, perhaps without consequence – a drama that debuted this year could very well be right up your street. Kiss Me First is a cross-reality drama with very dark overtones created by Bryan Elsley who had previously worked on the drama series Skins and Dates. As with those two Kiss Me First was created for the UK's Channel 4 but also Netflix so you can check it out there too.
The series, based on the debut novel of Lottie Moggach, takes place both in reality and a VR and follows the viewpoint of Leila Evans played by Tallulah Haddon. Like many she just wants to escape from a reality she doesn't quite feel she fits in and find some happiness away from it. The answer lies in the online gaming world operated by Azana. Go to via a VR HMD, haptics and the "AzanaBand" – a sensory collar the company has produced that in the words of its own promotional website "was created to turn in-game experiences into real-word experiences with 3 distinctly unique sensory connections". That those three connections are happiness, fear and pain is probably not the best of design decisions.
The fine print on the site also states that "73% of users reported no long-term side effects". Uh-oh.
For Leila, Azana is the escape she needs as she takes on the virtual identity of 'Shadowfax'. Things take a dramatic turn when she finds a digital paradise called Red Pill, hidden away past the edge of her favourite experience. It's here she discovers a group of individuals that also includes Tess, a.k.a 'Mania' who is very much the opposite of Leila's shy and lonely personality, but troubled in a different way. Then Tess turns up, without invite, in Leila's real life too and the line between the worlds of reality and Azana begin to blur. Especially when part of the group mysteriously vanishes.
Johnny English Strikes Again
It is strange to think that this will be the third film in the Johnny English franchise. Yes, somehow this is now a franchise.
The spy spoof action comedy starring Rowan Atkinson is set to have its next instalment in October. A whole seven years after its last cinematic appearance and a good two decades removed from the bumbling character's origins in a series of adverts created to promote Barclays Bank's credit card, the Barclaycard. Back then the character wasn't expressly named, although Atkinson's 'helpful' subordinate Boff was a part of the adverts. Only referring to him as 'Sir' throughout the series.
Johnny English 3 sees the accident-prone spy enjoying (sort of) his retirement from being an agent of the UK's 'MI7' intelligence agency.
The most important thing about being a secret agent is the secret part, and unfortunately for MI7 their entire database of spies has just been hacked and everyone's identity exposed. So, if the agency is going to find out who is behind it all they need someone who a) is a spy, b) wasn't on that list and c) is ultimately no big loss if they get killed. So, English is spirited away from his teaching job back into a world of mystery, intrigue and convoluted gadgets.
As seen in the initial trailer, part of getting English back up to speed is training with VR and what looks suspiciously like a modified Oculus Rift CV1. Of course, things don't go well and English being English he manages to leave the building while still being 'in VR' (or at least he appears to still think this) and proceeds to cause rather a lot of disruption in London. Let's be honest if you're going to do a joke about VR this isn't the most original one. But then again, Johnny English never claimed to not be re-treading old ground.
Much like a certain other spy, VR vs. will return…
This article was originally written by the author for VRFocus.