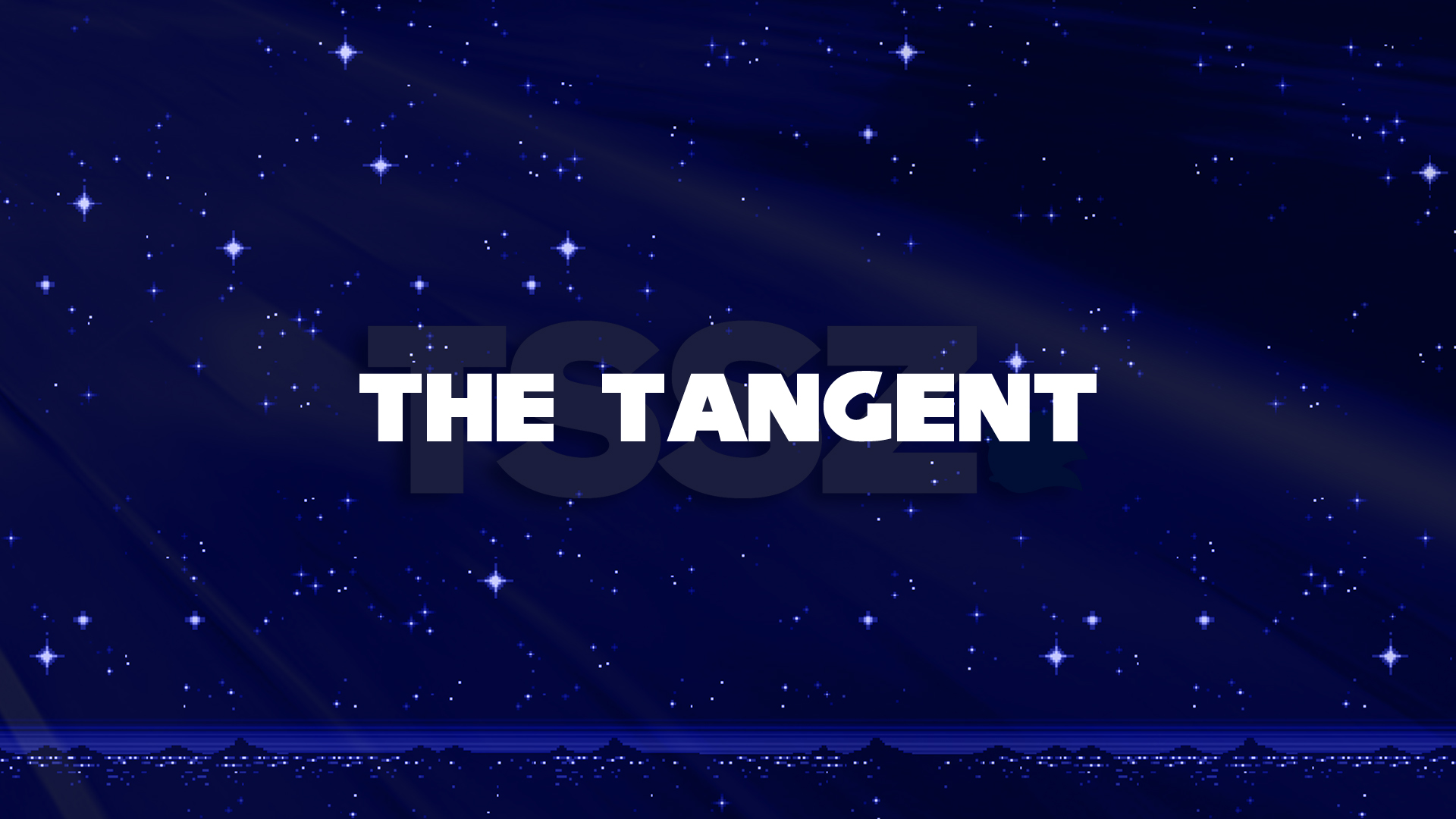 The Tangent: Year Three in Review
The festivities have been had. The Lolcat calendars have been thrown out. 2010 has come and gone, and with it, eight Tangents for your perusal. Were they any good? Probably not, but they were angry, and that's what matters! Righteous indignation powers, activate!
Last year I cited Extended Damage as a mistake, not being worthy of the reader's time with such a tired complaint. It is comforting in a way that Sega did finally pull the subject of that article from the market, so I hit some sort of mark, but ultimately I felt that I needed to stay away from the petty. This year, I'd guess that my biggest missteps were a few articles that tried to pack too much into what should be a limited subject, and that too many of my articles featured generalized, industry-oriented topics, and in the future I need to hit closer to home now and then with more articles directly discussing Sega. The next Tangent I'll be posting does just that, and was already planned before Sega revealed their 20th Anniversary site, making it an even more obvious issue. Oooh, teaser.
I think you know the structure by now, let's look back at the past and judge it with the power of hindsight bias!
The Tangent: Lacking That Spark
I think it is about time we discussed "Project Needlemouse" now, don't you? In many ways, Sonic 4 fell right into the trap described in this article, trying to replicate the Genesis Sonic titles (particularly Sonic 2) from an end-view perspective, and in some ways more interested in appearing to replicate the games than actually doing so. I wasn't one of those who walked away from Sonic 4 hating it; it was clear the delay did improve the final product compared to the leaked version, not to mention the iPhone release, and being built around the much-maligned Homing Attack meant its inclusion felt more natural, with the exception of bosses overly-weak to it. But it was clear that Sonic 4, as of Episode 1, was more concerned with pretending to be old-school than actually doing it the right way. Ironically, the following big Sonic title, Colors, came much closer to the mark, with a better emphasis on level structure, pacing, and no levels that were the complete embodiment of every Sonic fan's nightmare. Who builds an entire level out of a giant crushing wall that's almost impossible to outpace? It's like the joke of Dr. Wily building an entire level out of spikes, but they actually did it.
The Tangent: A Kart Apart
Sparks and karts, hrm… to keep this simple, the comparisons to Mario Kart weren't as bad as anticipated, but the game fell off of most people's radar almost immediately, and is only brought up now and then as a cult classic of sorts. It's unfortunate the game was effectively abandoned by Sega due to sales; the game was patched just once primarily to stop cheaters and fix a few issues, but that patch introduced just as many issues as it fixed, and it hasn't been corrected since.
The Tangent: Permanence Lost
While many people took the altered ending of Portal as an appropriate echo of the story's dark humor, I took it as a removal of an uplifting moment, the relief that you actually accomplished something and escaped. With the new ending, you were no better off than you were before. Ironically, Valve is more interested in featuring the co-op bots more than Chell for now, so it almost begs the question, why go out of your way to rope her back into it in the first place? The only reason seems to be so GLaDOS can make a few past-referential comments sarcastically. On another note, something about a world-changing event that completely removed some old quests and plot lines and added new ones in their place. How do I go back and play the old stuff I missed? Too late for that. But that is a collaborative online world they've crafted, it is just a bit different from a standalone single-player puzzle title.
tHE tANGY: whY silver's the best
DIDN'T HAPPEN. I WAS NOT DRUNK. SHUT UP STUPID JET FANS.
The Tangent: Paying for Promises
This is a battle that continues to rage on, as now hacking groups have turned full-focus on Sony for the removal of OtherOS. That box isn't as much of a mystery anymore, that's for sure. There's been no real strive toward legal guarantees of digital purchases in the past year, so your purchases on Steam are just as likely to be locked away because of a bad credit card or malicious gift as they were when this article hit. That's right, accepting a gift can be enough to put your account in jeopardy. Keep that in mind the next time you see someone trading Steam games for hats.
The Tangent: E3 2010: Making the Kinection
Truth be told, Kinect's starting line-up didn't really impress, with the exception of Dance Central as the stand-out title, easily pushing a number of units on its own. Either way, Microsoft's hype machine worked, and Kinect was a rousing success this holiday season, justifying Microsoft's focus on a Kinect-filled 2011. What was surprising is how quickly and thoroughly homebrew developers have taken to it. And if that weren't enough, Microsoft is actively trying to increase the depth sensor resolution on all Kinect units, which would result in drastically improved tracking. So if you were worried about a lack of content or a quick abandonment of the peripheral, don't be. Now it's just a question if the games or homebrew out there are enough to entertain you.
The Tangent: E3 2010: E3 Exposition
Most expectations were of a 3DS release this holiday season, so it was a shock to many when Nintendo revealed a release date of late February, 2011, with other regions following soon after. Missing the holiday season was a big deal, and I'm sure some investors were less than thrilled. If that means we don't get a rushed, phoned-in launch line-up like we did for the Game Boy Advance and the Nintendo DS, I'm all for it. On the other shore, Move was successful, but hasn't found an audience in the same way Kinect has. For as much as Kinect is lampooned, it is recognized as something different, while consumers still relate the Sony wand to the Wii they bought a few years ago, messed with for a while and put away. Sony's focus is also less than clear, with games more likely to feature Move-specific mini-games than a complete implementation of the controller.
Also, Sonic Colors came out of nowhere and was really good.
From here it's clear the stress of reviewing E3, or perhaps the result of 19 straight viewings of the Konami conference, put me into a coma. It wasn't until November when the Tangent posted:
The Tangent: You, Mii and Fantasy
When I first went to write this article, it had been too long since I took up the pen in anger! I had a lot of different ideas and concerns to share, and I did so, all in the same single article. The result was a less-than-focused ramble that left some readers confused at the point. The following day, I heavily edited and refined the Tangent into what you see above. Ironically, I didn't completely intend to come across as Old Man McBitter, shaking his fist at them new-fangly Miipersons and talking about how they'll ruin the neighborhood, The truth is that I simply don't want to see them shoehorned into everything, which was the clear framework of the Wii for a while, and now the Xbox. Only Sony has yet to become so avatar-crazy, and that's only because their Mii people failed. In lieu of that, I wouldn't be terribly surprised if Sackpeople emerge as the personalized mascots of Sony's platforms.
The Tangent: Raiding Your Privacy
Your gaming and your life should not be forcibly tied together. That is the key message you should take away from this one. Little has changed in the single month since writing. While Cataclysm did launch, I'm not aware of any drastic changes to the privacy policy that occurred with the new expansion. On an ironic note, many gamers did run into a crisis along these lines, with the attack on Gawker Media (which includes Gizmodo and Kotaku) revealing the easily-decryptable login information of many. With even unhacked sites having to send wide-reaching notices reminding their users to refresh their passwords, there has been some amount of trust lost by a decent chunk of the online savvy.
The Tangent: Year Two in Review
Wait, do I have to review Year Two reviewing Year One? I never even saw that movie! In all seriousness, it feels moot to revisit some of these topics once more, and I'm sure if I use the phrase "smart business" sarcastically one more time, I'll be slapped over the internet.
That's three years of embittered complaints in the bag! Here's to four, four years! Ah-ah-ah!
This post was originally written by the author for TSSZ News.