Regeneration X: Why Sonic Wrecks Must End
So, next year we're off.
It's a curious way to celebrate an anniversary I'll admit, explaining why the site must inevitably ride off into the sunset. But everything has its time, regardless of what it is.
Sonic Wrecks' time started in Brighton, home of Summer of Sonic 2012. More specifically it started in Sussex University's Falmer campus on a very late night in 2004, where in the middle of an all-nighter using 3D Studio Max to make a car showroom (something I was spectacularly inept at) I stumbled across a Sonic fan site. I'd liked Sonic as a kid, I'd had a Game Gear with Sonic 2 (which I hate) and Sonic Triple Trouble (which I adore). Growing up I watched the very early morning Channel 4 run of Adventures of Sonic The Hedgehog or if I was particularly unfortunate episodes of Sharky & George; they're the crime busters of the sea don't cha know.
I'd been getting back into Sonic thanks largely in part due to Sonic Adventure 2: Battle on my sneaky eBay purchase of a black Gamecube. I love SA2:B still to this day and its one of top ten favourite games. Now my curiosity was peaked again, and I wanted to see if there were other fans online. There was and I stumbled across a couple of sites including as I said a very young Sonic Stadium. To keep myself entertained I listened to the Sonic Site Awards show, hosted by some fan duo called Dreadknux and Roareye. 'These two are a bit weird.' I thought. 'What's all this obsessing about breadsticks? Good God, I hope they're not all like this.'
Going through the winners I came across the sprite comic award and the winner – I'm sorry whoever it was – was terrible. Absolutely terrible. All the comics were the same tired 4 panel nonsense and kind of unoriginal in my eyes. I caught myself commenting out loud that I could do better than that, and for once decided to put my non-existent money where my mouth was.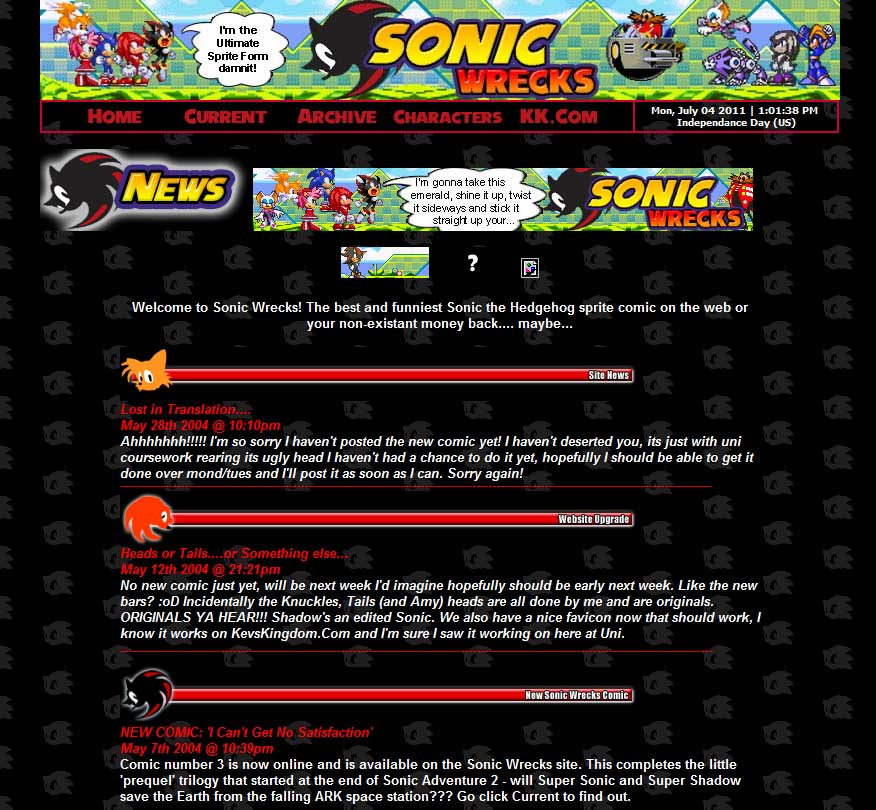 In April 2004 Sonic Wrecks went live as a subsection of my old KevsKingdom.com website. KK still redirects to SW even today, and first appeared a very long time ago indeed in 1997. It's still mentioned in the site disclaimer as a nod to SW's origins. Sonic Wrecks' ascent to, at one time #1 Sonic fan site globally – yup, there was indeed a crazy short little period where Retro were young and we were charting above Sonic Stadium – was not expected. I guess for a while we were just one of those sites that actually stayed around and updated when a lot of the community faded away.
Despite this SW traditionally was never what you would call popular with the masses. A lot of fans saw our initial status as a Shadow fan site and still think of us negatively due to that to this day, despite not actively being that since about 2007. Still, it's not like Sonic fans have a history of holding unjustified grudges or making snap judgements. It's strange but we're still judged by the colour of our CSS, which amuses me greatly because clearly we all needed more blue fan sites in this community(!)
SW's role was always to entertain and be the other place you can go, if Retro was too unforgivingly hardcore or you just didn't fit in on the SSMB. It still has a very loyal little core audience, a younger and probably higher female percentage audience actually compared to other sites, but for a while now things haven't exactly been right even with that. I've been painfully aware that SW no longer really has a role in the Sonic Community, ever since we stopped being directly associated with Summer of Sonic. I did actually volunteer this year as I missed working on it with everyone, but sadly I am not needed. 🙁
People are happy sticking with the usual suspects and other sites pleasingly have begun to develop strong identities and are really stepping up. I mean have you checked out RadioSEGA's actual site recently? They're very on the ball for news and entertainment. The Sonic Show has a highly dedicated and talented pool of individuals that I wish I could contribute more to, but it seems like I'm really just an ideas man there. SEGA Driven's articles are excellent, you really ought to read Lewis' stuff if you get the chance on any of his web projects. I still think Zone:0 are one of the most underrated resources for Sonic on the net. Whilst SEGA Bits, now in partnership with Retro are just… well, they're scary big now aren't they?
People don't surf around as they did five years ago, they have a home and they tend to stick to it. Whenever we've really had a glorious run of content… no one's been interested to see it. You lose heart over time. SW exists in a community that doesn't particularly care about its views, and ultimately just doesn't really need it anymore. It's like a toy you used to play with and now aren't quite sure why you did.
Which, whilst I could just keep shouting into the wind about, brings me to another more obvious reason SW has to die, I've fallen out of love with SEGA and Sonic.
This is across several points really. Over the years being a fan of Sonic and working on SW brought me a lot of happy memories; some (I hope) lifelong friends, a wife, a job and a chance to entertain people from all over the world in at the very least a small way. It's also brought me a lot of pain and frustration though in this period too. Oh well, at least I still have the friends and the memories right?
As you might have guessed SEGA did a pretty good number on killing any love I personally held for the brand in 2010-11. SW meanwhile have a cordial relationship with the Big S. We'll work together for the greater good at any time but I'm aware Wrecks isn't exactly up on their list of priorities in terms of the Community. Wrecks rarely asks for anything from SEGA, to be honest I'm almost wary to do so. We're told we can call on them at any time – but the one time we have we really have for ourselves there's been a distinct lack of action from them. When SA2:B came out again on digital platforms we put forward some questions to SEGA to be answered by Sonic Team. SA2:B is important to me and the history of the site as I mentioned above, I told them this and I really wanted to help promote it if I at all could.
They were good questions too, deliberately stuff we as a community hadn't thought of asking before. About Rouge's development for instance; no one has ever asked about how that came about. The situation with Maria too – having actual child death is pretty heavy in any game, least of all a Sonic game. Was there a lot of debate about that considering the subject matter? Were there any other choices the team considered? Well, we're still waiting for those answers. In fact we've been waiting since last September.
Kellie, bless her, has been trying to chase after them internally at SEGA, but I can't help think if our name ended with Stadium or Retro those would've come back from the powers that be a lot quicker. Or they'd've at least, y'know, come back at all.
Plus there's the games. It's a bit difficult running a Sonic site when you have absolutely no interest in the stuff coming up. The thing that interests me most nowadays with the brand is actually Archie's comic run. Lost World hasn't excited me, and in fact looks pretty boring to me. I'm not going to own a Wii U so the likelihood of playing something new with the brand is pretty low for a good couple of years minimum. I don't even enjoy the old games as much as I used to. They've lost some of their lustre. So yeah, funnily that would rather leave me at a point where I'm going "why am I still doing this"(!)
It's time to wind up and move on; much like KevsKingdom.com was replaced by its spin-off Sonic Wrecks, so Sonic Wrecks will be regenerating itself Doctor Who-style into Last Minute Continue. Probably something like this:

For a while now SW's main social output has been quips, tweaking SEGA's nose and pointing out the painfully obvious in the community when necessary. Poking fun, but with a serious enough point that you know we know what we're talking about. LMC was going to be a more serious journalistic avenue for me but as so often happens I was let down and promises were broken. One day I will perhaps learn that my concept of honour, of your word being your bond and handshake agreements meaning something doesn't exist for others. So now LMC is going to be a more all-round version of SW, not limited to SEGA. It'll still cover SEGA and Sonic but will cover all the other games companies too! There'll be comics, cartoons, "Demotivations" (you'll likely have already noticed these) and the ongoing Let's Plays. Plus a series of serious reviews from the likes of T.A. Black but when it comes to current events more of a video game version of The Onion. Lampooning the news and generally poking fun at everything within "the industry".
So from this moment the countdown is on, over the next year a proper LMC site will appear and slowly take over from this one. Most of the existing staff are staying and I hope some more regular contributors might become more serious partners. Updates will still happen on SW until that time but by July 4th 2014 Sonic Wrecks will cease to be and all its old content will become a part of LMC.
You might be asking why wait, why not just do the switch now? Well firstly I'm not going to let the prospect of SW signing off after a full decade get away from me. Sonic Wrecks started life as a pun on the cartoon Sonic X. I think it would be an injustice not to end Sonic Wrecks on a pun too! Come on now, Sonic Wr-X, Sonic (Ex)… it just writes itself.
Second I'd like to get LMC set-up right and not rush things. Have an actual plan of execution. If, by the way you're interested LMC is already on Facebook and Twitter and you can also follow it on Tumblr until such times as the site itself going live.
Lastly, there's a lot of SW stuff still to come out. We've tonnes of Depository items you've likely not seen for instance and would be really excited by, So before the loyal Wrecksers start getting sad and before the snarky commenters start writing on other sites how "nothing of value was lost" – and how wrong are you about that incidentally, considering how much SW has done behind the scenes in the community – there's a year of stuff still to come and to enjoy. Plus a whole new world after that for you as well.
You're only where you are now by the path you've travelled. This isn't the end, just the road to another beginning.
Kevin Eva – ArchangelUK/AAUK
Sonic Wrecks Owner & Editor,
04/07/2013