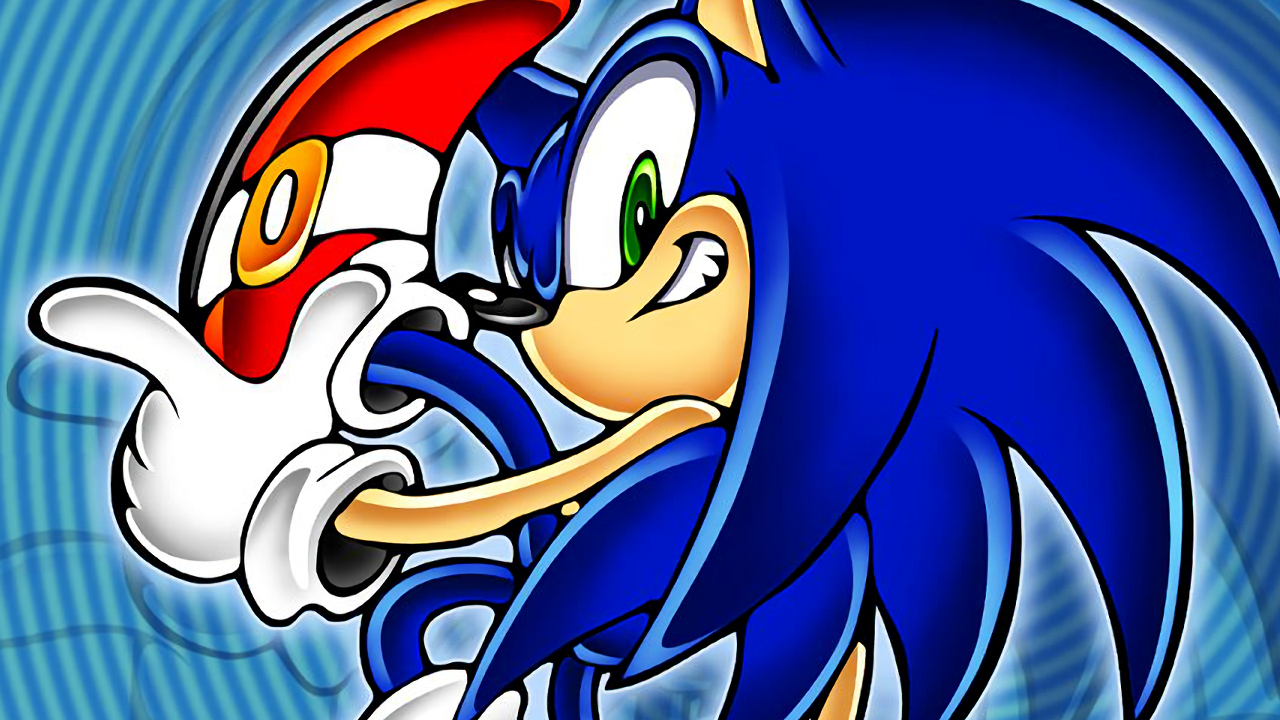 It's the 8th Birthday of Sonic. Many years have passed since the Blue Blur made his say onto the Sega Scene. But how did the press cover the major events in Sonic? All will be told now, grasshopper…
The earliest feature I can recall was in GamePro, when they did a feature on Sonic CD for the Sega CD. It was very detailed, and nothing like today. The game received 5s all across the board.
Then came Electronic Gaming Monthly with their "First Info on Sonic 4" in 1994, which was on the cover ever so tiny. Of course, the reason being is that their big story was on Virtua Fighter. In that info there was the infamous "Dust Hill" picture. They thought is was from Sonic 4. It turned out not to be.
EGM returned again saying that Sonic 4, now Sonic and Knuckles, had a special "Lock-On Technology" with it, enabling gamers to play special versions of past Sonic games. There was an interview as well.
And there was Game Players (which turned into Ultra Game Players and then Game Buyer). There was talk of Sonic X-Treme for the Saturn, a scrapped project. GP did three month's worth of coverage, providing shots, interviews, and more. There was talk of a new character, Tiara, as well. But she never saw the light of day.
In 1996 GameFan treated Sonic 3D Blast very well, providing it with a great sense of coverage There were shots galore, a preface, in my eyes it was unbelieveable. Computer and Video Games, a British magazine, gave the Genesis version 4 Stars out of 5. They seemed to like the game as well, and added a bit of humor to the review. Ultra Game Players gave the title a 7.
Then came 1997, and the dawn of what would become Sega's saving grace in a time of dull sales- The Black Belt turned Dural turned Katana turned Dreamcast. I had a very lacking page, Tristan Game World, which evolved into Tristan Sega World. I covered all the Sega stories, and also had "Dural Watch."
Also during that time was the first 3D Sonic racing game, Sonic R. This is an article from SegaNet, called #sega at that time, about what Usenet folks thought of the game:
When it comes to getting the first word on the latest games, usenet is the place to be. Here's what one poster thought about Sonic R..
From: N7128143 (V.R.Prabhu@ncl.ac.uk)
I like it! I've only played enough to come in first in each race and pick up a few emeralds so far. I've got control of Robotnik now though. The only niggles I have is that there are a few glitches which somehow didn't apppear in any screenshots I saw. The draw in distance for 2 players is very close – far too close for comfort until you know the courses. In general it's tough to control at first and it takes some time to work out what the hell you're doing but it's not much worse than Rally that way. Oh, and I turned vocals off as soon as I could 😉 The only problem I have is that I bought DoA on the same day and don't know which one I'd rather play.
Before the SimpleNet crisis and the MP3s, Sega actually was like FOX, trying to get Internet sites offline. A prime example: Dave's Sega Saturn Site. Another SegaNet article:
If you're into Sega, and you're online; chances are you know about Davez Sega Page(www.sega-saturn.com). Davez page has been providing faithful visitors with news, reviews, and editorials on all Sega related topics for a long time now; but now, the site might be in jeopardy! It seems that Sega Enterprises has told Dave that he has three weeks to take down the site. While we haven't talked to Dave enough to get an exact reason for Sega asking him to take down his page, chances are it has to do with copyright stuff. By this same logic, Sega has the LEGAL right to ask any print or electronic publication to stop using their name and/or logos. While this may be legal, it certainly isn't fair. Sites like Dave's provide Sega with free advertisement and publicity, they are also led by some of Sega's most loyal followers. By making Dave take down his page, Sega is biting the hand that feeds them; and it makes me SICK!
Then came 1998, the birth of the powerhouses. The Sonic Foundation came in January, and Sonic HQ came in. Many retailers were cleaning out Saturn stock. Sega looked like it was doomed to failure.
In January, something was up at Sega. And on January 9th, Sega confirmed it.
REDWOOD CITY, Calif., (January 9, 1998) — Sega(R) of America, Inc. confirmed today that it is developing a new powerful video game console to be released in North America in 1999. To remain financially responsible in the interim, Sega today eliminated 30 percent of its U.S. workforce. The company will support its mature products in 1998 while it prepares to take the lead in the home console business in 1999 with a platform that will deliver gaming experiences never before possible.
"After evaluating the current industry situation and our plans for a new video game platform, we do not believe that launching this year is in the best interest of our customers, retailers or software partners," said Bernard Stolar, chief operating officer, Sega of America. "To be fiscally responsible and competitive tomorrow, we have to make some difficult decisions today that will put us on the right path for long-term success."
Stolar referred to Sega's new platform as a "super" console emphasizing its advanced technical capabilities, the business opportunities it will offer third party publishers and the revolutionary game play consumers will experience.
Stolar confirmed that Sega has already begun briefing third party software developers on the new platform and is working with retailers to ensure a smooth transition to the next console.
In 1998 Sega will support the Sega Saturn(R) in North America with acclaimed arcade and popular character-based games from the company's in-house software development team — the largest of any video game company worldwide. The Sega Saturn game library reached 300 titles at the beginning of 1998.
Sega is committed to the U.S. market today and for the long term. Sega will deliver revolutionary online gaming through HEAT.Net from SegaSoft and is gaining market share in the PC games category with strong sales of its character and arcade-action titles published by Sega Entertainment, Inc. Sega GameWorks(R), in partnership with Dreamworks SKG and Universal Studios, Inc., is currently operating five high-tech interactive entertainment destinations in the U.S.
There was no word of Sonic anywhere.
But in February, it looked like Sonic was to return. Take a look at this SegaNet article:
Sonic, Manic, Sonia and Urkel? "Family Matters" star Jaleel White is set to provide the voices for the lead characters in the upcoming syndicated cartoon series "Sonic Underground."
In the latest adaptation of the popular Sega video game, head hedgehog Sonic struggles with his long-lost twin brother, Manic, and sister, Sonia, to free their home planet from the grip of the evil Dr. Robotnik and his merciless Swatbots.
No doubt, this is one of those cartoons that only makes sense after you've ingested a few bowls of cereal fortified with sugar and food coloring.
Then Zifei's Sonic Page in the VERY EARLY STAGES of its history reported:
A new 3D Sonic game has been confirmed by Sega. This game will be a launch game for the new Sega Katana 128-bit system. Thank God it's been made by the Sonic Team, they have a year to make it, it should be a really cool game. BTW, the system WILL be out in April, 1999. Also, it is rumored that a Sonic R II is also in the works for Katana by Traveler's Tales.
And in May of 1998, the HQ had the official announcment of the name:
Yep, it's official now. Sega of Japan announced their new 128-bit "super" gaming system this morning. The Sega Dreamcast (DC) can push more than 3 million polygons per second and is more than ten times more powerful than the current day superior system, the N64. The system will be released in Japan on November 20th, and fall of 1999 in N.America, Europe, and the rest of the world. There were no demos of the games shown, they would be shown later this year in September-October when Sega go on a gaming tour in Japan to launch the Sega DC. No Sonic games were shown. The system will be shown to the American Press on May 27th at E3.
And continuing…
We finally found a picture of Sonic running on Sega's 128-bit machine, the Dreamcast. From the picture, we sort of get a view of what the Sonic platform game for Dreamcast will be like. The Sonic looked very smooth, no triangular shaped head like in Sonic R. Everything looked round, you can even see the fingers. I say this is as good as the animation in "Toy Story". BTW, this was shown at the Sega of Japan conference to launch Dreamcast.
Then came the barrage of coverage by the media, the TGS coverage, and finally, the release, as told by the HQ:
The Sega Dreamcast has launched in Japan and Asia. And as you know, where the Dreamcast goes, Sonic will follow. Rumors and facts are already saying that the DC will launch in the rest of the world for $199 or as low as $155! Bring it on!
And from Kedzie K…
Today's the day, folks. Dreamcast has officially hit the shelves in Japan to the count of over 150,000 consoles sent to many retailers across Japan today.
Sega's apparent comeback has officially begun…
And on December 23rd, Sonic Adventure was released to the Japanese public. Here's the story, as told by Kedzie K, GameSpot, and Sega Net:
Well, folks. Sonic Adventure is now on the shelves in Japanese gaming stores. First, I have here a note about the game from SegaNet. Here it is:
++++++++++++++++++++++++++++++++++++++++++++++++++++++++++++++++
Japanese gamers who have gotten their greedy paws on Sonic Adventure for Dreamcast are happy to report that Sonic Team has continued their tradition of including an "extras" folder in their game CDs. Sonic Adventure's extras folder holds a whopping 22.5 Megs of Sonic wallpaper!
Spoiler Alert: skip to next paragraph to avoid Sonic Adventure spoilers
Sonic Adventure is full of extra little goodies, some you have heard about (VMS compatibility, X-Mas Downloads, etc.), others you haven't. Ahem, here's a taste of what to expect: the NiGHTs gang makes an appearance (Eliot and friends) and the game features a pinball game. More to come…
++++++++++++++++++++++++++++++++++++++++++++++++++++++++++++++++
Here's a cool note about any of you who'll be able to play the game by this Friday (Christmas Day). This comes from GameSpot:
++++++++++++++++++++++++++++++++++++++++++++++++++++++++++++++++
Those lucky enough to be playing Sonic Adventure by Christmas Day will have a special treat to look forward to when playing on the 25th. It seems that Sonic Team has added a time release bonus to the game, which reveals itself only on the 25th – in Station Square. At that time, a Christmas tree will be revealed. But it's not something that you'll easily see – you have to download it to the Visual Memory System (and have 88 blocks free).
This is the kind of "upgrade extra" that Sonic Team has been talking about with respect to the game's Internet connection.
And from the HQ came a truckload of massive coverage- impressions, news from other sites, media, reviews, and some complaints. You'll have to go here to get it as it is too large to put on this page.
..and on the 1st month we rested…until the Sonic 2 Beta ROM was released to UseNet, and a truckload of Secret Sonic sites popped up, eagrer to share and trade new info.
This year's E3 did bring us little news of the new Sonic Adventure, except that many site (including The Sonic Scene) reported that the bugs in SA would be fixed for the American version, and a new soundtrack may be implemented.
And that's been about it for the major media's coverage of Sonic games. It will continue very soon with the "Quad 9" on the horizon. And The Sonic Scene will be there every step of the way. And if you can recall the way the press covered several Sonic games and events, let me know.
This post was originally posted on TSSZ News.