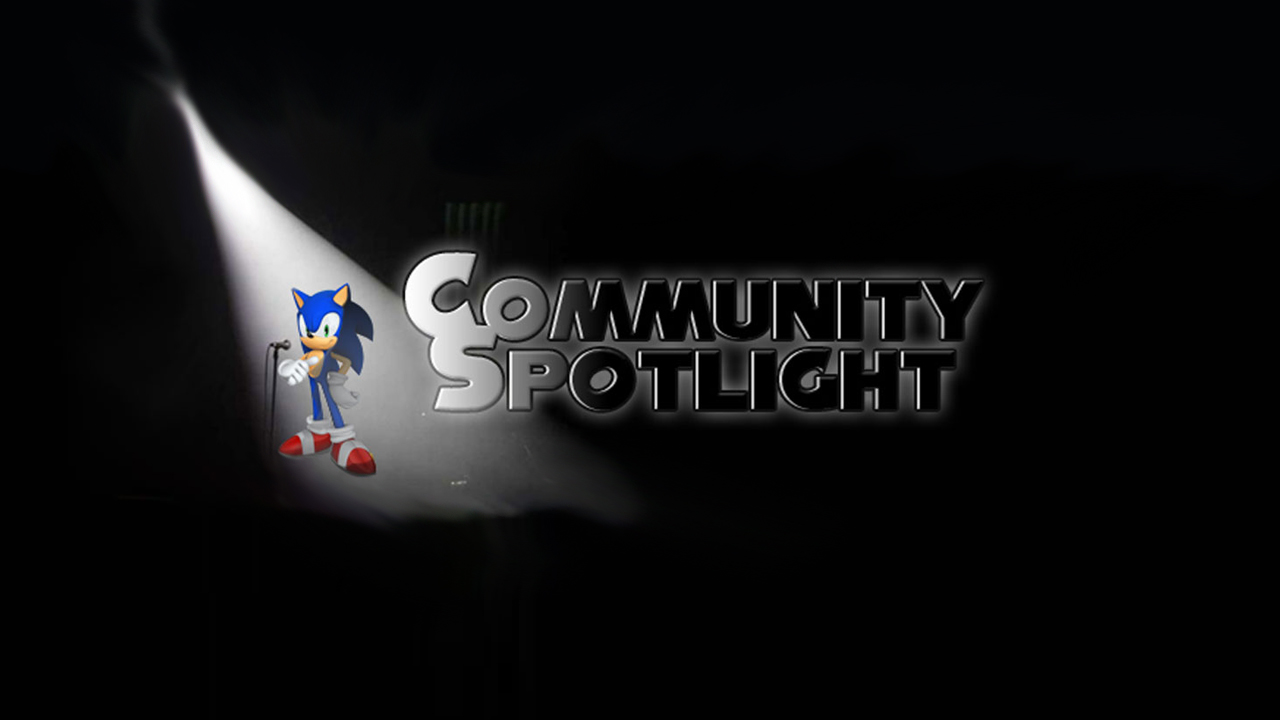 Community Spotlight: Elson "Darkspeeds" Wong
>Welcome to the Community Spotlight, where from week to week, I will take a few moments with a member of the community and see how their art of different varieties has shaped over the course of the years, among other things.
Today, that spotlight shines brightly on Elson Wong, who you'll more wildly recognise by his alias of DarkSpeeds.
So, sit back, relax, and enjoy what I hope will be an insight into the artistic side of some of our community.
Darkspeeds: Hi there Titans Creed (or should I say, Pete?), first and foremost I'd like to thank you for giving me the opportunity to get interviewed like this, it's a priviledge to me from both a proactive Sonic fan and comic artist's perspective. Let's juice it with the first answer!
Titans Creed: When did you first start doing Sonic related artwork and items and why?
Darkspeeds: I first started doing illustrations of Sonic the Hedgehog (actually Tails to be more precise – cuz he was my most favourite character at the time!) when I was a kid in 2001! I was exploring the magical world of Sonic Jam on the SEGA SATURN. I eventually stumbled upon the 'Movie' and 'Characters' building and from there I became immensely inspired.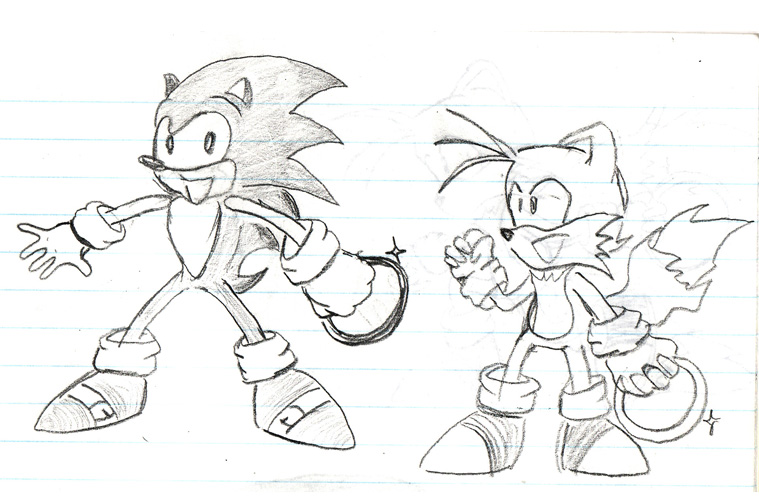 The Japanese commercials and more importantly Sonic Team's access to a 'never-before-seen' archive of concept art was a pure delight. I was able to admire the process of how my favourite video game heroes (and villains) in the series became a sensation to the world through video games, an original video animation, commercials and comic books from just a bunch of sketches!
At the time I thought to myself, 'I love this series, I want to show the world somehow why this series is so awesome!'. Funnily enough with my love for comics, my debut of using the internet, and a will to give drawing a shot I created a Sonic fan comic called SA2 Fan Comic (how original!) that is in tribute to the first Sonic Adventure 2 on the Dreamcast.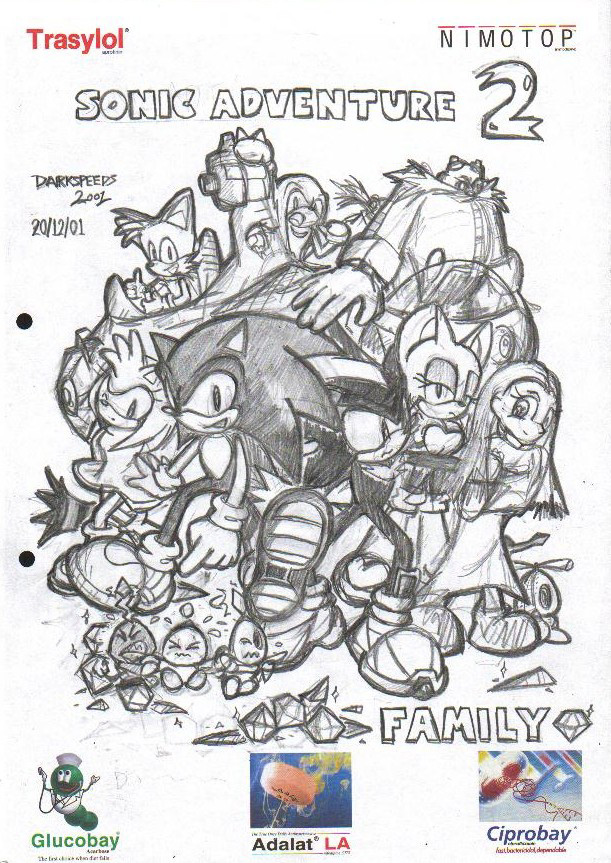 TC: Can you show us examples of how your artwork and items have improved over the years?
DS: Sure, I'd loved to! Take a look below and you'll see how I've started experimenting with colour a year later.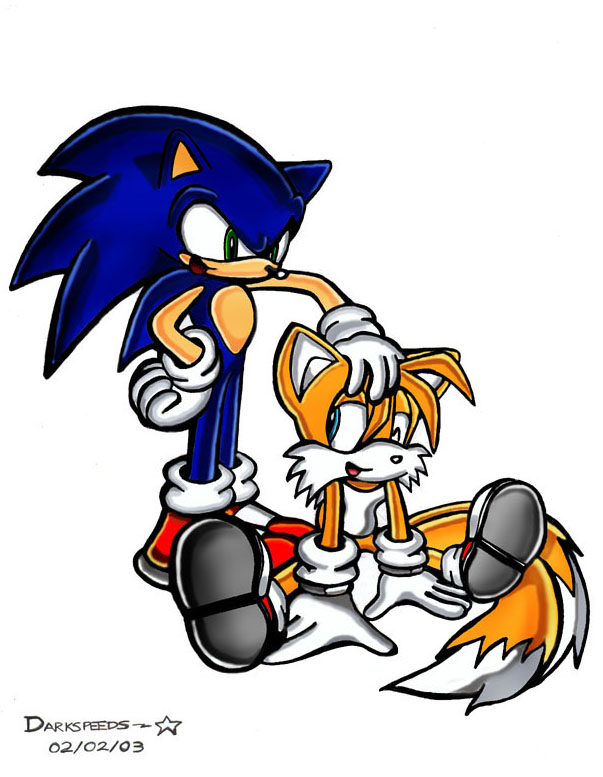 I always made it a habit to draw a Sonic & Tails picture every once in a blue moon. I wonder if you guys can find them all? Nevertheless you can see that my technique was not as crisp or accurate as the official Yuji Uekewa's Sonic Adventure style yet (an anthro-cartoon style in which I really took a liking to!), I still had to practice a whole heap more before I can get to where I am today.
It seemed to me that I just naturally had the ability to imitate a particular art style that I liked a lot pretty well, I guess it was my because of my persistence! So in comes the next exhibit that was created during Sonic's birthday in 2003.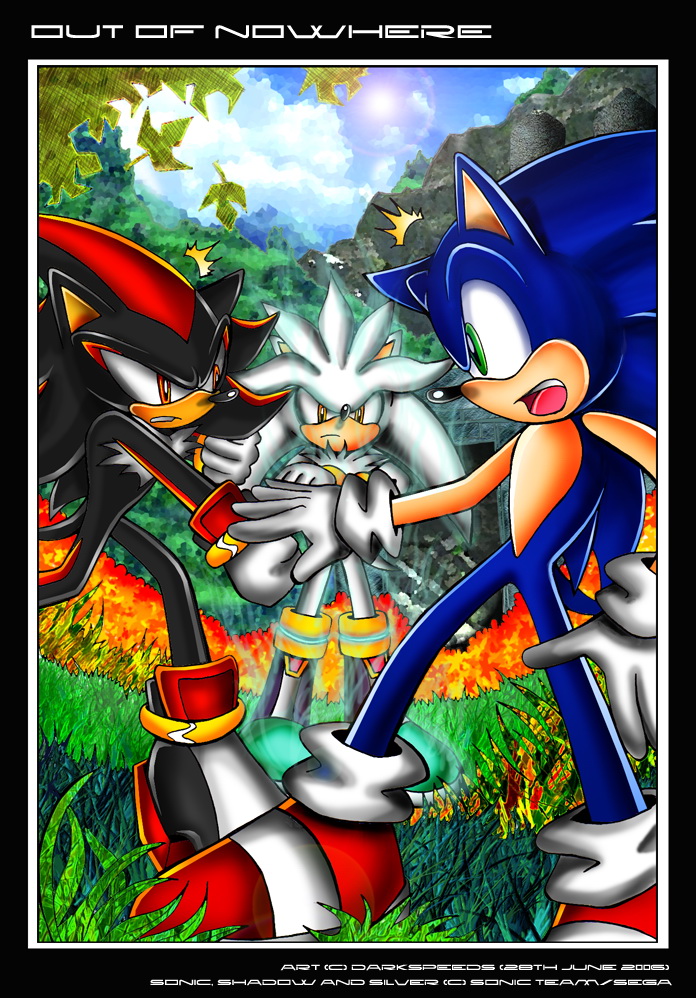 After that time I would have created over a hundred pieces of Sonic fan art that ranged from illustrations, concept sketches, pages to other Sonic fan comic titles I had (e.g. Tails Away, Picnic Heaven, Angel of Darkness etc…), 'how to draw' tutorials and fully coloured promotional artwork for Sonic community events (e.g. the Summer of Sonic posters in 2008), and gifts to friends, proactive members of the Sonic fandon, and even Sonic Team themselves!
A quick fact to mention that I'm rather proud of – I've submitted a total of 8 drawings to Sonic Channel and got them all published on their archives between 2006-2009! You can hunt those down by starting here!
Anyways fast forwarding to 2011, I would have crafted more Sonic fan art that I can count. Some of these works explored the international comics avenue like Sonic Archie in America and Sonic The Comic in Europe). In addition to my expanded gallery I have successfully publish my own graphic novel entitled: GRAND HUNTER. Be sure not to miss out on owning a copy! ; )
To give you guys and gals an idea of where I'm at in terms of 'technique' just a couple of weeks ago I submitted my latest Sonic fan art under my new deviantART account 'Elson Wong' that features Supersonic chillin' in space. I wonder how often he does that?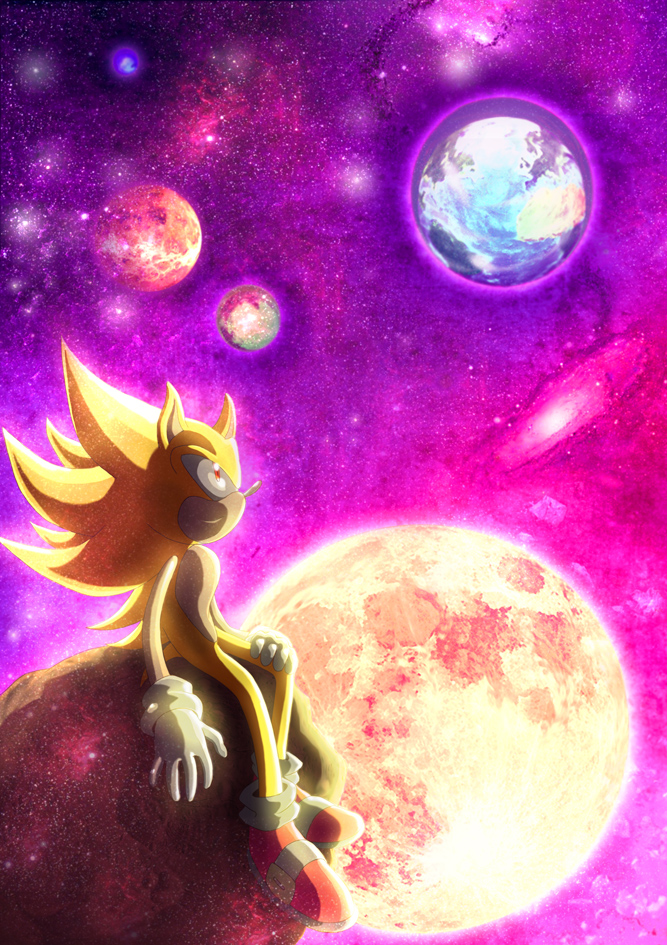 TC: Out of all the artwork and items you've created so far, do you have a favourite piece?
DS: Am I allowed to post two? Possibly three? *SHOT* XD
First one goes to my Sonic 15th Anniversary piece. It's special for three reasons. One it is to celebrate Sonic's 15 years of success in the industry, he has become 'so much more' than just SEGA's mascot, he is an international sensation and icon recognised in several forms of media and communities!
Secondly it was a personal way of saying thank you to many people – including fans, friends, and my influences. There are too many to mention but I will point out three that defintely deserve to be recognised.
One of them included a very special person named Svend 'Dreadknux' Joscelyne and his endeavours of creating his Summer of Sonic event way back in 2008 (it was an online concept at the time!). It was an exciting time to celebrate Sonic's birthday indeed as I've also met another special and talented person at the time that eventually became a close friend of mine named Adam 'T-Bird' Tuff. I'd also like to proudly mention Jason (aka Chemb0t) due to his uncanny contributions since the good old days on deviantART, he's like another bro to me and it's almost impossible to place a value to the things he's done for me.
Third and final reason – it was the most amount of Sonic characters I've ever compiled together in a drawing – in colour! That to me was a personal achievement for me and defintely highlights why I love the series so much.
Even cooler was the fact that this (along with exhibit four, as seen above with Sonic, Shadow and Silver) were picked by Sonic Team to be featured on their Sonic Channel fan art page. Both were simultaneously featured on that particular month. That must tell me something right?
All three reasons presents an acknowledgement of what I've done which completes my purpose of drawing Sonic in the first place – to show the world why he is so awesome!
Now the next one is quite unexpected for me to be honest. I'll try to keep it short and sweet. One November morning I was approached by Paul Kaminski on deviantART (he was recently promoted from 'Assistant Editor' to 'Editor-in-Chief' of Sonic Archie comics btw, congrats to the guy!) and was asked if I wanted to have my artwork to be featured on Issue #207?
How could I ever turn down such an offer? Of course I accepted it and below is the drawing that was published on the Fan art page of Sonic Archie #207. It was a dream come true since I loved the comics so much, and what more could I ask for when I wanted to show the world what the true blue is all about?
TC: Moving onto Summer of Sonic, you've been at most of them, and featured at one of them selling your own works, how was that for you?
DS: Yeah Pete, been to the first three and had a bloody awesome time on all of them. Summer of Sonic, to me, as I explained this to Svend one time walking with him in his hometown of Southend-on-Sea, is a way of re-connecting with fans from all over and world and sharing an unforgettable time ala Sonic party style. The biggest difference was the fact that you actually get to meet these guys (and gals) for real, and, do really cool stuff with them too!
I congratulated on the success of his first convention-styled community meet-up that afternoon and he really appreciated it. That was a special moment not to forget especially when you've known the guy online and admired what he's done for the Sonic community. And I reckon he's still got plenty of drive to do what he can to uphold the community spirit of things in the Sonic fandom – good on him!
Anyways, sorry I side tracked there a bit! The answer to your question is simply – a very wonderful and satisfying experience. I've managed to sell all of my GRAND HUNTER books, posters and artwork on both occasions. Though the most coolest part wasn't the fact that my sales was a success. To me, the opportunity to meet the fans and friends who have been supporting my work all the way through has been the biggest highlight. To have been able to smile with them, chat briefly and let them take away a piece of my signature work was gold.
Check out the photo below taken by Samu Kuremetsu, you're right there at my table with Sam, Euan, Mark, Shawn & Dave waiting to get a copy of my book! Ah the memories come flooding back don't they? = )
TC: What was your favourite Summer of Sonic moment?
DS: The singing! Remember how you, me and the whole gang in the front lines of SOS 2009 sang E.G.G.M.A.N.'s theme and 'Escape from the City'? How cool was that? Or how about that time when we did imitations of Shadow the Hedgehog doing the 'Chaos Swiss Roll' (ala Sonic Paradox?)
Seriously Pete you are giving me a really tough question to answer here! There are too many favourite moments for me. I loved every moment of Summer of Sonic, from helping the staff with the setup (and cleanup!) to catching up with old and new faces, filming the event with Simon's Sonic plushie and running with him 5 blocks South to count and show to the world how many people are attending the event, interviewing very special people, listening to the DJ's play a damn good selection of tunes from the Sonic music archive, hearing Shawn's imitation of Janiel White's Sonic, watching Mark as he animates himself as Sonic from 'Sonic Sez', eating Sonic's birthday cake, admiring the art table (I still won't forget Dean's incredible drawing after having spent only 4 hours working on it!), rapping to 'Fresh Prince' with Iceman, BlitzChris and Roareye Black, singing NiGHTS with DiGi & TRiPPY, having a one-on-one talk with Jun Senoue and Johnny Geoli… The list goes on, it's endless mate.
Sorry but there just ain't no justice if I just stated one favourite moment.
The photo above are just some of the awesome people I've met prior to the doors official opening at 10AM that day! The photo below is a 'staff and helpers' group picture I took with my camera and camera stand before we left the building in Summer of Sonic 2008.
I had to show them because they are a reminder of the people who help created favourite moments for me to remember at the event of a lifetime (for Sonic fans to say the least!).
TC: How do you come up with new ideas for artwork and items?
DS: It's hard man, coming up with new ideas is a mental and physical challenge for any artist. I just happen to come up with brilliant ideas whenever inspriation hits me.
TC: Where do you find the inspiration for your artwork and items?
DS: I strongly believe that inspiration is everywhere around you. It could be the poem in the book you're reading, a newspaper article detailing the relevation to a case unsolved for hundreds of years, the music that your friend recommended you to listen to, the food you've been dying to eat after it's been rumoured to improve your sex dri… Er.. I mean life-span, driving your car to work while witnessing an accident along the way, watching the next blockbuster film, chatting with your mates at the pub about your beautiful relationship with your partner… Inspiration can be found in the daily things you do or talk about – seriously!
For me personally I get inspired a lot when I'm doing something fun or something that I love doing. From the sophisticated (such as world travel) to something simple (like reading out aloud my favourite moment in a comic book or graphic novel (I love imitating and voice acting scenes!). In fact you can view an animated adaptation of DreamKeepers (by Dave & Liz – their blogs, graphic novels and hard work is uncanny, please check them out!) that I did to showcase how cool this indie graphic novel series is.
What inspired me to work on this project was because of me reading some of my favourite lines in the book and I thought to myself: "Wouldn't it be fun to have this scene brought to life through animation and voice-overs?"
Another way for me to get inspired is when I read about people who do good things for the community – and cool things while at it! It really gets me excited when I can participate and help these people out with whatever talent and skills I got!
I already mentioned those who have influenced me when it comes to the Sonic/deviantART fandom, but there is one prime and recent example that I have to talk about (who is actually outside of those fandoms mentioned). This person is Jason Brubaker who created a graphic novel and blog entitled reMIND.
Mr. Brubaker has inspired me to better myself as comic artist because of his openness to teach others the tricks of the trade of the ever competitive comic's industry (whether it be print or online) and how to make yourself stand out from the competition. He is practical, down-to-earth, and an invaluable and endless source of inspiration, motivation and wisdom. Please, if you're a graphic novel enthusiast or someone who wants to learn more about how to break into the comics market, do me one kind favour and visit his website – it will blow your mind. And I'm not just talking about his incredible artwork (congrats on the incredible success of his first print run and sales of reMIND btw!) but also the beautiful person that he is to complete strangers who just happen to be curious about how comics work in the real world.
Anyways the crazy part about inspiration, to me, is that it just doesn't come to you anytime you want it to. You have to do something to earn it in my opinion, so get out there and figure out what drives your creative thought process!
Also, I strongly believe that when somebody is in their zone of inspiration, they can truly pull off some unbelievably amazing stuff until they burn out and start all over again! When you're in that zone you have to very quick in getting it out of the system and have it recorded somewhere, anywhere! Otherwise you'll lose out on crafting possibly your next coolest drawing ever.
Think of it this way, it's like being Super Sonic. Once you got all the Chaos Emeralds (that constitutes ideas) you transform into an invincible ball of energy (that constitutes inspiration and drive). You then have only a limited time of 50 rings to complete the task before you turn back to your normal self (this process consists of concentration, mental and physical energy that you have to finish the artwork, it also constitutes the burn out and resting period).
TC: What are your current projects?
DS: I only just got back from my trip to the North Americas! However because I'm back and more inspired than ever I'm going to look into revisiting my love for drawing Sonic fan art. I really want to dwelve into the Sonic Archie and Sonic Universe series for inspiration! Also regarding Sonic related goodness I'll be teaching people how to draw Sonic through visual presentations via 'step-by-step' illustrations on DA and videos on my YouTube channel. You can keep up to date on this via my brand new deviantART account.
I'm officially taking a years break from today on working on a brand new web-comic concept entitled: Tales of the Cursed Wombat.
Just for your information I've discontinued GRAND HUNTER and moved on with Cursed Wombat – containing a new concept, storyline and art style. It's going to be exciting for fans as I'll finally be able to create a story that has an end to it! It'll be a standalone story developed into three chapters with about 30 pages per chapter, most of the ideas will be inspired from my travels. The book will be printed in hardbound cover.
Finally I'm really trying to pit myself a challenge to make an animated adaptation series of my most favourite comic series of all time – Sonic Archie/Sonic Universe! In fact just yesterday I've only just discovered an incredibly talented voice actor and 'comic drama' producer on YouTube (by the name of Kovabomb) who is willing to help me on my quest to show the world how cool Sonic is in the comics world! We'll be starting off with 'The Silver Saga' with an aim to have it completed before the New Year! You can keep track of this on my deviantART or YouTube channel.
In addition I'll also be auditioning/looking out for voice actors to help continue my next instalment to the animated adaption of DreamKeepers and audio recordings of reMIND and possibly NORD GUARD (by Tess & Teagan, a stunning graphic novel that I picked up at Comic Con this year! Do check them out if you're into an engaging story of survival, traditionally painted art, and anthro characters – and I do mean proper 'anthro').
TC: How would you compare traditional and digital art, and which is your favourite?
DS: Oooo! Another tough cookie to answer. I'd say that I'm predominantly moving onto digital art simply because of convenience and the fact that there's so much you can do with a tablet and the right software (I'm currently using a Cintiq 21UX that is loaded with Adobe Photoshop CS5 for most of my illustrations – check out this photo that Chemb0t took of me trialling that monster of a tablet at Comic Con 2011!).
In the past I had to do all of my drawings with either pen or pencil on paper, scan it, upload it onto my hard drive, load it onto Adobe and make edits from there. If I go digital I just draw directly, that's it! See how more efficient that was?
With that being said it's hard to determine which one is my favourite method because being a hobbyist comic artist I don't have the range and calibre of a formally trained and educated traditional artist (I know of friends and artists who now work in top end animation studios and they learn everything from sculpture, acrylic/oil painting on canvas, live drawing that is linked to anatomy study, print media etc…) and because of that I lack ability. Lacking in ability in the 'traditional' department means that I can't really compare with what I've learnt with digital methods. So until I have a balance on both ends I won't be able to determine a conclusive answer.
For the sake of simplicity I'll go with digital, however, there is a certain charm about traditional media because it brings me back fond memories of sketch and shading methods used in the SA2 Fan Comic and concept sketches of GRAND HUNTER when I was touring the world for the first time by myself in 2007. So yeah I will say that traditional medium, whether it be me using it on my own illustrations or when I observe drawings that contain traditional styles used, is something to be treasured and admired for all time.
TC: What advice would you give for aspiring artists?
DS: Practice! Practice! Practice!
During the Sonic Jam days I bought a scrap book and drew twenty Tails heads a day. I did that for a month and finally mastered how to get the shape of his head and muzzle right! That's how I started developing the 'draw the nose first' technique for drawing Sonic characters.
Again, practice! Practice! Practice! And find ways to motivate yourself to do it! In fact how's this for motivation? A preview of my very first drawings of Tails (I had to start somewhere just like you!).
I decided to find a way to draw even more Sonic the Hedgehog and that was by doing a comic about my favourite storyline of the Sonic video game series of all time (which was obviously Sonic Adventure 2).
Practice! Pratice! Pratice! (is it in your head now?) Don't leave it till tomorrow, do it now! Get on the internet and find some of your favourite Sonic artwork (whether it be official or fan art). Go search on fans sites or go to deviantART.com – there is an abundance of resources! So grab a pen and paper and start drawing!
Another tip, don't give up! Keep at it and try not to rely on the eraser too much. Just keep sketching and move to another space to start a new drawing. This is why I tend to use pen rather than pencil because then you are tempted to use the eraser. Trust me the more you draw, the faster you'll go because you would have gotten used to the shapes and curves used in Sonic styled drawing. Go for a lot of circles and curves – they are the key shapes that will help you create a smoother and convincing Sonic character drawing (it's used in the eyes, cheeks, arms, body, legs, even the nose and ears)!
Also, should you need assistance go to YouTube to get a visualisation of how to sketch and draw a Sonic figure (there a tons of videos out there! Search for them!). Some learn faster than others, while some don't – but most importantly don't give up!
Over a decade of being 'Darkspeeds' I've been constantly getting feedback messages thanking me for inspiration and tips, and some of those who have continued to be persistent really paid off with some top notch drawings! People like that make me proud so much so set yourself to become a great example and a role-model to others. All the best of luck doing so!
TC: Are you currently taking on any commissioned work?
DS: Interestingly enough not at the moment. I've always kept it a golden rule not to do requests, trades or commissioned work because I always seem to be hands full with projects of my own. However I have done, on a few rare occasions, some commissioned artwork.
I do gifts but that has to be earned somehow. ; )
As I continue to improve on my artistic technique and the speed of executing drawings from start to a finished product I may consider the option of accepting commissioned work. Please don't hesitate to e-mail me at darkspeeds@hotmail.com for questions!
Thanks to Elson for taking his time out to answer these questions for us, and if you felt like viewing more of his work, you can see the rest of his works at the following links:
DeviantART – Elson's brand new deviantART account.
DeviantART – Elson's "old" overrated deviantART account.
Darkspeeds.com – Elson's personal website.
GRAND HUNTER – Elson's original series.
YouTube – Elson's videos of travel, animation, music, voice-acting, updates and more!
DJ Darkspeeds – Elson's unique podcast on SEGASonicRadio