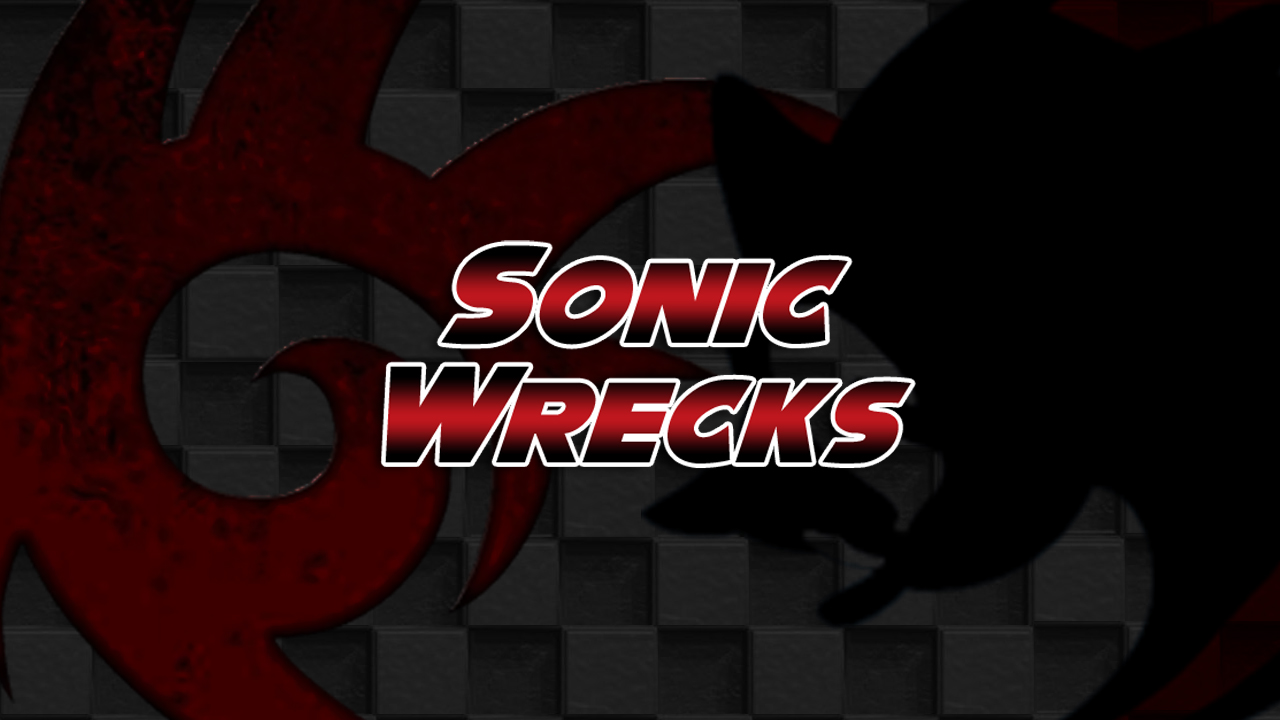 10 Things You Probably Don't Know About Sonic Wrecks
Today we celebrate ten years of Sonic Wrecks, the site that preceded Last Minute Continue. A site that was at one point quite prominent in the Sonic community. We do though all move on, and so it was time for something else to take SW's place. However, before we push SW to the side let's take a look back at some things that you may not actually know about Sonic Wrecks and its history.
1) SONIC WRECKS' TITLE AND ORIGINAL LOGO WERE A PUN/PARODY OF SONIC X
Sonic Wrecks was named after as a pun on cartoon series Sonic X, the original logo used for many years was the SW 'Shadow Head' logo an edited version of the 'Sonic Head' logo from the same show. Ironically many years people began claiming the Shadow Head logo was an official asset created by SEGA. Err, no. Sorry!
Despite all evidence to the contrary however, SW was never intended to be a Shadow The Hedgehog fan site. This may surprise you considering the above, and SW's later used the Dark Arms 'tattoo' logo from Shadow The Hedgehog. But nope, never was. It was the #1 Shadow the Hedgehog site according to the 'Shadow top sites' and as such was billed that but Sonic Wrecks never intended to be a 'Shadow fan site'. The only reason Shadow was front and centre was that the comic featured him as the prominent star over Sonic, the premise being he thought he could do a much better job and deserved to be the star.
To this day certain groups of Sonic fans remark disdainfully about 'that Shadow site' because of the prominent black and red colour. Because as we all know, you're not allowed to have a Sonic site any colour other than blue. How very dare we(!)
2) ACTUALLY, SONIC WRECKS' BIRTHDAY ISN'T TODAY
Sonic Wrecks has always has had its birthday as July 4th – however it's not strictly speaking its birthday. July 4th is that day comic #001 was listed on the Web Comic List.
Strictly speaking SW was born when its first post appeared, spawning from its own precursor KevsKingdom.com and that occurred on 16th April 2004.
3) SONIC WRECKS WAS OFFERED TO SEGA AS A BASIS FOR A NEW SONIC BRAND PORTAL
Three times actually. Back when I was working for SEGA, they were in dire need of a replacement for the Sonic European brand portal Sonic City. Version 2.0 was a mess, terrible to update and sorely lacking in conetnt. So SW was offered (for free) as a platform to build a new Sonic City around.
The plan would have seen SW completely disappear and be completely re-branded with a remit to create all manner of exciting new media items, do articles on historical pieces, etc. Radio Redux would've also become an actual official podcast – though on occasions it was deliberately used by the powers that be to get details out!
4) SONIC WRECKS' YOUTUBE CHANNEL WAS CREATED FOR SEGA TO HELP PROMOTE SONIC UNLEASHED
Yes indeed! SW may have had one video on their beforehand but youtube.com/sonicwrecks (now the main LMC channel) real point was to act as the viral home to one of our biggest exclusives.
SEGA had a clip that they needed to post but didn't want to post it on their main accounts, that'd be too obvious. Instead they wanted to tease Sonic Unleashed in a slightly viral way. Thus they gave us the clip to put up and use as our own (yup, we own it!) SW was actually chosen because we were known in the community but specifically not that big, we were out-of-the-way enough to see what would occur.
That video was never specifically released to the press, so any time you see that clip of Werehog Sonic smashing the ring, it actually originated on our YouTube channel.
And it wasn't just Sonic Unleashed which was a video world exclusive, SEGA kindly gave us our first video, one of several distributed to fan sites and press. An exclusive clip from the original Mario & Sonic At The Olympic Games.
And of course in a joint exclusive with Sonic Retro and Sonic Stadium, the community got to see Sonic Colours and hear the new Sonic voice actors for the first time.
If you ever wondered why the video was posted on our channel there were two reasons, firstly we were the only ones to have a proper YouTube channel at the time. Secondly we all reasoned TSS and Retro would get all the resulting site traffic, so it was only fair SW got to host the video in the end.
5) ALL FOUR ORIGINAL STAFF MEMBERS HOOKED UP WITH EACH OTHER
Love is in the air, kinda, sorta!
The four original staff members were AAUK (Kevin), Echo Hawk (Becky), Blake Draco/Dusk (Jay) and Ram The Dragon/Suf (Sofia). Over time romantic entanglements happened and Blake and Ram after a big struggle now live together in Uruguay and are very happy. Myself and Echo Hawk married in 2009, separating in 2011. I've no idea where she is now. She'd rather I not know I guess what with owing me money and all.
Strangely, nearly three years down the line the Hawk character is still in the comic, even shown purely in flashback.
6) THE SITE IS ACTUALLY FULL OF FARSCAPE REFERENCES
Why was the Depository called the Depository? It was actually named the Shadow Depository, a pun/reference to a vault of great riches found in an episode of Farscape. One of the old site disclaimers specifically referenced the opening dialogue of Farscape whilst in the comics, #041 and #064 had explicit references to it whilst #079: Picture If You Will shares an episode title.
A longtime in development comic script was also called 'Avenging Angel' – another episode title reference.
Well, frell me dead.
7) SONIC WRECKS' MEDIA DEPOSITORY HAD SOME NOTABLE USERS
SEGA themselves loved making use of the Depository. In fact it became a go-to for SEGA Europe's Creative Services department and often finding the right assets was a tricky business. Goodness knows how they'll cope after today then.
The Depository and SW also helped out Video Games Live create their updated Sonic video, providing links footage and other materials. This was done on the hush-hush, but we did mention it later on.
8) SONIC WRECKS MAY HAVE INFLUENCED THE FINAL BOSS OF SONIC RIDERS
We have to go back for this one. Wayyyy back now to the early days of Sonic Wrecks. Now back in those early days the site was very small, it had a loyal following (and still does) at that time we were surprised when looking at our stats and where our visitors were coming from we had a very regular visitor: SEGA of Japan. At the time, young me couldn't believe my eyes but yes, we actually had a near daily visitor from the SEGA. Fast forward to Sonic Riders and the boss battle, a battle against the Babylon Guardian – a mysterious genie revealed to be called 'Angelus The Gatekeeper' in the Japanese version.
HOWEVER, during that time period we had in the comics an original character who was quite prominent, his name? Angelus The Gatekeeper.
It's not a massive leap, considering the pairing is quite unique, to believe that someone at Sonic Team took some inspiration from something they read online once. Certainly no one at SEGA Japan can apparently remember why the genie was called this, (we've asked), the name also doesn't tie in specifically well with the Babylonian story either. So if it is just a coincidence it's a heck of a big one.
9) THE KONAMI CODE WORKED ON SONIC WRECKS
Sonic Wrecks mentioned a big hidden secret on the site at one point – actually this was the KONAMI Code.
Inputting the 'Wrecksami Code' on your keyboard lead you to a special page with a parody of the Sonic The Hedgehog level select screen.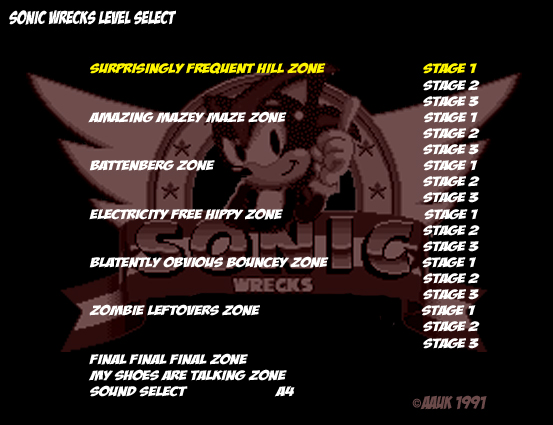 10) COMIC 100 HAS NOT BEEN PRODUCED – BUT IT'S ABOUT THE DEATH OF SPRITE COMICS
Comic 100 doesn't exist in the archive as despite several attempts to have it created all have fallen through. However the script is actually very bittersweet, about how sprite comics are now thought of as poor man's craft as well as a growing opinion at that time that if you cannot draw you apparently shouldn't create at all.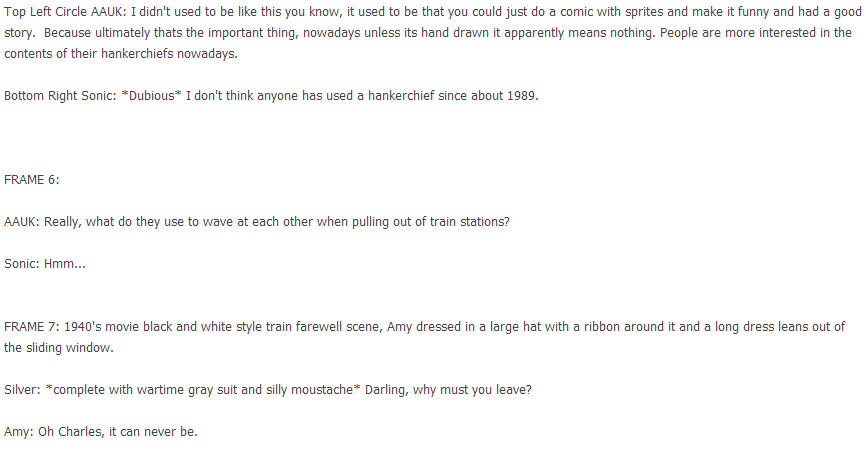 So there we go! Ten years and ten things you likely didn't know about your alternate Sonic the Hedgehog resource. Thanks for reading, please stick around in the future.