Sonic Wrecks Advent Calendar Stuff Day Twenty-Whatsit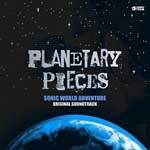 Now I know what you're thinking; AAUK you've REALLY been slack with these advent callendar updates – I thought you were going to do something notable every day?
Ah, well young doubter. I have been doing something notable every day, you've just not seen it. Today though we do have something, er, visible for you. Not just visible but audible too. A new item for the Depository Music section to be precise and something thats been a couple of years in coming. The Sonic Unleashed soundtrack, Planetary Pieces.
The three-disc soundtrack which features 91 tracks – NINETY-ONE for crying out loud including the awesome Endless Possibility and the not-quite-so awesome mewings of Brent Cash singing Dear My Friend – which is a bit like getting a bullet of warm cotton wool to the head.